As we all know, during Another Path, Taeshi uploaded her own art meme to her deviant art account. It was filled with stuff I mostly expected, Paulo and Lucy being her faves, she absolutely hates fancharacters, and she's starting to like Abbey, ya dah ya... What caught my attention, however, was her favorite scene section.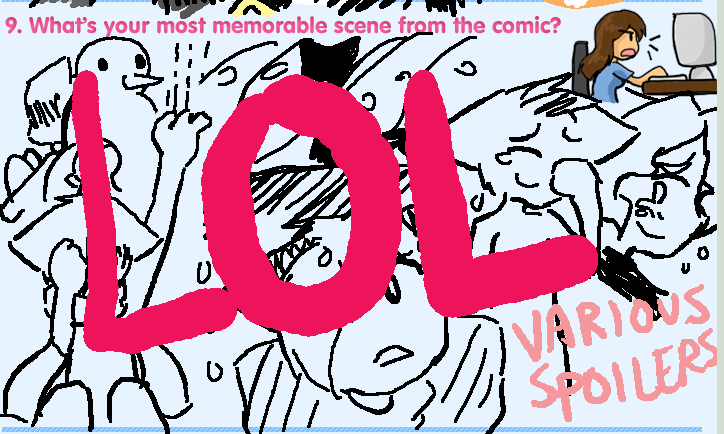 Best I can tell, absolutely NONE of these have happened yet. Now, let's analyze this! From right to left:
Kay, Tess crying. She's obviously happy about something, and crying. I imagine this is one or both of two things: A) Her graduation at the end of this year or B) her resolving her issues with Roger for good. Best I've got anyway.
Abbey's crying as well. I initially thought "Wait, is this when he finds out Daisy likes the attention he gives her more than anything else?" Then I realized he was happy, so they're tears of joy. It's probably him FINALLY putting his past behind him. I hope so, the dude deserves it.
I can't tell what the top middle is, but I THINK bottom middle is Gus. He appears to peaking his head out something, that, or it's in perspective, and we're looking down at him. If it IS Gus, I imagine this is him talking to Daisy about the not-rape. Maybe she's looking down at him from her window?
As a Mike X Lucy shipper, the left most picture intrigues me most. Mike and Lucy are huddled in two ball, curled up against their walls, each apparently in different rooms. This is a common technique in visual media, like TV and comics. It shows isolation through the splitscreen, but it also shows that the characters are connected somehow, and are feeling similar or even identical emotions simultaneously. Commonly, it usually depicts a couple or close friends or family members after a fight of some sort. What interests me, is what Mike is doing. Notice his hand, and the claw marks. What this says to me, is that he's frustrated, possibly angry. Why? Well, when you're pouting in your room after a fight of some sort, it's not unreasonable to think you might hit the wall, right? Well, he's a cat, so perhaps clawing the wall serves a similar purpose? Either way, BOTH Mike and Lucy are upset. I think that Mike and Lucy are angsting over their friendship, or what's left of it. Now, if it was JUST Lucy, I'd think nothing of it, you know, Lucy Lucying it up. But Mike is upset as well. Why would Mike be upset? Any affection he had for Lucy, romantic and platonic, seems to have vanished completely, thanks to Lucy's abrasiveness. So, why would Mike be angsting about their friendship? Likely, Lucy tried rekindling it. Mike and Lucy fought over it, and given that Taeshi has
said
shit is going to hit the angst fan come December, I imagine this takes place sometime around then.