I was eagerly awaiting the recent Apple keynote where they announced
iBooks 2, iBooks Author and iPad Textbooks
. I was hoping there'd be some kind of interesting reworking of iBooks that would be conducive to webcomics, but that's not really the case.
(Diesel Sweeties not withstanding.)
The reason I'm looking around is that there's all these ways to distribute webcomics beyond the traditional web:
Printed books

Mobile web sites

PDFs, EPUBs and .mobi files for Kindles, iPads and other tablet\e-reader devices

iBooks interactive books

Mobile apps
We have the first two covered.
A lot of people have asked if we have a PDF or Kindle version of the first book coming out, and I've been considering the options. We need to be on e-ink Kindles and Nooks, so I need to tune a PDF to the Kindle display. I plan on doing this when mine finally arrives. We would sell the PDF download of Volume One on the store, along with a colour version for the Kindle Fire and iPad.
The iBooks interactive books don't seem very compelling to me unless you write a webcomic specifically for the format. So we'll skip those.
Finally, the idea of making an app is interesting to me personally, and might be a good way to either promote the comic or make a small amount of money. I don't know how to make one, but it looks like you can hire people to do it for a thousand dollars or so. Considering so many of our site visitors are on iOS, here's the idea:
A Bittersweet Candy Bowl app for iPhone, iPod touch and iPad. If it wasn't free, it'd cost $2.99, $4.99 or $9.99. You'd download it because it offers:
Access to the full archives of the site in an optimised UI that's easy to browse around

Automatic tracking of archive binges, where it remembers your place, syncs between all iOS devices that use the app, and offers some cute stats

Push notifications when a new page goes up

A simple Candybooru viewer

Built-in exclusive wallpaper

A bonus one-off app-only chapter? (I dunno)
Here's the mockup: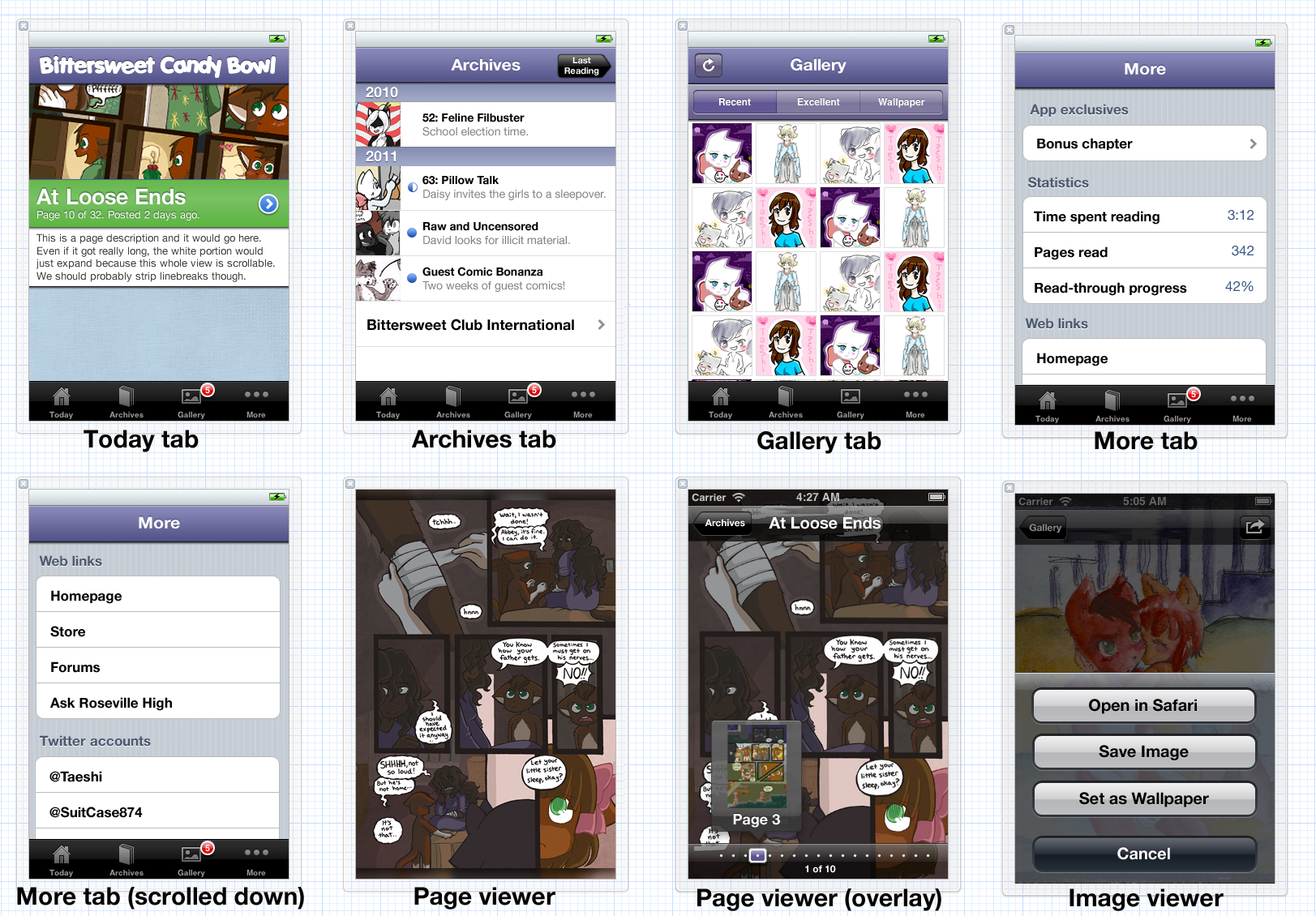 Here's a pretty complete specification document I wrote for it.
I don't know if this is compelling, though. Fundamentally, the app would be more of an optimised website viewer than it would be an ebook, and even though that means you get more than a Volume One PDF, I think the perceived value would be lower. So it might be worth giving it out for free, as the bullet list above might not be so compelling.
However, I feel that the perceived value would be higher if the app included the pages and didn't stream them from the site. It'd mean the app would be about 400mb in size, but maybe people would pay $4.99 or $9.99 for it? Free app, $4.99 in-app purchase to download the pages into the cache?
So I guess I'm interested in whether this seems like a compelling app or a useless frivolity, especially to those of you who are interested in a PDF version and would compare it to that. Again, if we did sell a PDF of Volume One, what should it cost? And if we did an app, how would it be priced?