I have made quite a number of beadsprites in the past, and as I am heading back to school in the fall, realized I need to save some money up.
As such, I'm going to open up to beadsprite commissions. What are beadsprites, mind you? Let me show an example of my work: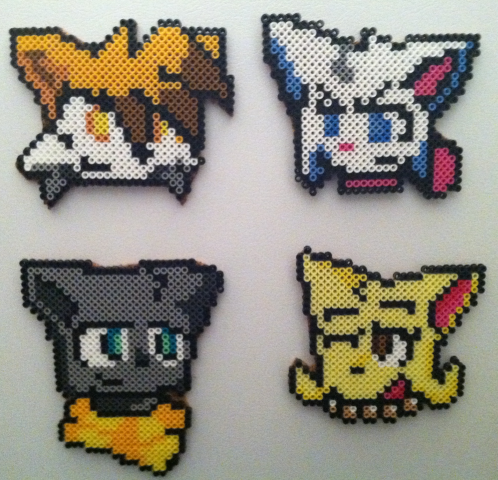 These are all magnets I had made near the turn of the year. From a size perspective, 2 beads = 1 cm. They're about as big as a hand each.
I have a relatively deep color selection (40+ colors), but some colors there simply aren't beads for. I'll do my best to try and make it as exact as I can with shading. as a general rule, if something's on a sega genesis or super nintendo, i can get the colors decently close.
Prices are entirely dependant on the size of the sprite and the complexity. Something smallish would make a good keychain and is relatively cheap and easy to ship:
(these are backed with cork for additional stability, because they're so small)
wheras something larger is definitely possible, but can get expensive to ship:
something like this would run $20-$30 for my time and supplies. the larger something is, the harder it is to make sure it stays together when I'm making them, the more of my time it takes, and the more beads they use.
the size is really limited by how many boards i have and how much you're willing to spend shipping them. I have no problem shipping internationally, and have shipped some large sprites before.
You of course will need to provide the sprite you want done. if you want something that isn't already a sprite, I can convert it as best I can, but this will cost more, as I'll have to spend time doing it.
I am also willing to do 3d sprites:
keep in mind these use a LOT of beads, and require figuring out how the object works three-dimensionally. they're pretty neat, though. have never tried to ship one.
I also have some canvases to do something like this:
this is about 9" x 12", and looks really nice on a wall! smaller sprites like game boy / nes sprites work really well for these. i don't have any paint, so i can't paint the canvases, but i can look into getting some if you really want it.
if you want one done, either send me a message or reply with what you were imagining, and I can figure out about how much it'd be. large envelope shipping inside the US doesn't run above $5 as a general rule, but internationally it's all weight-based. i can also for a bit more make them magnets, or add cork if you want stability / coasters, or add keyrings, etc. i've even made a hair clip once.
when making them, i can either make both sides as pixely as possible, or i can leave one side unmelted for an effect that i prefer.
some more examples of my work, for those interested:
thank you.