This archived news post was originally written by SuitCase on January 15, 2011.

The hippest club for cool cats the world over. Bittersweet Club International is for readers who want to go a little bit further, gaining access to cool exclusive gifts, special features on the site and early access to comics! There's a page over on the newly-updated store describing all the features you get by joining.
The first of the three gifts you'll receive is an exclusive Zombie Kimono Jasmine keychain!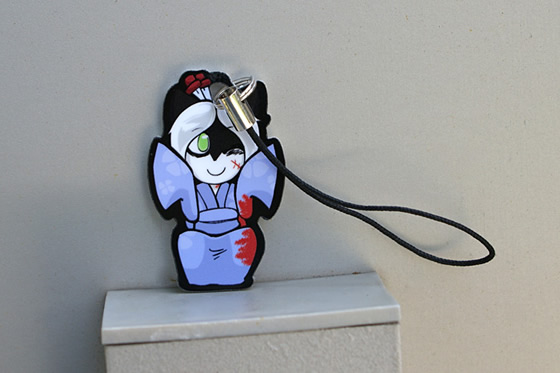 Needless to say, this is meant to be a fun way of recognising those who are able to contribute—some little rewards for a donation, in other words. We love all our readers, but for those of you with a little money to spare and an interest in supporting the comic while getting some cool stuff alongside it, please
take a look at the store
, or
comment in the forum thread about it
!
P.S. Thanks for voting BCB to #3 in Top Webcomics! It's kind of neat, the highest we've been. Wondering if it's worth doing another drive to #1 in February or March.. though the Goblins train seems unstoppable. IT WILL BE DETERMINED LATER.
P.P.S. For those of you who would like a small coloured commission from Taeshi, for an extra $20 you can get a Founding Member club membership… but only for the first 10 orders!
UPDATE EIGHT HOURS LATER
Due to insane demand we have already sold like 13 of the Founding Member memberships, so we're upping the number to 25! If you want a card numbered in the first 25 digits and a special commission, you probably shouldn't wait too long. Thanks so much for the massive support!
UPDATE EIGHTEEN HOURS LATER
This sale was meant to last a few days, not less than 24 hours! Taeshi says she can handle another 25 drawings for you guys, so a FINAL EXTENSION of the Founding Member offer has been made, to 50. Only 23 left!
UPDATE THREE DAYS LATER
The founding membership offer is over! Thanks so much! For those of you still interested in the card, Jasmine keychain, other features, we're still selling memberships at the regular lower price of course, but with membership numbers of 50+.