This archived news post was originally written by SuitCase on March 31, 2011.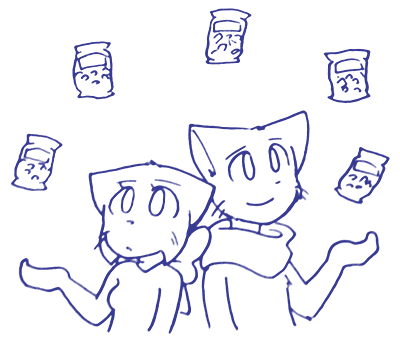 We discovered that the
Bittersweet Candy Bowl candy
we bought in a huge batch (200+ packets) about 6 months ago has started to crystallise or whatever hard candy does after a while. What this basically means is that instead of staying a hard lump of sugar, it sort of becomes soft and chewy when you suck on it (that's what she said.) They still taste nice! Just a different texture! Watermelon and sour apple!
Because we still have a fair few left, and we want to be free to start ordering new stuff (maybe new candy), we want to give it away in bulk to those who are willing to pay shipping!
So here's the deal - we can't jam them in a $6 envelope, so we have to pay parcel rates. And in a box, five packets weigh in at just under 500 grams, which fits under the relevant weight threshold for a lower price. So we'll sell them in packs of five.
(No more! - Jul 2011)
Yeah, that's what it costs, and that's when we value the candy at $0. But for anyone interested in discount Mike-and-Lucy candy, here's your chance! You're basically saving like $20, I guess! And if you want, head to the
store
and we can throw in other stuff you want to buy. We can refund the shipping cost on orders like that, even if Paypal forces you to pay it initially.
BESIDES CANDY NEWS,
email submissions for guest comics are still open until the 8th of May deadline
! Thank you to the many people who submitted some already, too!
Also, all might be quiet on the incentive comic front for a little while. We'll put up a new one-page incentive picture, but if you can keep voting just out of the kindness of your hearts, it'd help! The link is at the top of the page where you guys seem to expect it.