This archived news post was originally written by SuitCase on April 29, 2011.
Hello again! New store stuff! Check out our new vinyl stickers and charms:

The stickers are really neat, they're like thin sheets of plastic you can stick and re-stick as often as you like. We also hope that Cardcaptor Rachel and cool dude Augustus will please you. Buy any of them for only $5 each!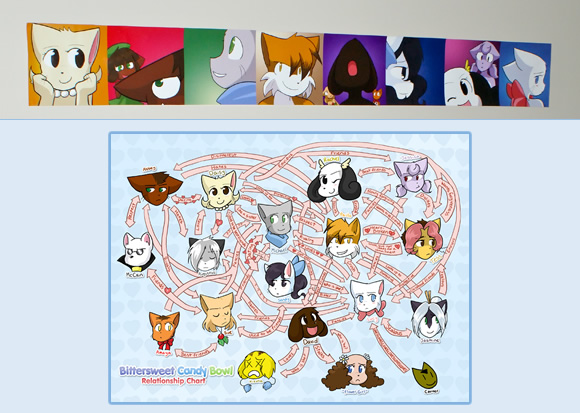 Also, let us not forget the two posters we are now selling, both a re-made relationship chart and a wide, vibrantly coloured poster featuring all the main characters. These posters are wonderful quality things, and
we're selling them for $15 each
.

Finally, there are some new shirt designs you might have missed! All $18, as always.
The book is really close, too! We will keep you posted, but all the content is complete and it is ready to go into print for a release in June. Keep your eyes on this space, or sign up to our mailing list on
the bottom of the store page
.
ALSO, CONVENTIONS.
Besides merchandising stuff, we'd like to announce that
we're attending Sydney's Supanova convention, taking place June 17–19
,
as well as Hartford, Connecticut's Connecticon, taking place July 8–10
. We have lots of information about both cons at the links, please take a look if you'd like to meet us, buy some stuff and get an autographed book!
FINALLY (I think?) we're also in the final stages of planning BCBCon,
a big BCB reader meetup in Boston from July 1–4
. Veronica and I will be attending, and will give you lots of leftover candy and faulty stickers.
Read details about how it's going to work out in this forum thread
. Essentially, we're all sharing a bunch of hotel rooms, and are taking deposits right now. Anybody is invited, so long as you read the comic and don't mind loosely structured meetups with internet people!