This archived news post was originally written by SuitCase on June 22, 2011.
Hello everyone!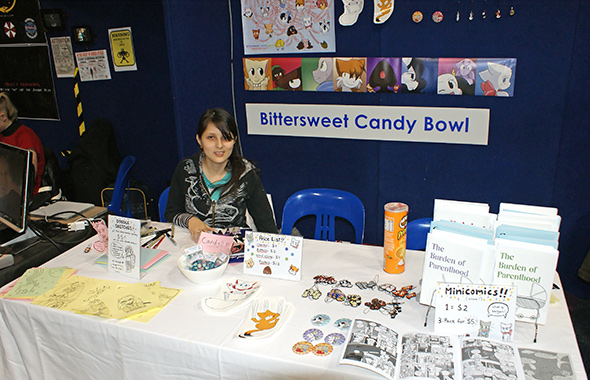 Our table at Supanova was a pretty big success, especially for our first time at a convention! Thank you to everyone who stopped by and said hello, bought things, or even donated in person (gasp!) Veronica churned out a ton of sketches and we sold a lot of minicomics and vinyl stickers. Thanks go to Bridgeotto for hanging out with us and helping us do so well. While Sunday was a pretty dead day, we were so successful that we did indeed make a profit, after accounting for all the insurance and decorations and so on that went with our first table at a convention. Which means we can be more effective in the future, perhaps in Connecticut!
This leads me to the next big thing.. we're both leaving for America on Friday. (Don't worry, the page update will be automatic.) This has several implications for you guys:
You can meet us at BCBCon
, taking place July 1–4! Here's the current topic, though I'll be writing a new one up in the next couple of days. If you can figure out how to get to Boston and have the capacity to pay about $140 to share one of our hotel rooms, all late attendees are welcome! Just post in
the BCBCon forum thread
.
You can meet us at Connecticon
, taking place July 8–10 in Hartford, CT. Any questions or comments should go to
the Connecticon forum thread
. Of course, you can buy stuff from us there too!
You can save money when buying stuff from us.
While we're in the US we intend to spend a lot preparing the mailout of the books, as well as various other merchandise. Stay tuned and we'll post shipping discounts on the store for US buyers, so that you can take advantage of the next month we'll be much closer to you, geographically speaking!
ONE FINAL NOTE: Thanks to the book pre-orderers for their patience. In between studying for corporate law and equity and international law and economics exams I've been frantically negotiating to get the book ready for our arrival, and I should be able to email you guys an ETA on delivery when that's available. It's obviously looking like late June, but I want to wait until I have something fairly definitive before I flood your mailboxes!
(As before: Yes, we are still taking preorders for Volume 1 of the book. Just click the "Older news posts" link below, and look through the old news posts to find the purchase buttons. Tada.)