This archived news post was originally written by SuitCase on July 13, 2011.
So what are these?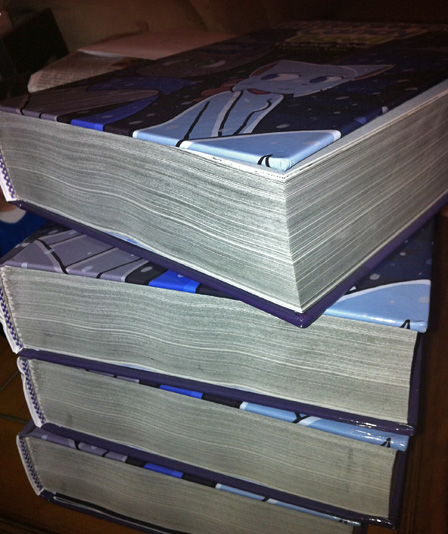 If you guessed: part of our first delivery of the actual Bittersweet Candy Bowl Volume One book, then you're right! 600 pages, they're giant! And the printing quality is terrific. And
until Thursday night (when we leave the USA)
Veronica and I will be frantically packing and sorting and (in Vero's case)
sketching
in the back of these things for all of you loyal readers!
This post is essentially
your LAST CHANCE to order a sketch edition of Bittersweet Candy Bowl Volume One, as come Thursday night, we're done, it's over, back to Australia
! Of course, we will be organising the "standard" non-sketch book orders next week, which we'd love for you to buy (especially those international people left in the lurch!) but for now, if you want a sketch edition, THIS IS YOUR CHANCE.
Also, while we're at it: free shipping to the USA for general merch continues until the same deadline! Consider buying some merch along with your book, or with no book, or whatever! We have it all with us and would love to lighten our load for the trip back.
Make your purchase on the temporarily-restructured Store page!
Thanks!