Store
Click orange buttons to add items to your cart, then Checkout ►. Easy!
We charge in US dollars and ship worldwide.
PayPal or credit cards preferred.
Donating? Paying by mail? Read the Store FAQ.
Table of Contents
Books
Painstakingly reworked, revised and enhanced, these are the best things you can buy in this store. Every book is loaded up with over 30 pages of exclusive comics and illustrations that you won't find online.
Volume One
592-page eBook
eBook edition
Volume Two
276-page color hardcover
Volume Three
260-page color hardcover
Volume Four
324-page color hardcover
Volume Five
260-page color hardcover
Ask Roseville High
128-page color softcover
Book bundle
Volume One (eBook), Volume Two, Volume Three, Volume Four, Volume Five & Ask Roseville High
1,840 pages, over 270 of which you won't find online. It's really worth it!
eBooks
All books are available in digital form and contain every bonus page the physical ones do! Offered in full-color PDF and e-ink-optimized Kindle (.mobi) and .cbz formats.
eBook Bundle
Volumes One, Two, Three, Four, Five & Ask Roseville High
$82 $35
Bittersweet Club International
An exclusive club for our best fans. Become a Club member and get access to:
Over 410 pages of member-exclusive comics!
Another December

Midnight Visitor

Family Comix

Sweet Dreams

Fork in the Road

Magic Tricks

Love Letters

Promise

Another Kiss

Christmas Dinner

April Comics

Movie Night

May Comics

Dinner Time

Candied Bacon

Ghost Stories

Mostly Harmless

Disaster Dominoes

Another Trip

Another Boyfriend

Blind Date

Store Credit

Drinking Games

Lemonade Stand
Romance, comedy, soul-crushing drama. Hours of reading material you won't find anywhere else.
Unique gifts and benefits!
Membership card
Special recognition
Surprise gift mailouts
Exclusive minicomic
Plus ad-free browsing and more. All for $45, paid annually.
Plush toys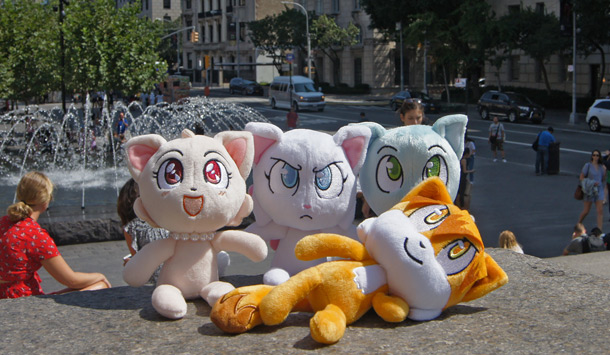 Mike, Lucy, Daisy and Paulo measure 8″ head-to-toe, feature weighted bases for natural posing and come fully accessorized with ribbon, scarf and necklace. Pick your favorite or grab the entire cuddly collection!
Plush bundle
Mike, Lucy, Daisy & Paulo
Acrylic Charms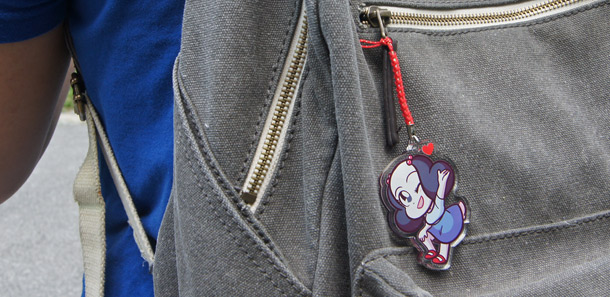 Sandwiched between two layers of glossy acrylic, these chunky 2¼″ double-sided charms come attractively packaged with color-coded nylon cords, ready to attach to phones, bags and handhelds.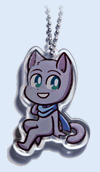 $10 New!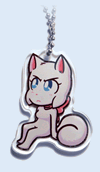 $18 New!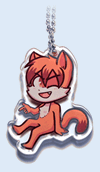 $18 New!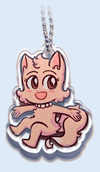 $10 New!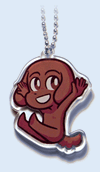 $10 New!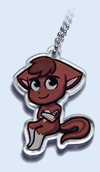 $10 New!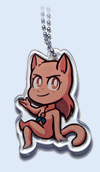 $10 New!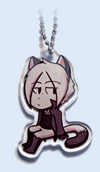 $18 New!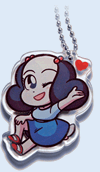 $10 New!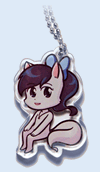 $10 New!
Back to School Set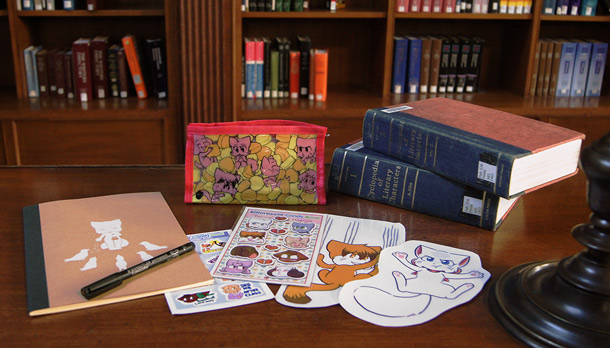 A fun mixture of old and new, the Back to School Set will have you studying in style! Grab your pencil case, scribble in that gorgeous Lucy notebook, slap those pairing magnets on your locker, and decorate with both vinyl clings and a classroom sticker set!
And, for a limited time:
The full price of everything in the Back to School Set is $68! That includes $42 of our new stuff. Any way you want to count it, this deal's an A-plus!
$68 $29
Vinyl static cling stickers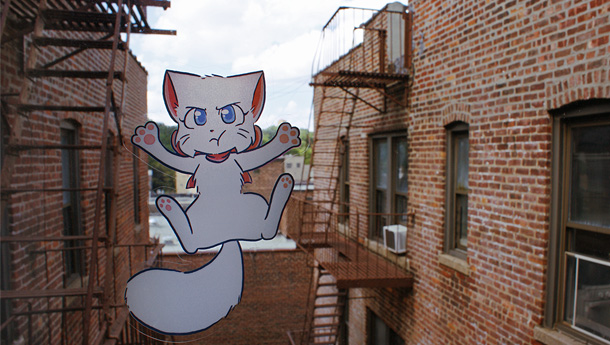 These 6–8″-tall static cling stickers adhere to any glossy surface without leaving a gummy residue — meaning they can be used again and again. Now updated with new art and high-tech transparent edges.
Pairing magnets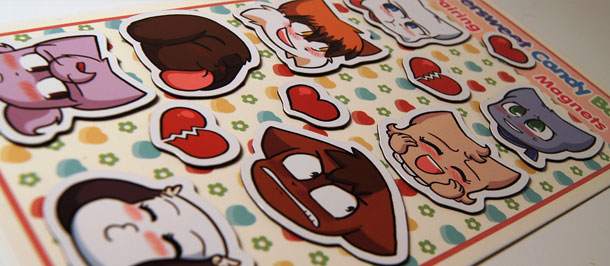 Find your perfect match with this beautifully-packaged 4″ × 7″ 12-piece fridge magnet set.
Keychain charms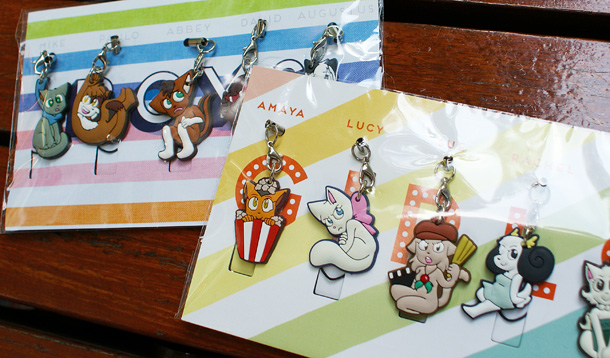 Made from a tough, rubber material, these adorable 1½″ PVC rubber charms come with a black nylon loop ready to be attached to your bag, phone, or other stuff! Collect your favorite characters in two packs.
Lucy notebook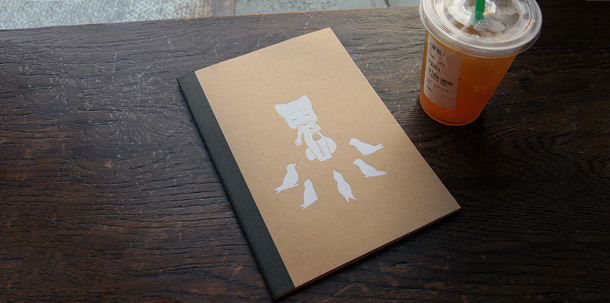 This understated notebook is set in the B5 paper size (6.9″ × 9.8″) and is perfect for scribbling down ideas around town. It features faintly-lined cream paper in a 450gsm kraft brown cover with a gently inset Lucy design.
$8
Pencil case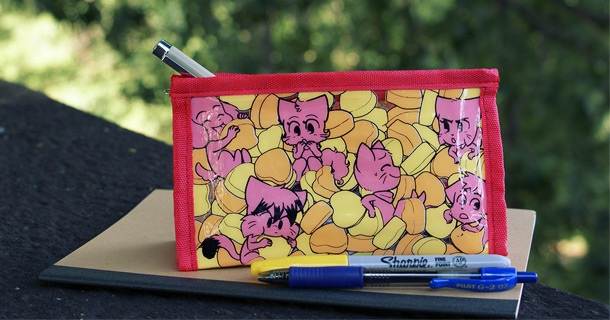 A cute cats-and-candy-heart pattern is silk-screened on both sides of this quality 7″ × 4″ PVC pencil case. Featuring ten of your favorite characters.
$12
Upstage, the BCB card game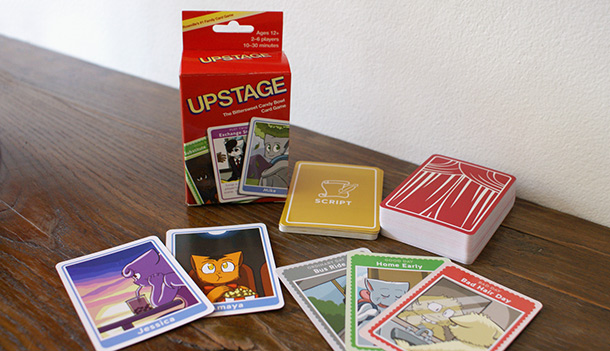 Upstage is an easy-to-play fast-paced card game where players take turns to set the scene and tell a story.
For a taste, read the full game instructions here! (PDF)
Each player draws a "script" and takes turns to change up the central "scene" to match the story elements their script requires: 2 characters, a day and a place. As players scheme to set the scene while keeping their intentions hidden, skill, creativity and deceptive wiles are critical to succeed!
Upstage is suitable for 2–6 players, requires no prior knowledge of the BCB comic, and features 94 cards with a ton of unique artwork, in-jokes and references. It's simple enough for your family and friends, is deep on strategy and (most importantly!) is a lot of fun to play!
$18
Buttons
Posters
Our 11″ × 15″ posters are professionally printed on 100lb gloss paper. Perfect for sticking all over your walls!
Click a poster to see it closer!
Original pages
Own a piece of BCB with our discounted art packs!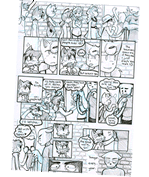 An example of a Volume 1–3 page.
Each titled pack includes an uncolored page from Volume 1–3, a watercolor page and a watercolor Ask Roseville High answer on a custom-printed blue matte.
Every page comes signed by Veronica.
Most pages are 9″ × 12″, US Letter or A4 size.
Expect small errors, smudges, and even totally different dialog from the final comics on the site!
Or if you don't mind which pages we send you…
Mystery pack
A page from Volume 1–3
A watercolor page
An Ask Roseville High answer
All picked at random!
$35
FAQ
BCB is, like, my favorite thing. Is buying stuff here the way to help you keep making it?

Sure is! The two of us make our living selling the items on this page. Your purchase is our paycheck, so we appreciate every order!

This is gonna cost a lot to ship, right?

Relax. We use a combination of USPS and Amazon fulfilment to ship WORLDWIDE, as CHEAP AS WE CAN — the amount shown in the cart is a flat rate and won't change on Checkout.

I don't have PayPal! Can I still make an order?

Yep. We accept credit and debit cards, cash in the mail and checks. It's easy: simply add items to your cart and Checkout.

I just want to make a donation!

Tip us in the Checkout, no items in the cart required. (You're too kind!)