Store
Click orange buttons to add items to your cart, then Checkout ►. Easy!
We charge in US dollars and ship worldwide.
PayPal or credit cards preferred.
Donating? Paying by mail? Read the Store FAQ.
Table of Contents
Books

Start your Bittersweet Candy Bowl collection. Painstakingly reworked, revised and enhanced, these books are the best things in this store.
Every book contains exclusive chapters, drawings and other bonuses you won't find online. We add as much as we can to every volume!
Volume One
Giant hardcover (nearly 600 pages!)
Over 100 pages of exclusive comics and illustrations
$49
$15
Volume Two: "Starting Over"
Perfect for new readers!
276-page halftoned hardcover
34 pages of exclusive comics and illustrations
$39
$15
Volume Three
In full color for the first time!
260-page hardcover
32 pages of exclusive comics and illustrations
$39
$15
Ask Roseville High
Exclusive answers to questions from BCB's Tumblr askblog
60 favorites plus 60 new answers
Compact 5″ × 5″ softcover, illustrated in vivid watercolor
$14
$7
Spoiled for choice? Consider these

Book Bundles
Starter Bundle
Volume One and Volume Two
$88 $59
Starter Plus Bundle
Volume One, Volume Two and Ask Roseville High
$102 $69
All Books Bundle
Volumes One, Two and Three plus Ask Roseville High
$141 $99
Best value!
eBook Bundle
All four books in PDF, Kindle (.mobi) and e-ink (.cbz) formats
$52 $35
Bittersweet Club International
$45annually

An exclusive club for our best fans. Become a Club member and get access to these features:
Over 360 pages of member-exclusive comics!
Drinking Games

Another Kiss

Fork in the Road

Movie Night

Christmas Dinner

May Comics

Cracks in the Ice

Another Chance

Lemonade Stand

Augustus, You Jerk #2

Disaster Dominoes

First Dance

Sweet Dreams

In Deep

Love Letters

Another Trip

April Comics

Magic Tricks

Family Comix

Ghost Stories

Mostly Harmless

Another December

Promise

Accidents Will Happen

Another Boyfriend

Blind Date

Baby Blues

Midnight Visitor

Dinner Time

Store Credit
Yes, there are that many member-exclusive chapters! Some romance, some comedy, some soulcrushing drama. Hours of reading material you won't find anywhere else.
Unique gifts and benefits!
Exclusive charm
Special recognition
Lapel pin
Access to drawing request lotteries
Plus ad-free browsing, a nifty membership card, and more.
Posters
$10ea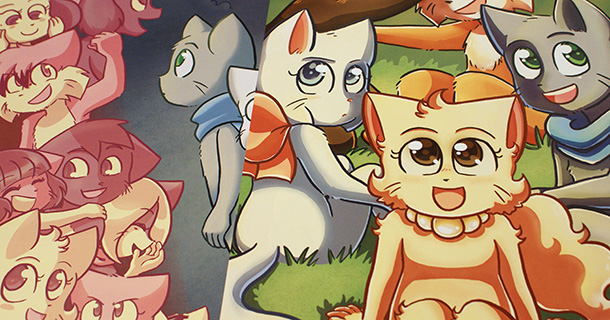 Our 11″ × 15.5″ posters are professionally printed on 100lb gloss paper. Perfect for sticking all over your walls!
Click a poster to see it closer!
Original pages

Own a piece of BCB with our discounted art packs!
An example of a digitally-colored original page.
Each titled pack includes an uncolored page from Volume 1–3, a watercolor page and a watercolor Ask Roseville High answer on a custom-printed blue matte.
Every page comes signed by Veronica.
Most pages are 9″ × 12″, US Letter or A4 size.
As pages from Volume 2 & 3 were colored digitally, your non-watercolor page will look much like the example on the right.
Expect small errors, smudges, and even totally different dialog from the final comics on the site! It's all part of the fun. If you need to check something, email us and we can scan a page for you before you buy.
Be quick! Once a pack sells, it's gone forever.
Or if you don't mind which pages we send you…
Mystery pack
A page from Volume 1–3
A watercolor page
An Ask Roseville High answer
All picked at random!
$35
Keychain charms
$85-pack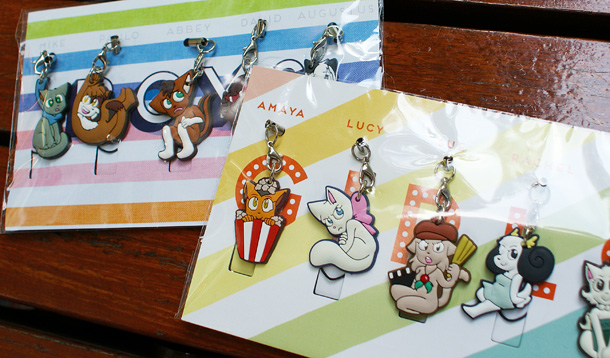 Newly improved with updated designs and a tough, rubber material, these adorable 1½″ PVC rubber charms come with a black nylon loop ready to be attached to your bag, phone, or other stuff! Collect your favourite characters in two packs.
Upstage, the BCB card game
$16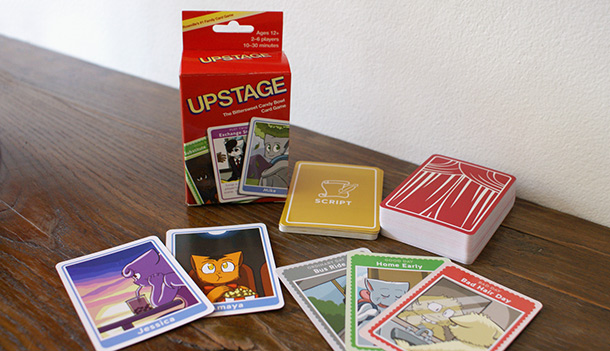 Upstage is an easy-to-play fast-paced card game where players take turns to set the scene and tell a story.
For a taste, read the full game instructions here! (PDF)
Each player draws a "script" and takes turns to change up the central "scene" to match the story elements their script requires: 2 characters, a day and a place. As players scheme to set the scene while keeping their intentions hidden, skill, creativity and deceptive wiles are critical to succeed!
Upstage is suitable for 2–6 players, requires no prior knowledge of the BCB comic, and features 94 cards with a ton of unique artwork, in-jokes and references. It's simple enough for your family and friends, is deep on strategy and (most importantly!) is a lot of fun to play!
Book bag
$14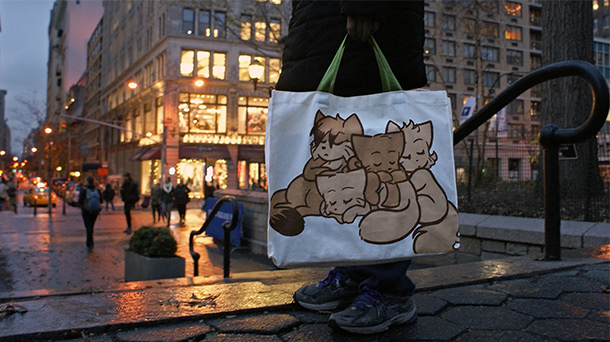 This roomy tote bag is made of tough 12-oz cotton. Its durable materials make it perfect for carrying books, groceries and BCB merchandise. Measures 15″ × 12″ × 6″.
iPhone app
Full of unique features, the official BCB app brings slice-of-life romantic comedy to your iPhone or iPod touch! Featuring a revamped design and lots of new BCB material, it's free (with an optional $5 in-app purchase.)
Featuring:
Picture Perfect
Waggle, tweet and blow your way through a multimedia extravaganza of an app-exclusive bonus comic!
An Awesome Reading Experience
Make use of super-clever readthrough tracking, and find favorite moments with better-than-the-website thumbnail previews!
Exclusive Wallpaper
Pore over a colorful collection of brand new wallpaper art by Veronica and wonderful artist friends!
… and lots more!
Update reminders! All of Candybooru! Ask Roseville High! Lots of Easter eggs!
Or visit http://bcb.cat/ on your iPhone or iPod touch and tap on the app banner!
FAQ
BCB is, like, my favorite thing. Is buying stuff here the way to help you keep making it?

Sure is! The two of us make our living selling the items on this page. Your purchase is our paycheck, so we appreciate every order!

This is gonna cost a lot to ship, right?

Relax. We use a combination of USPS and Amazon fulfilment to ship WORLDWIDE, as CHEAP AS WE CAN — the amount shown in the cart is a flat rate and won't change on Checkout.

I don't have PayPal! Can I still make an order?

Yep. We accept credit cards, cash in the mail and cheques. It's easy: simply add items to your cart and Checkout. You can print an order form there.

I just want to make a donation!

Tip us in the Checkout, no purchase required. (You're too kind!)