The beginning of the story, redrawn and remastered.
The update schedule has returned to Mon, Wed & Fri. New Webtoon episodes every Tue & Thurs.
The beginning of the story, redrawn and remastered.
The update schedule has returned to Mon, Wed & Fri. New Webtoon episodes every Tue & Thurs.
"Popularity Contest."
Chapter 109, page 6 of 14. Posted 11/30/20.
Welcome to Bittersweet Candy Bowl, a comic about love, cats and high school drama.
New to Roseville High? We made a special page just for you!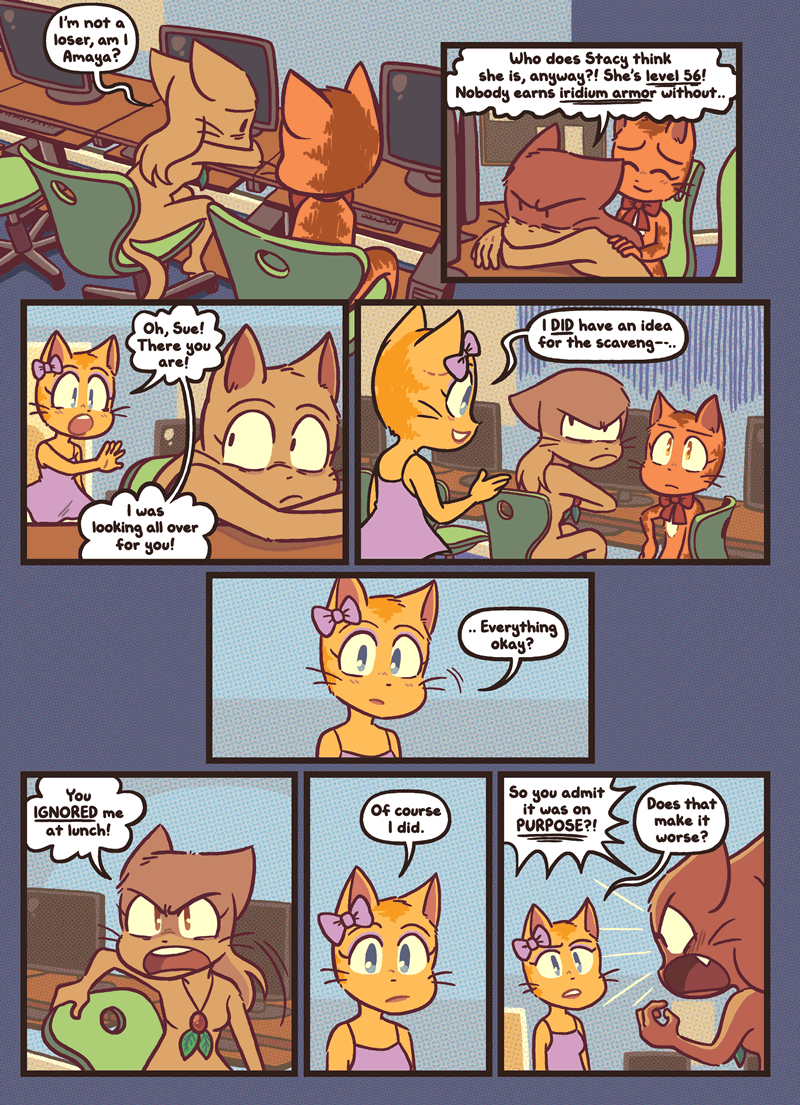 Read the next page today: Join the BCB Patreon!
The love these cats deserve
November 23, 2020
It's ready.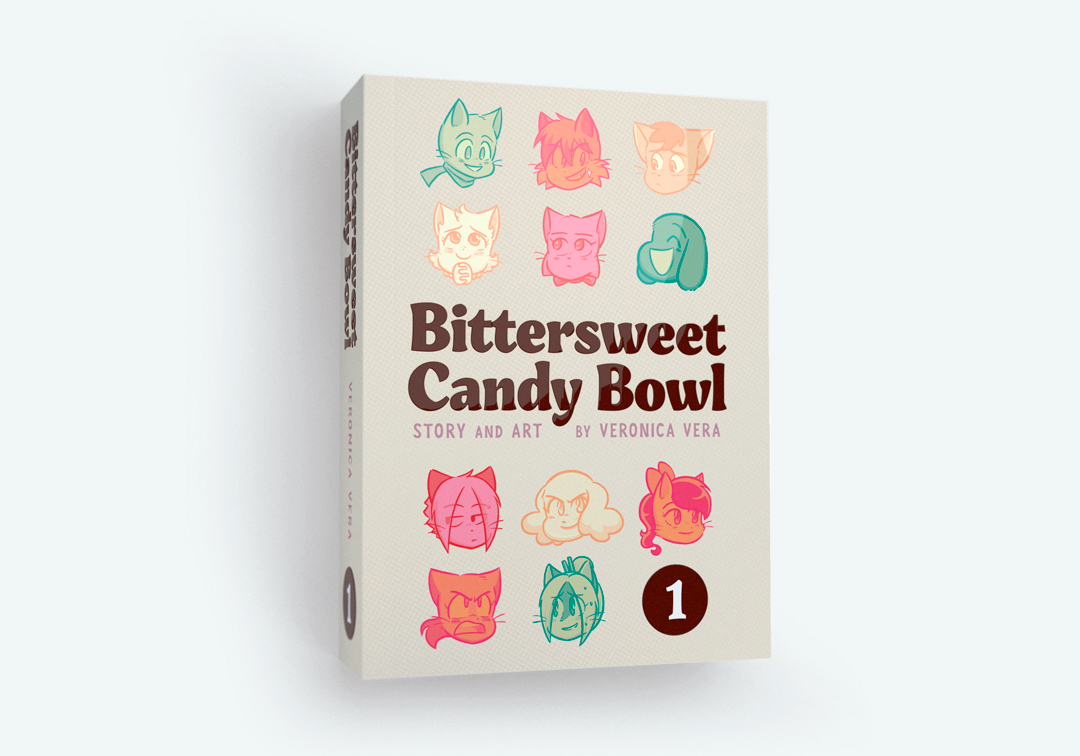 The Bittersweet Candy Bowl Omnibus. The first six years of the comic, all in one book! But it's not just that.
These early pages tell the story of Mike, Lucy, Daisy, Paulo and all the other students you've grown to love. They're fun, sweet and sincere and set up the romances and conflicts that really make BCB special!
But while the expressive art and heartfelt character drama was always there, the presentation of these old pages has just never been up to the standard of the rest of the comic. They were drawn on old notebook paper for so long! It took until Volume Two for BCB to really launch as a public webcomic that we took seriously, forever leaving the first quarter of the comic something we've had to work around, summarize, excuse.
Well, we're done doing that. These kids — and the stories that made them — are finally getting the care and affection they deserve. And we're immensely proud of the result.
We rewrote 74,935 words of dialogue. Recolored 855 pages. Added dozens of new sequences. Completely redrew hundreds of lined paper pages from Volume One. Here's a very quick sampling: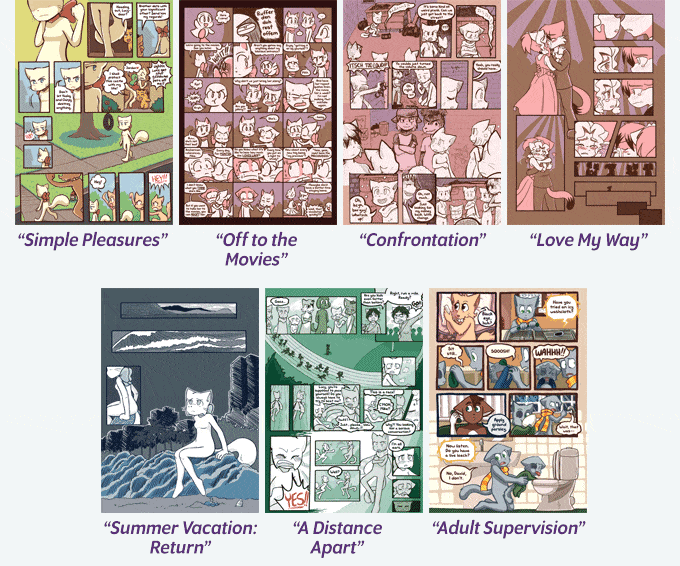 It's the funloving, chaotic, dramatic spirit of Volume One you know, only fully transcribed, rewritten, plotted out, redrawn, shaded, toned, and resequenced. We've taken the entire 69-chapter span of Volume One to Volume Three and integrated old chapters, added new chapters, cleaned and recoloured it all.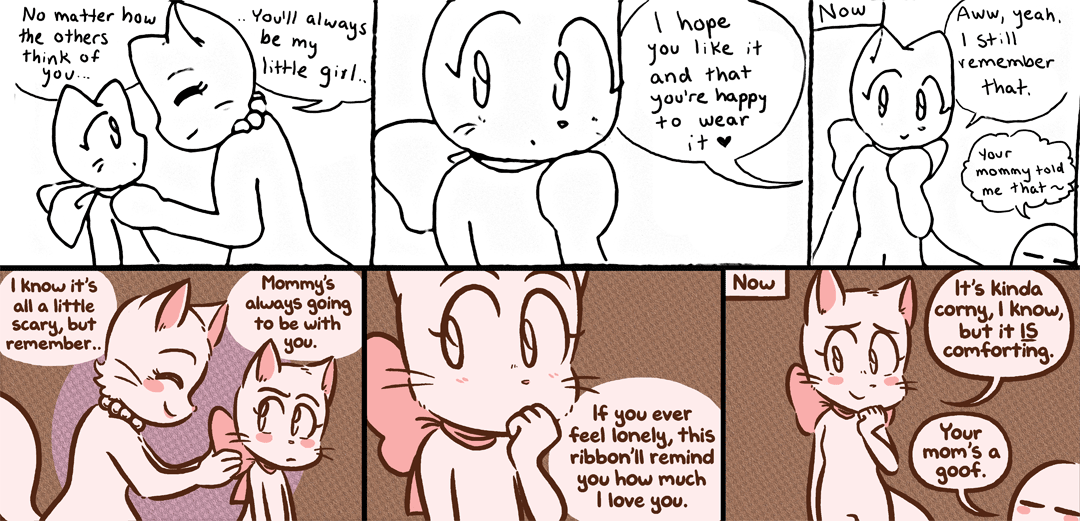 There's new canon, new sequences, new jokes, new nuance to every moment. Everything's prettier, everything's more consistent — but all the expressiveness and earnestness has been carefully preserved. We went through the comic page by page, reshading and recolouring by hand.
It's the entire first half of BCB, retold — and it covers some of the biggest, most memorable moments — the fight in Confrontation, the fall in Summer Vacation, the explosion of December, and the melancholy of At Loose Ends.
We just don't have space to show you everything! All the details about what's new are on Kickstarter. Check out the video, look over the different reward options, and pick out your very own!
And for another big announcement: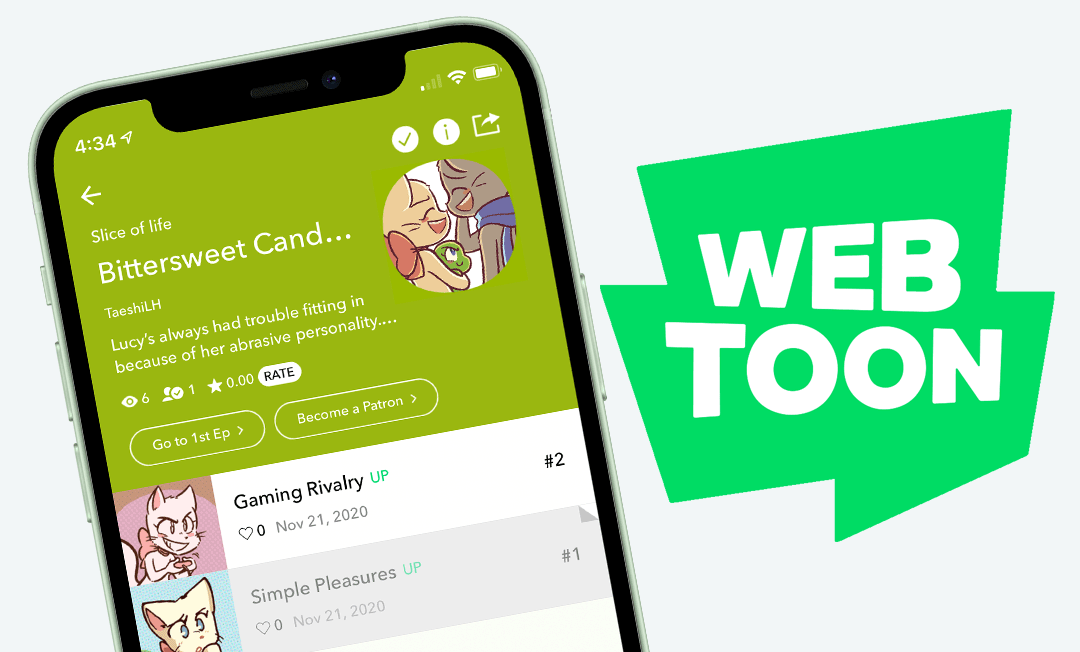 Starting today, BCB is now on Webtoon! It's starting at the start, and uploading new episodes twice a week.
We're eager to reach new people who will eat up this story in its gorgeous new style, and we want existing readers to have a chance to enjoy and discuss all the new material as it comes out. Subscribe to the Webtoon and read new chapters Tuesday and Thursday, between regular page updates!
… Which are now back to three days a week — Monday, Wednesday and Friday. Starting today!
No biggie.
We love this comic. The characters are a huge part of who we are — we grew up with them the same way you did. We're delighted that they're finally getting their chance to shine from the very start — and we have your patience to thank for allowing us to take the time to get it right.
Be a part of the Kickstarter project — let's get all these new pages into a book we can all treasure.
— Oliver