"Witch Hunt."
Chapter 105, page 37. Posted 9/16/19.
Welcome to Bittersweet Candy Bowl, a comic about love, cats and high school drama.
New to Roseville High? We made a special page just for you!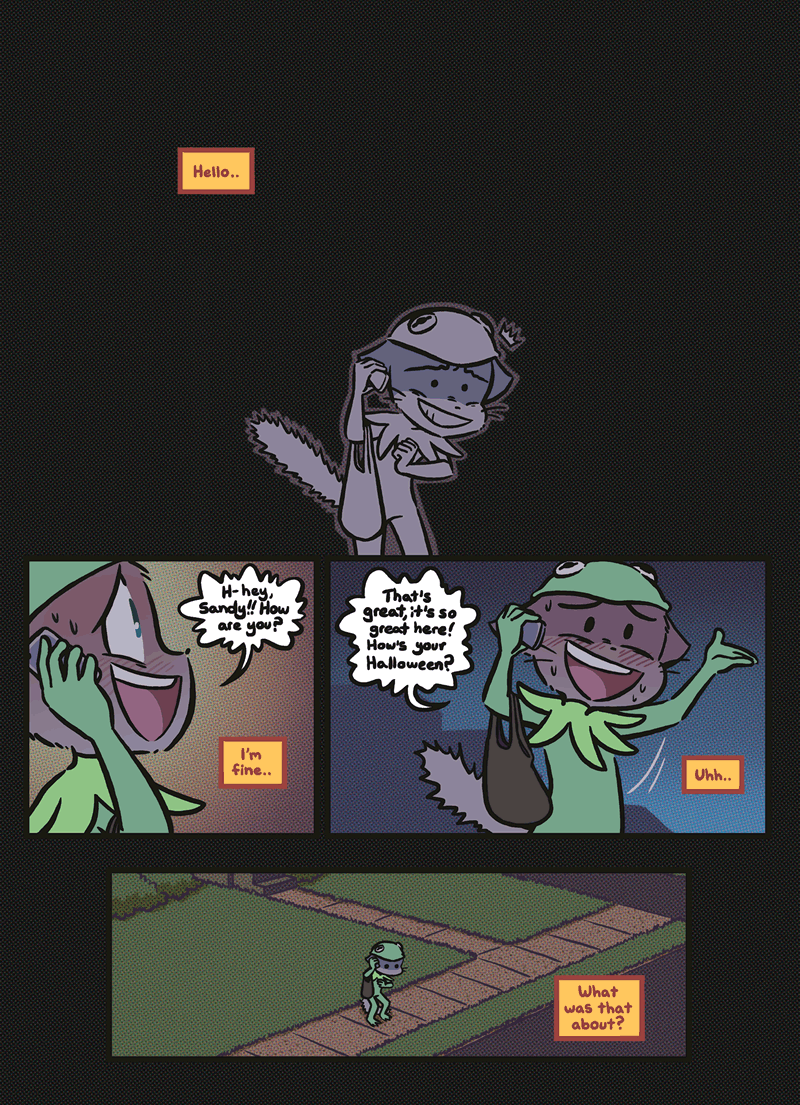 The next page is up early. Join the new BCB Patreon!
Changes.. on the internet! Ads, Taeshi Diary and the homepage
September 2, 2019
I've been on a bit of a tear recently, modernising a lot of BCB's social media. For years, for example, we ran a very basic little @bcbcomic Twitter feed, but now it's an extravaganza of weekly stream archive posts, carefully posed comic thumbnails, updates from Patreon, and more! The same is true of BCB on Facebook, and BCB on Tumblr, which each have new regular features being posted alongside the updates. They're all very nice things to mix into your social media diet!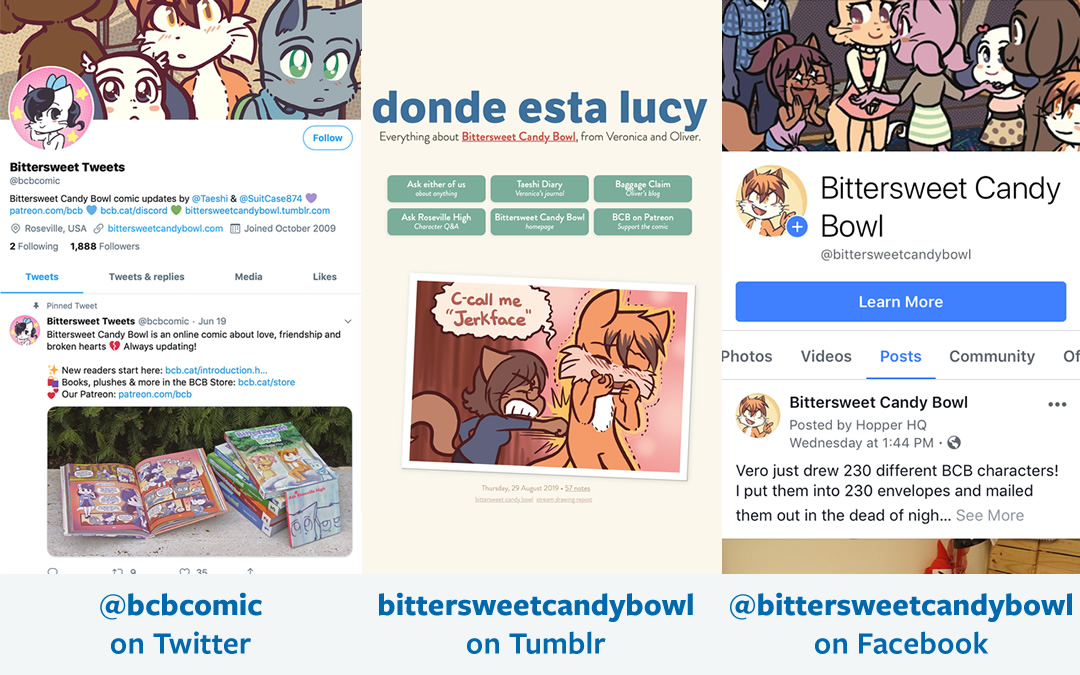 And, well, you saw what Sandy was posting to @bcbcomic on Instagram, right?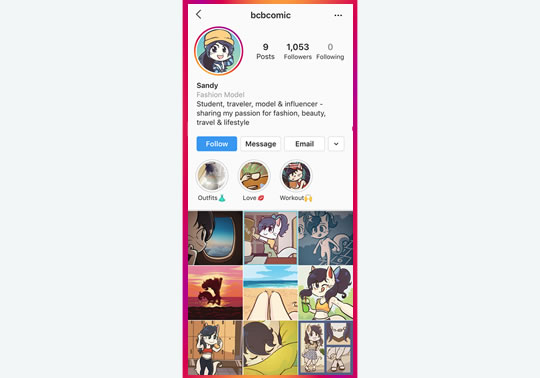 All of these places provide page updates, news on what we're doing, and fun surprises every week. Go and follow 'em, I'm queuing up loads of great stuff!
Taeshi Diary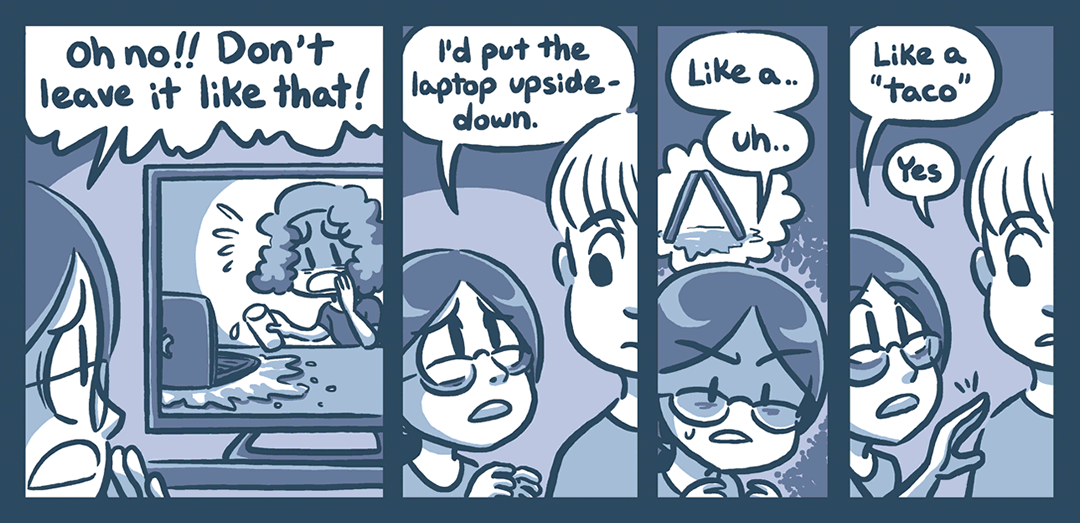 Taeshi Diary, Veronica's occasional journal comic, has returned with new updates! It posts weekly over on its Tumblr. Go catch up with it there!
.. but! If you're interested, we're posting the most beloved old Taeshi Diary posts to Webtoon, where we'd love to get your subscription! Webtoon is a site where you can read comics in vertical orientation, perfect for your phone (so maybe just get Webtoon from your app store and search "Taeshi Diary", yourself.)
We don't know how Webtoon works exactly but we're trying it out and seeing if there's some magic amount of interest that gets the algorithm to start recommending these journal comics beyond the existing audience on Tumblr. But you can help! Just come read some old journal comics you might have missed, and leave a comment. Like, subscribe, etc! You know the drill!
BCB Homepage Updates.. soon!
With social media conquered, the next step is the BCB homepage. I want the homepage to be a fun place to visit, where you can not only see the latest page, but commentary, art from our archives and other BCB comics!
The world has also changed since the last update, and so many more of you are reading on your big-screen phones. So I'm gonna make it better than ever for the devices you use, too!
That job is for this September. But there's one thing we might need your help with..
Banner ads
While BCB started a little too late for the real glory days of internet advertising, in our early years we made a pretty decent income from the banner ads on the site. I got in the habit of tweaking providers regularly to maximise what we earned, as well as furiously reporting popups and flashing screens and all the crap that was never supposed to happen but got through to our readers in the end anyway. It was all worth it, but..
Well, since maybe 2016, the whole banner ad industry has just cratered. Google and Facebook sucked all the money out of internet advertising and don't let publishers keep any of it. Meaning the ads we serve got worse.. and paid less.. and eventually, lead us to a position where we're in today where I wonder if we even NEED ads anymore. The only ones that pay anything float over the screen, or pop up where you don't expect them, and it's just… gross.
And for what they pay, I'd rather just link to Patreon or a BCB book for sale, you know? In fact, our Patreon has taken off so well since the big relaunch that we really are at the point that pulling the plug on our banner ads wouldn't be too much of a strain.
And combined with this homepage update, it could make for something really clean and beautiful. The homepage! The comic viewer! Candybooru! All free of ads. And if you block ads: not just free of ads, but designed to usefully use the space they took up.
I'm also increasingly queasy about Google's domination of the internet, and so, if we remove ads, I plan to strip out Google Analytics, put all our external libraries on site, and go through our site with a privacy analysing tool to make sure nothing on our site is phoning home about anything, to anyone.
If you're interested in helping out, we have a goal to remove ads once we get to 400 patrons. It'll be a financial hit, but if we make it over the line, a totally worthwhile one. And at the time of writing, we are really close! So come join the BCB Patreon! You can read the next page early! And be a part of the ad-eradication effort!
— Oliver