"College Material."
Chapter 106, page 3. Posted 11/11/19.
Welcome to Bittersweet Candy Bowl, a comic about love, cats and high school drama.
New to Roseville High? We made a special page just for you!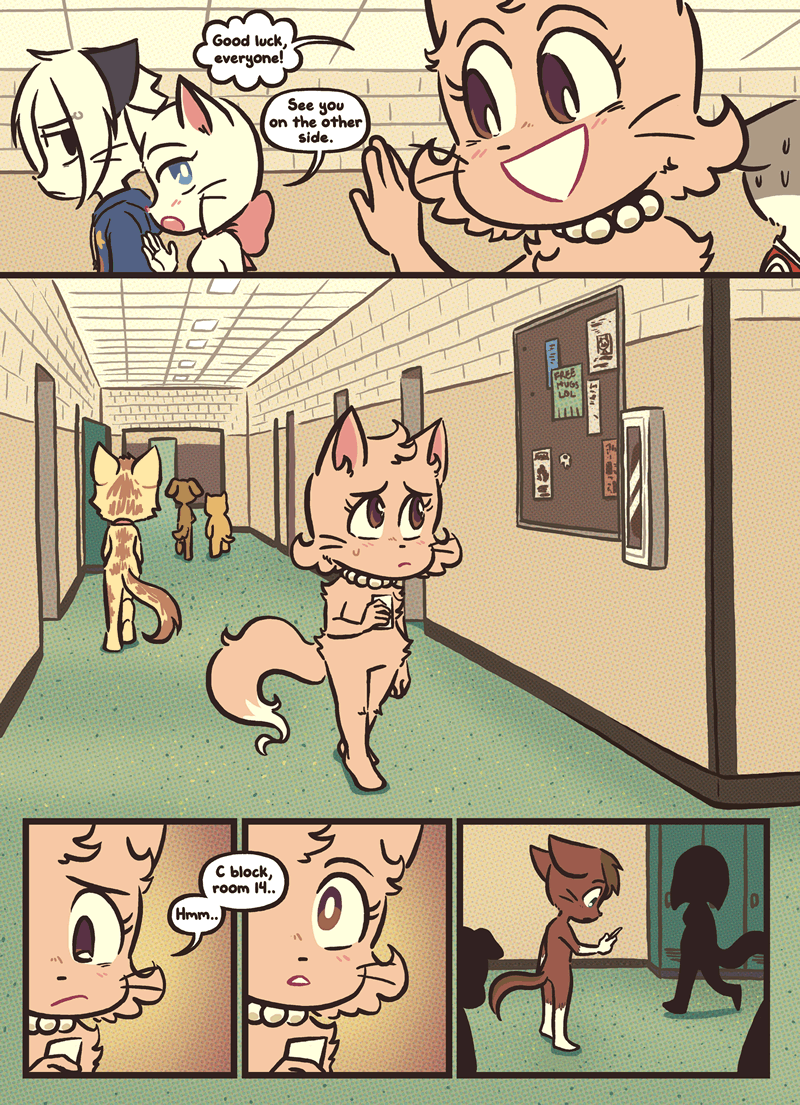 The next page is up early. Join the new BCB Patreon!
About that update schedule
October 14, 2019
HEY EVERYBODY!!! The chapter is almost over!! And what a crazy one it was, huh??? Ending right in the midst of Halloween season, I so totally intended that…..
Anyway, next chapter will be a bit more chill but with lots of moments to look forward to! And after that, there are big momentous chapters we've been building towards for a while. And we'll be able to enjoy them alllllllllll on a three-day-a-week schedule, right??
:'D
RIGHT?
Well.. allow me to be incredibly disappointing and admit that I don't want to change the one-day-a-week schedule.. not yet.
I definitely want to get back to the original update schedule as soon as possible, but I thought I'd have the BIG SECRET PROJECT done or mostly done by the time "Witch Hunt" ended. That turned out to not be the case! I still have a lot more of it to do, and while I wanted to keep our promise, I just don't think it's feasible.
While there's enough buffer to return to the regular schedule for the rest of 2019, I know how this kind of problem turns out. I'll eventually start to panic as the buffer dwindles, and Souppy will be forced to dig up something old or schedule a comic that was meant to be BCI after the chapter that's currently updating ends to maintain it. It happened with Grave Concern, it happened with Everyday Life. I hate it!! It feels like updating for the sake of updating, and I want to avoid that.
I've grown so much as an artist over the years, pages just don't take me 15 minutes like they used to in 2008. Depending on the backgrounds, the amount of characters involved, the complexity of dialogue, some nightmare pages can take up to two days to complete! Part of the reason I got the estimation wrong was that from the slower-schedule announcement in December 2018, it took me until MAY to rebuild a 50-page buffer, because all these pages you've been reading have streetscapes and five costumed characters a panel and all sorts of things that are just so much more laborious than talking heads with gradient backdrops.
Many months ago Souppy organised a monthlong end of year trip to take a break and see family, so I'm also fully aware I won't be able to work for a good chunk of time over the holidays… yet somehow I'm expecting myself to finish this demanding secret project while also updating three days a week again?
It just cannot work. I know my limitations.
Instead of giving myself goals that will make me miserable to miss, I'm deciding to say that the three-update-a-week schedule will return when I am finished with the secret project. Only then will I take a look at how much I have left in my buffer, how much work it'll take to refill it, and then make plans to return to a three-day-a-week schedule again.
I'm sorry about that. This means there's no current date on when the original update schedule will return. Souppy has estimations, but I don't know how much longer this project will take and I don't want to give myself a date to build anxiety around.
Not to be salty, but I'm sort of deciding this in a stubborn mutinous way. Mutinous to the world. I hate that I've been made to be so stressed out by this. I hate that the only hobby I have at this point is Pokémon Go, because I have no time for ANYTHING ELSE. I'll wake up, play Pokémon Go, then work until 5 AM. Every day, unless I'm going out to figure drawing class or it's someone's birthday or something. The thought of quitting Pokémon Go or playing less of it to make more time to finish this project feels incredibly insulting to me. It's something nobody has asked of me, but I feel an internal judgement. Like if I my project isn't coming in on time shouldn't I just devote more and more hours to it?
But I've done nothing else. I considered streaming Grandia and Grandia II for fun this year. That hasn't happened and I can't imagine it will anytime soon. Souppy wanted to stream Shenmue for some friends and that Dreamcast has sat unused on the desk since January I think?? (He's been working nonstop on the huge non-art demands of this project.) I've felt too guilty to organise Puyo nights with friends to practice playing Puyo Puyo. I haven't even given myself the time to DRAW Puyo Puyo fanart more than once or twice. I do nothing else but work on this project and play Pokémon Go to keep myself sane!! I haven't visited my father since the beginning of the year!
Souppy has organised trips for us this year to break up some of the work, and I even feel guilty over those! Why don't I just cancel our weekend trip to Florida and work on my project?? Why am I entitled at all??? The guilt eats me up.
But BCB has been alive and updating on time without fail for over ten years now. All I've done is reduce it from three to one day a week for a while. And once the project is done, I have no reason not to go back to three.
And while I don't want BCB to become an unreliable comic, some habits other less-reliable comics indulge in are… okay! It's self-care! It's knowing limitations! It's trying to avoid working yourself to death. Perhaps I should take a hint from all those dead webcomics and webcomics on hiatus out there and practice some self-care of my own.
And my self-care is to update one-day-a-week until the project I'm working on is done!!!! The end!!!!! in I hope it's worth it. Don't know what more to say other than I'll keep suffering, but in a way I can manage.
I hope that is okay. Thanks for all your patience!
— Veronica