"Witch Hunt."
Chapter 105, page 23. Posted 6/10/19.
Welcome to Bittersweet Candy Bowl, a comic about love, cats and high school drama.
New to Roseville High? We made a special page just for you!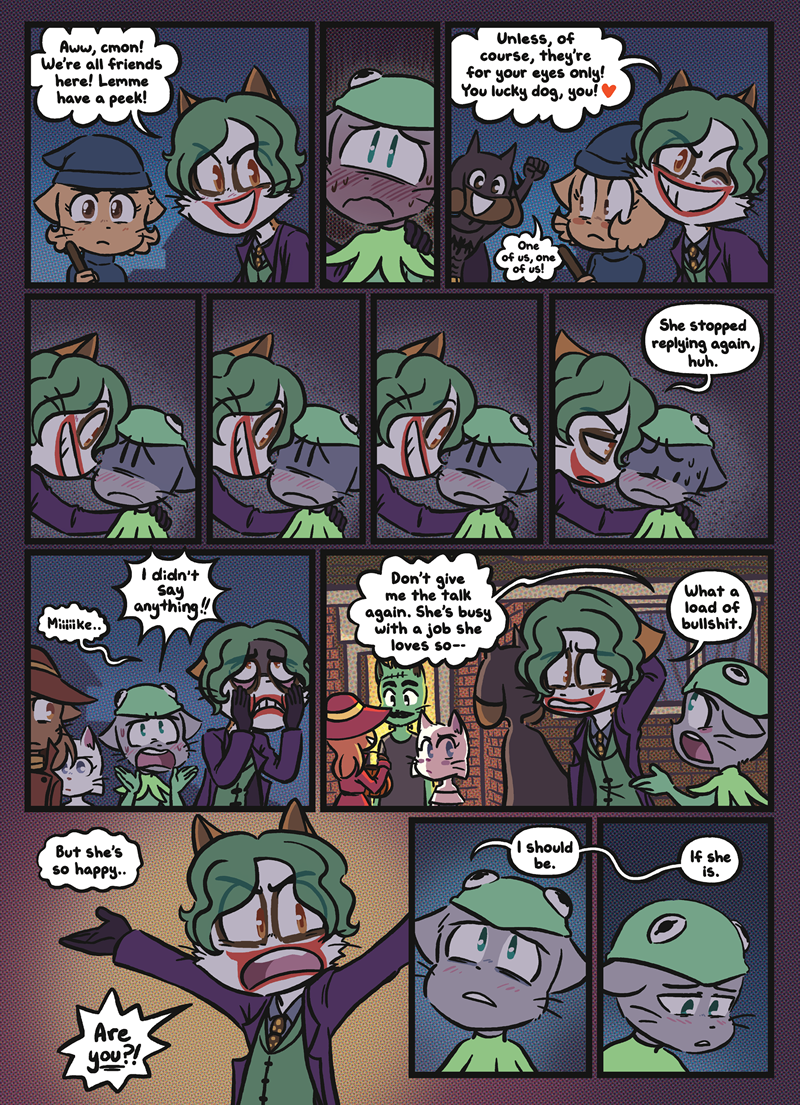 Volume Six month concludes, and there are NEW OLD CHAPTERS.
May 6, 2019
We didn't call it that until now, but that's what it's called. April. Volume Six month. HERE'S WHAT WE DID:
Released Volume Six on the BCB Store.
Updated the archive with all of Volume Six's edits and art tweaks. (Start from "Guest of Honor"!)
Uploaded the entire reworked Golden Hour, featuring 25 fully-drawn pages.
Reworked the Archives page into "Buried Treasure", a massive catalog of bonus comics both free and paywall'd!
What's that? A massive catalog of bonus comics was added to the site?! Yes, it's right here: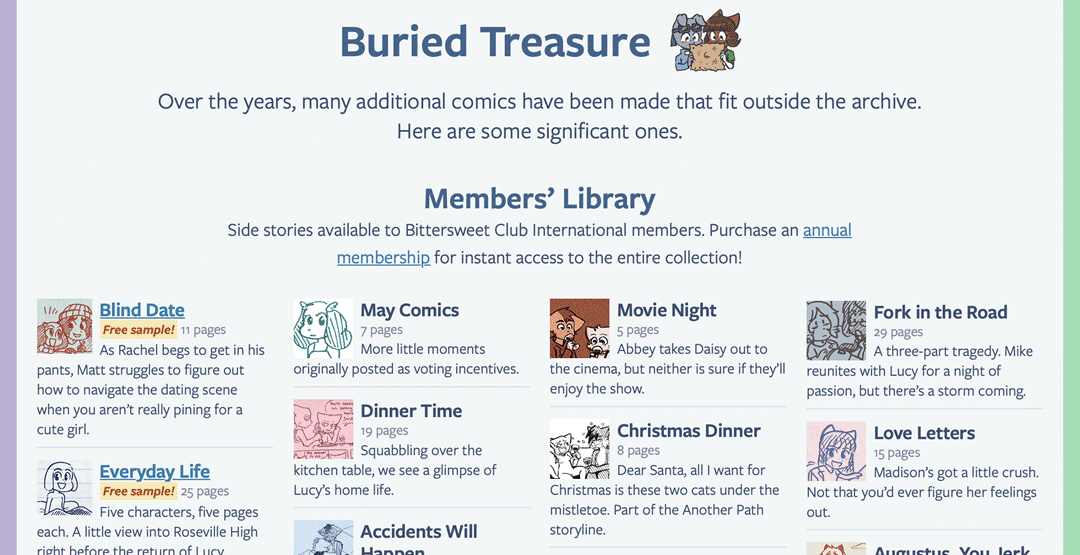 Get stuck into nearly TWO DOZEN comics excavated from Veronica's tag on Candybooru, nearly a HUNDRED PAGES in the Graveyard, and gaze at descriptions of all the chapters the cool kids with BCB books and BCI memberships get to read!

And if that isn't enough, we retagged all the draw stream requests and Ask Roseville High posts for easy reading. Phew!
We hope you're enjoying "Witch Hunt" as BCB continues its weekly update schedule until the chapter's through, but we really hope you'll get something out of these old comics! Even we forgot a bunch of these existed.
OH YEAH, CONVENTIONS
Do you want to meet us? Get your shiny new Volume Six improved with a drawing inside it? Purchase a plush toy right from the horse's… mouth? WELL WE HOPE YOU'RE IN TEXAS OR CALIFORNIA!

We'll be attending A-KON in Dallas, TX on June 28–30 (it's in a park??!) and ANIME EXPO in Los Angeles, CA on July 4–7!
One after the other! Wham bam, help us make back our airfare ma'am! Come see us if you're in the area! But don't worry if you can't, because the weekend before that, June 21–23, we're doing our FOURTH ANNIVERSARY PATREON-SUPPORTED DRAW STREAM.
So really, you have no excuse. JUNE-JULY is the MONTH OF SAYING HELLO TO US. We'll be waiting for you!
— Veronica and Oliver
Support the comic!