"College Material."
Chapter 106, page 7. Posted 12/9/19.
Welcome to Bittersweet Candy Bowl, a comic about love, cats and high school drama.
New to Roseville High? We made a special page just for you!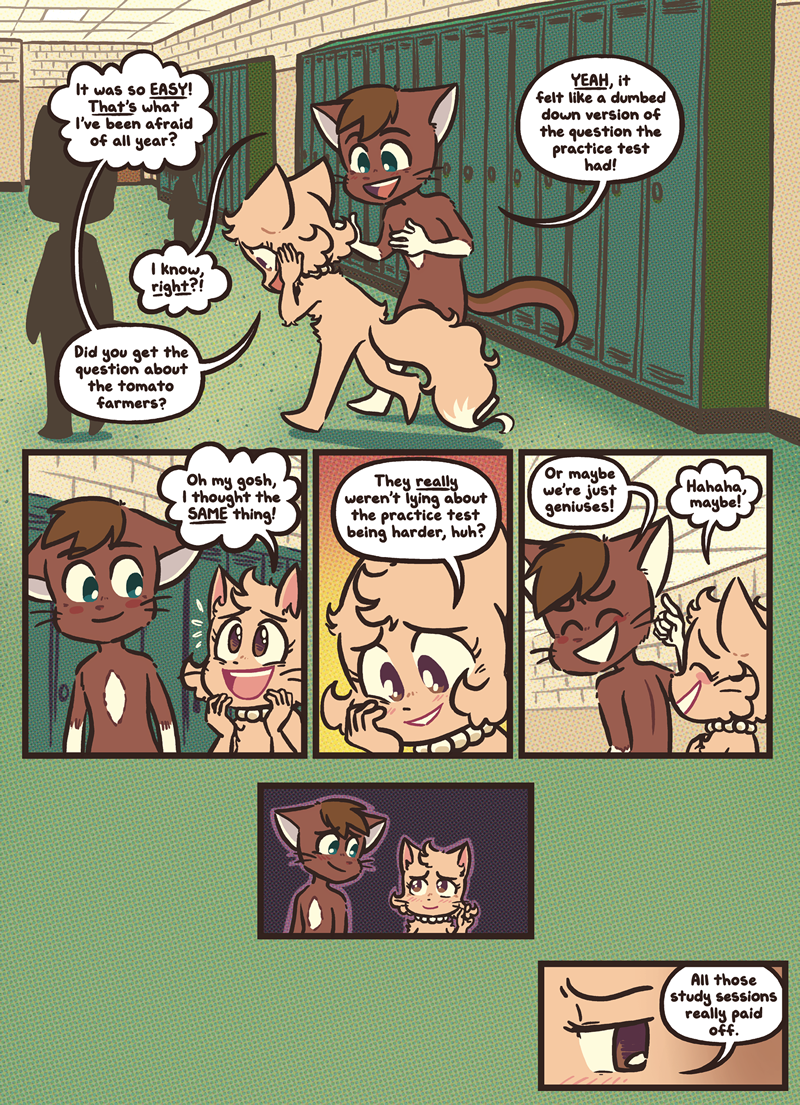 A BCB Greeting Card for the Holidays!
From our family to yours.
Join the BCB Patreon for $5 before December 23 & we'll personally send you a card we made just for the season!

Read the next page & get a card: Join the BCB Patreon!
"Merry Christmas, Roseville!" and a Very Special Greeting Card Offer
November 18, 2019
Season's greetings, friends! We're feeling very nondenominationally festive over here, if you've noticed our site design. We have two wonderful things to share with you this holiday season:
Become a member of the BCB Patreon before December 23 and we will personally mail you a greeting card with all our best wishes!
It's a special design painted just for this campaign, and we're so excited to send them to our closest internet friends! So not only can you:
Read the next page early
Discuss it with patrons in the comments or the secret Discord room
Suggest comic ideas, download wallpapers and examine full-size comic pages
You'll get an exclusive trinket for your mantlepiece, with exclusive art.
The sooner the better, of course, especially if you're overseas!
It's supposed to be a wonderful life, but maybe it isn't if you're Mike. In "Merry Christmas, Roseville!" his guardian angel David guides him through a version of reality where he was never born.
This twelve-page story is available only to members of Bittersweet Club International, and can be read alongside an extraordinary amount of special comics like it — 43 more, in fact!
Give yourself an early gift and sign yourself up for a year of membership with a single, non-recurring charge of $45. You won't even need to run to the bank!
We'll continue to toil away, elf-like, on gifts that won't be ready until 2020. We treasure the opportunity you've given us by being a part of our Patreon campaign and membership club throughout the year! All our best wishes to readers as the year draws to a close!
— Oliver