"Breaking Up."
Chapter 75 — Page 9 of 30. Page posted 5/24/13.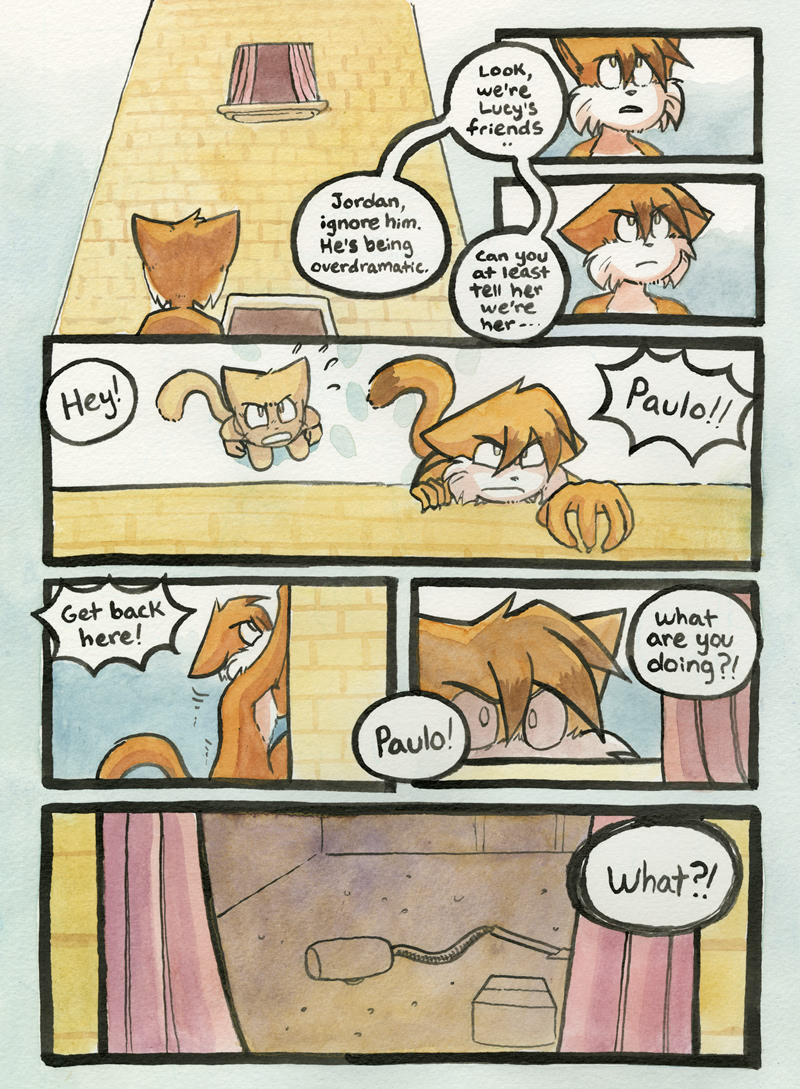 Next page due Monday!
News
An important message to our readers
We're planning a year of new things. Major changes that will completely uproot our lives and, if all goes to plan, give you guys much more to read and enjoy. But we've been pretty quiet throughout 2013.
All of that changes today! Set aside a moment and read on!
Coming to America
We want the next two years to be big, expansive ones for BCB. We want to be closer to friends, closer to store customers, and to meet lots of readers!
Those who follow us on Twitter might have noticed chatter about an international move, and yes, it's true! We can confirm that we're leaving Australia for the north-eastern corner of the USA. In June.
And we're not wasting any time once we're there. We've organised as many convention appearances as possible from July onwards. So far, there's ConnectiCon (Hartford, July 12-14), Intervention (DC, August 23-25), Baltimore Comic-Con (September 7-8) and the Small Press Expo (Bethesda, September 14-15). All confirmed dates! And there are more to come. It'll be like a big Summer road trip! With suitcases filled with books about angsty cats.
We're planning an awesome convention booth with lots of unique stuff on display. If any of these conventions are within your reach, this is your official notice. Please make plans to come by and say hello, we would love to meet you!
Putting the hard stuff behind us
2012 was a year of clean-up. We spent a lot of time telling you all a heap of backstory that was tough but ultimately rewarding. We polished the comic, site and store to a mirror sheen, all to better serve readers in the future years. We're proud that we invested all that effort.
BUT!
It's undeniable that 2012 was chaotic and sometimes draining. We've tried to keep the bad stuff to ourselves, but, honestly a few things went wrong in a year that was already bound to be a hard slog.
Problems with book printers pushed what was supposed to be a Christmas release into a protracted multi-month endeavour that we are only just winding up. There's an untold story about how the Lucy figurines ended up costing us many thousands of dollars more than they were supposed to, and it plagued us for all of 2012. Combine these money sinks with the (somewhat incredible) expense of moving, and you can see how we're basically stretched to the limit.
But we're staying upbeat. Necessity breeds invention, after all. We want to sell lots of books this year, but we are taking nothing for granted and are working super hard to earn your support with new commitments. After all, 2012 was our foundation. We're now ready to build on it.
Making 2013 Awesome
The next few months will see the release of four items we've been slaving away at since November last year. We have new stories, new experiences and, well, at least two new books! And they're all near completion. Stay tuned, as we plan to announce them one-by-one, starting in June. Please sign up for our newsletter if you want an email when we're ready to announce these new things!
But there is one particularly special thing we've been planning. If moving 9,000 miles didn't impress on you how committed we are to making this a big year for BCB, the following may change your mind:
After three years of M-W-F updates, Bittersweet Candy Bowl will update every weekday.
It's the one thing everyone asks for, but it's the hardest thing to deliver. Putting out this many more pages will take hundreds of hours of extra work. But we think it's worthwhile. A return to fast-moving plotlines and fewer frustrating cliffhangers. And, we hope, the formation of a new daily habit for most of you out there!
The new 5-day-a-week schedule starts in June.
And with your help…
We're looking towards a busy year full of new plans, new experiences and new challenges. But we aren't forgetting the fact that making this comic is fun and exhilarating work that we only indulge in through your continued support. We are blessed to have so many people who re-read the archives and beg their parents to buy them charms and draw cute fanart and vote for us in webcomic competitions and all sorts of thoughtful things that we never want to take for granted. So many of you are so dedicated and kind.
It's with that support in mind that we want to ask you guys to help us emerge from this transition with the most momentum possible. And as much as we love seeing book sales push Daisy closer to the mall, this one's free!
We want you to share BCB with the people you know. Fellow comic readers, gaming pals on Steam, closet daytime soap watchers, girlfriends, boyfriends, libertarian bronies, whoever you think might like a story like ours.
We realise that BCB is a guilty pleasure for many of you — a girly gossipy slice-of-life romance thing nestled in a webcomic bookmarks folder between fantasy epics and gag-a-days. But we decided a long time ago that high school drama is super fun when it's done right, and we're not ashamed to say we love the genre. We hope you agree!
And if you're a fan of what we do, one of the best things you can do to help us devote more time, energy and money into making more comics is to get other people to read with you. If you've ever contemplated it in the past: consider including BCB in a message board post about the webcomics you read, tell a friend, post a review on your blog. Maybe today, maybe three months from now, it doesn't really matter. All we ask is that you give it some thought. We promise to pay you back by working harder than we ever have before!
As always, keep an eye on the site. We'll post a series of big updates over the next few months as those four mysterious projects wind up. There are good reasons we made the news section bigger!
— Veronica and Oliver