1. Simple Pleasures, original chapter posted 11/2/09
Page 1 of 6
No earlier pages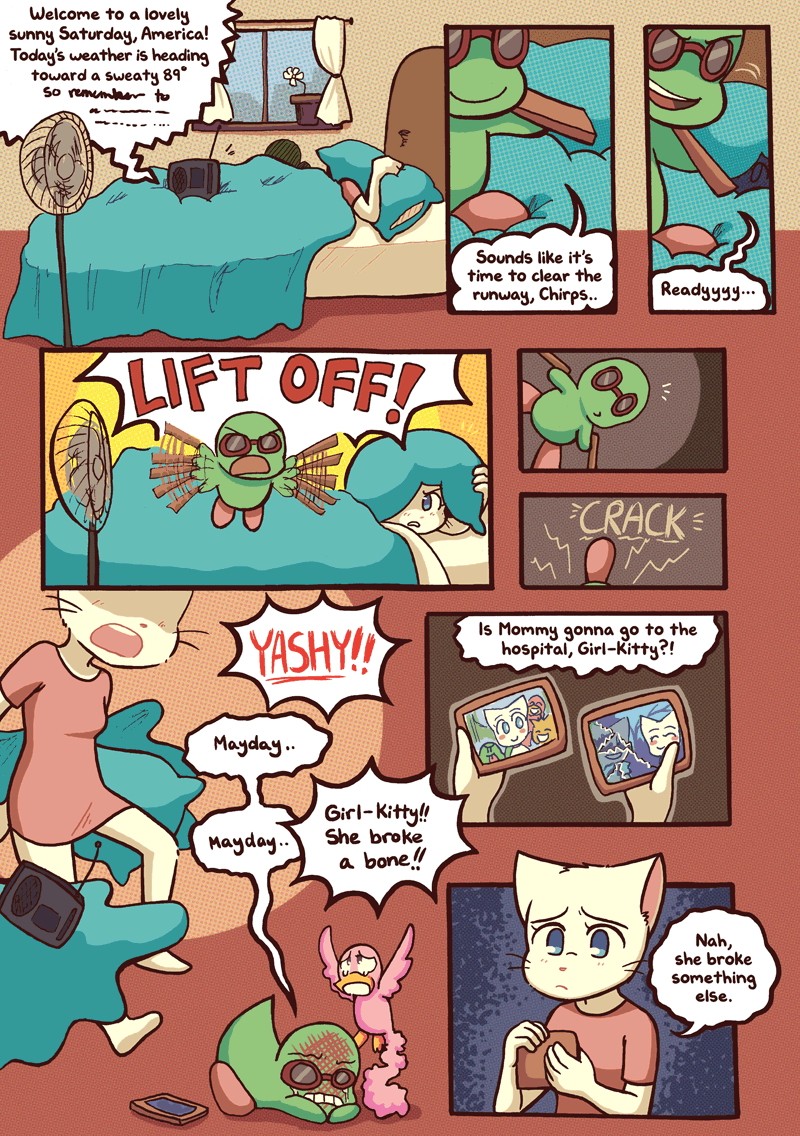 Transcript
Transcript

*Lucy, a white cat, is lying in her bed, holding a pillow over her head as the radio wakes her.*
Radio: Welcome to a lovely sunny Saturday, America! Today's weather is heading toward a sweaty 89° so remember to… [The radio trails off.]
*A small figure emerges from behind the bed.*

*The figure is revealed to be Yashy, a small lizard creature. She sits on the edge of the bed wearing goggles and holding two wing-like planks in her hands.*
Yashy: Sounds like it's time to clear the runway, Chirps..

*Yashy crouches, preparing to jump.*
Yashy: Readyyyy…

*Yashy leaps from the bed, flapping her plank wings and using the floor fan as a boost of wind.*
Yashy: LIFT OFF!
*Lucy lifts the pillow from her face to see what Yashy is doing.*

*Yashy suddenly stops in midair.*

*She falls to the ground with a loud CRACK.*

*Lucy scrambles from her bed.*
Lucy: YASHY!!
*Yashy lies on the floor with a sore face, tears in her eyes.*
Yashy: Mayday.. Mayday..
*Chirpy, a pink bird, lifts her wings and calls to Lucy in tears.*
Chirpy: Girl-Kitty!! She broke a bone!!

Chirpy: Is Mommy gonna go to the hospital, Girl-Kitty?!
*Lucy examines the two framed photos Yashy landed on. One picture shows Lucy with her pets, the other, cracked and damaged shows Mike and Lucy.*

*Lucy holds the frame, frowning at the damage.*
Lucy: Nah, she broke something else.


Talk about this page!
Chat
Make new friends, discuss the comic and share your art in the BCB Discord: