12. Off to the Movies, original chapter posted 6/27/06
Page 1 of 6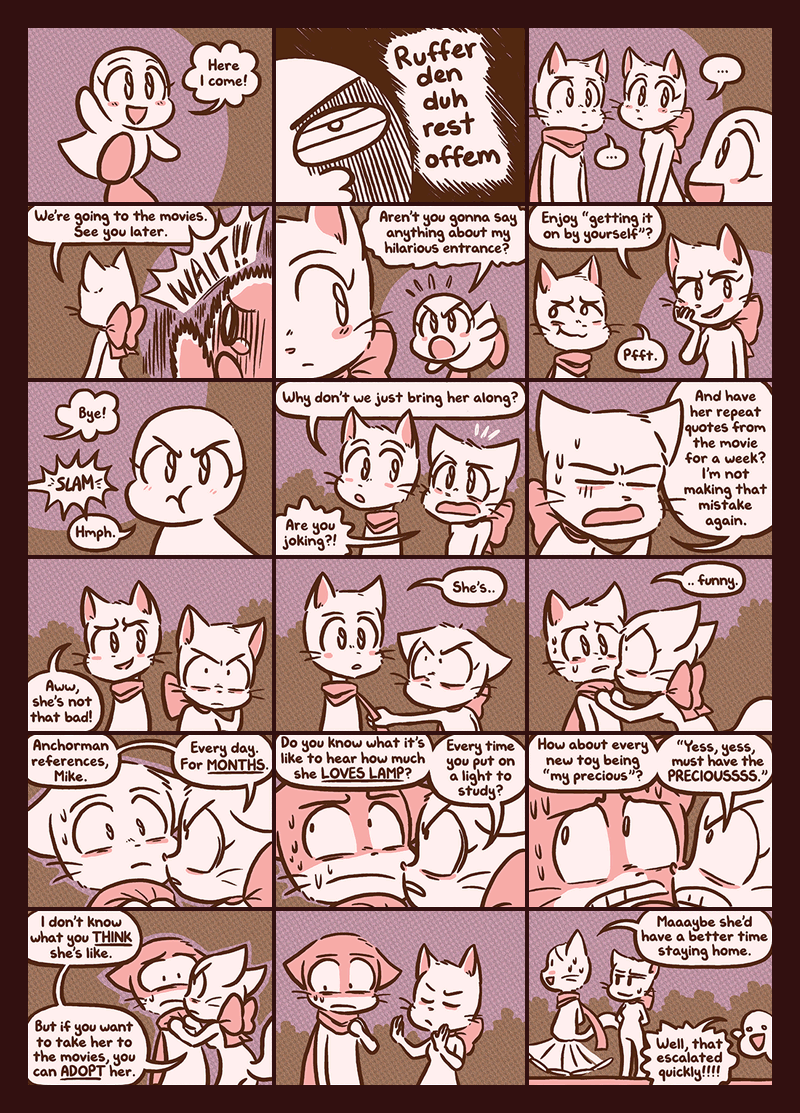 Transcript
Transcript

*Yashy enters the room.*
Yashy: Here I come!

*Yashy makes a serious face.*
Yashy: Ruffer den duh rest offem

*Yashy stares at Mike and Lucy in anticipation.*
Mike: …
Lucy: …

*Lucy turns and walks away.*
Lucy: We're going to the movies. See you later.
Yashy: WAIT!!

Yashy: Aren't you gonna say anything about my hilarious entrance?

Lucy: Enjoy "getting it on by yourself"?
*Mike snickers.*
Mike: Pfft.

Lucy: Bye!
*The door slams shut.*
Yashy: Hmph.

*Mike turns to Lucy as they walk outside.*
Mike: Why don't we just bring her along?
Lucy: Are you joking?!

*Lucy rubs her face.*
Lucy: And have her repeat quotes from the movie for a week? I'm not making that mistake again.

Mike: Aww, she's not that bad!
*Lucy snaps.*

*Lucy grabs Mike's scarf.*
Mike: She's..

*Lucy brings her face to Mike's. Mike begins to sweat nervously.*
Mike: .. funny.

*Lucy progressively gets closer as Mike continues to sweat.*
Lucy: Anchorman references, Mike. Every day. For MONTHS.

Lucy: Do you know what it's like to hear how much she LOVES LAMP? Every time you put on a light to study?

Lucy: How about every new toy being "my precious"? "Yess, yess, must have the PRECIOUSSSS."

Lucy: I don't know what you THINK she's like. But if you want to take her to the movies, you can ADOPT her.

*Lucy lets go of Mike's scarf.*

*Mike scurries away.*
Mike: Maaaybe she'd have a better time staying home.
*Yashy pokes her head in from the side of the panel.*
Yashy: Well, that escalated quickly!!!!


Talk about this page!
Chat
Make new friends, discuss the comic and share your art in the BCB Discord: