27. Flirting with Disaster, original chapter posted 11/3/06
Page 1 of 6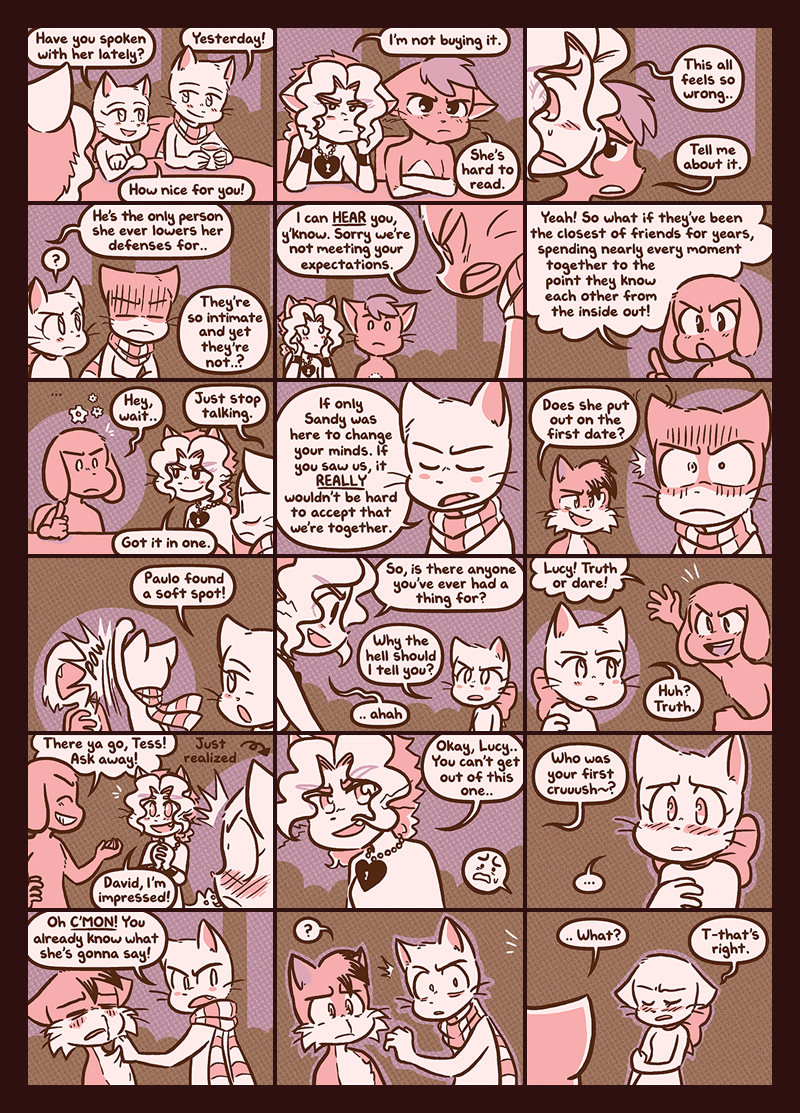 Transcript
Transcript

*Mike and Lucy sit next to each other at the lunch table, smiling and talking.*
Lucy: Have you spoken with her lately?
Mike: Yesterday!
Lucy: How nice for you!
*Tess looks on from across the table.*

*Tess squints at them. Abbey sits next to her, arms crossed.*
Tess: I'm not buying it.
Abbey: She's hard to read.

*Tess sweats nervously, averting her gaze.*
Tess: This all feels so wrong..
*Abbey side-eyes Tess.*
Abbey: Tell me about it.

*Mike's smile drops into a grimace.*
Tess: He's the only person she ever lowers her defenses for..
*Lucy glances at Mike, annoyed.*
Lucy: ?
Tess: They're so intimate and yet they're not..?

*Mike stands, leering at them and leaning forward on the table.*
Mike: I can HEAR you, y'know. Sorry we're not meeting your expectations.
*Tess and Abbey freeze.*

*David raises a finger, looking serious.*
David: Yeah! So what if they've been the closest of friends for years, spending nearly every moment together to the point they know each other from the inside out!

*David pauses, thoughtfully.*
David: Hey, wait..
*Mike stares.*
Mike: Just stop talking.
*Tess smirks at David.*
Tess: Got it in one.

*Mike scoffs.*
Mike: If only Sandy was here to change your minds. If you saw us, it REALLY wouldn't be hard to accept that we're together.

*Appearing from behind, Paulo grins.*
Paulo: Does she put out on the first date?
*Mike freezes, his eyes wide.*

*Mike hits Paulo upside the head. Lucy looks on.*
Lucy: Paulo found a soft spot!

*Tess smirks at Lucy.*
Tess: So, is there anyone you've ever had a thing for?
*Lucy looks back at Tess, annoyed.*
Lucy: Why the hell should I tell you?
Tess: .. ahah

*David raises his hand, smiling mischievously.*
David: Lucy! Truth or dare!
*Lucy glances at David.*
Lucy: Huh? Truth.

*David grins and offers a hand to Tess.*
David: There ya go, Tess! Ask away!
[An arrow, pointed to Lucy: Just realized]
*Lucy blushes, looking mad. Tess clasps her hands together, smiling brightly.*
Tess: David, I'm impressed!

*Tess turns back to Lucy with a smirk on her face.*
Tess: Okay, Lucy.. You can't get out of this one..

Tess: Who was your first cruuush~?
*Lucy holds a hand up to her chest, suddenly shy.*
Mike: …

*Mike turns his head, scowling. He is holding Paulo by the fur on his chest. Paulo's eyes are shut as he bleeds from his nose.*
Mike: Oh C'MON! You already know what she's gonna say!

*Mike lets Paulo go, looking shocked. Paulo opens his eyes to look at Lucy.*
Paulo: ?

Mike: .. What?
*Lucy blushes, and her eyes slip shut.*
Lucy: T-that's right.


Talk about this page!
Chat
Make new friends, discuss the comic and share your art in the BCB Discord: