29. Midterm Time, original chapter posted 1/12/07
Page 3 of 5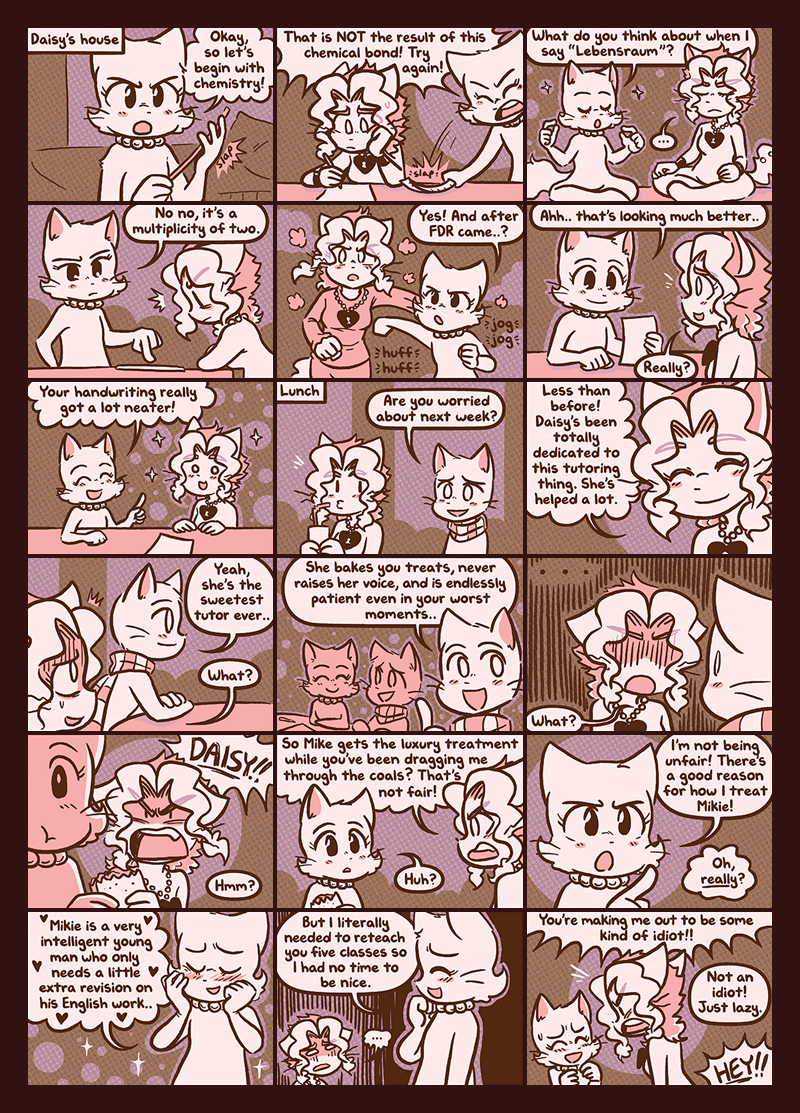 Transcript
Transcript

[Caption: Daisy's house]
*Daisy stands in front of her bed and raps a ruler against her hand, looking determined.*
Daisy: Okay, so let's begin with chemistry!

[The next sequence is a montage of events.]
*Tess is pouting as she fills out a worksheet on Daisy's desk. Daisy slaps the ruler beside her.*
Daisy: That is NOT the result of this chemical bond! Try again!

*Daisy and Tess sit cross-legged on the floor and meditate.*
Daisy: What do you think about when I say "Lebensraum"?
*Tess frowns slightly in concentration.*
Tess: …

*Tess sits at Daisy's desk. Daisy points at the worksheet in front of her and frowns.*
Daisy: No no, it's a multiplicity of two.

*Tess, now in a tracksuit, jogs outside, huffing and puffing, as Daisy jogs next to her while quizzing her.*
Daisy: Yes! And after FDR came..?

[The montage ends.]
*Daisy looks over Tess' worksheet and smiles.*
Daisy: Ahh.. that's looking much better..
*Tess looks relieved.*
Tess: Really?

*Daisy points her finger at Tess and smiles.*
Daisy: Your handwriting really got a lot neater!
*Tess, a little stunned, begins to sparkle with joy.*

[Caption: Lunch]
*Tess is sitting next to Mike in the cafeteria. She sips her juice box while Mike speaks to her.*
Mike: Are you worried about next week?

*Tess smiles proudly.*
Tess: Less than before! Daisy's been totally dedicated to this tutoring thing. She's helped a lot.

*Mike looks off into the distance.*
Mike: Yeah, she's the sweetest tutor ever..
*Tess' smile begins to fade.*
Tess: What?

Mike: She bakes you treats, never raises her voice, and is endlessly patient even in your worst moments..
*Mike reminisces, recalling a scene of Daisy kindly smiling at Mike as he works.*

*Tess' mouth hangs open.*
Tess: …
*Mike stares blankly in return.*
Mike: What?

*Tess turns around to Daisy and screams.*
Tess: DAISY!!
*Daisy, eating a sandwich, pauses.*
Daisy: Hmm?

*Tess growls at Daisy.*
Tess: So Mike gets the luxury treatment while you've been dragging me through the coals? That's not fair!
*Daisy turns to Tess, looking confused.*
Daisy: Huh?

*Daisy points at Tess, her brow furrowed.*
Daisy: I'm not being unfair! There's a good reason for how I treat Mikie!
Tess: Oh, really?

*Daisy holds her hands to her blushing cheeks and smiles. Sparkles surround her.*
Daisy: ♥ Mikie is a very intelligent young man who only needs a little extra revision on his English work.. ♥

*Daisy sheepishly holds her clutched fingers to her mouth.*
Daisy: But I literally needed to reteach you five classes so I had no time to be nice.
*Tess sinks into despair.*
Tess: …

*Tess looms over Daisy and yells.*
Tess: You're making me out to be some kind of idiot!!
*Daisy shies away from Tess.*
Daisy: Not an idiot! Just lazy.
Tess: HEY!!


Talk about this page!
Chat
Make new friends, discuss the comic and share your art in the BCB Discord: