3. Merry Snow Day, original chapter posted 5/8/06
Page 1 of 4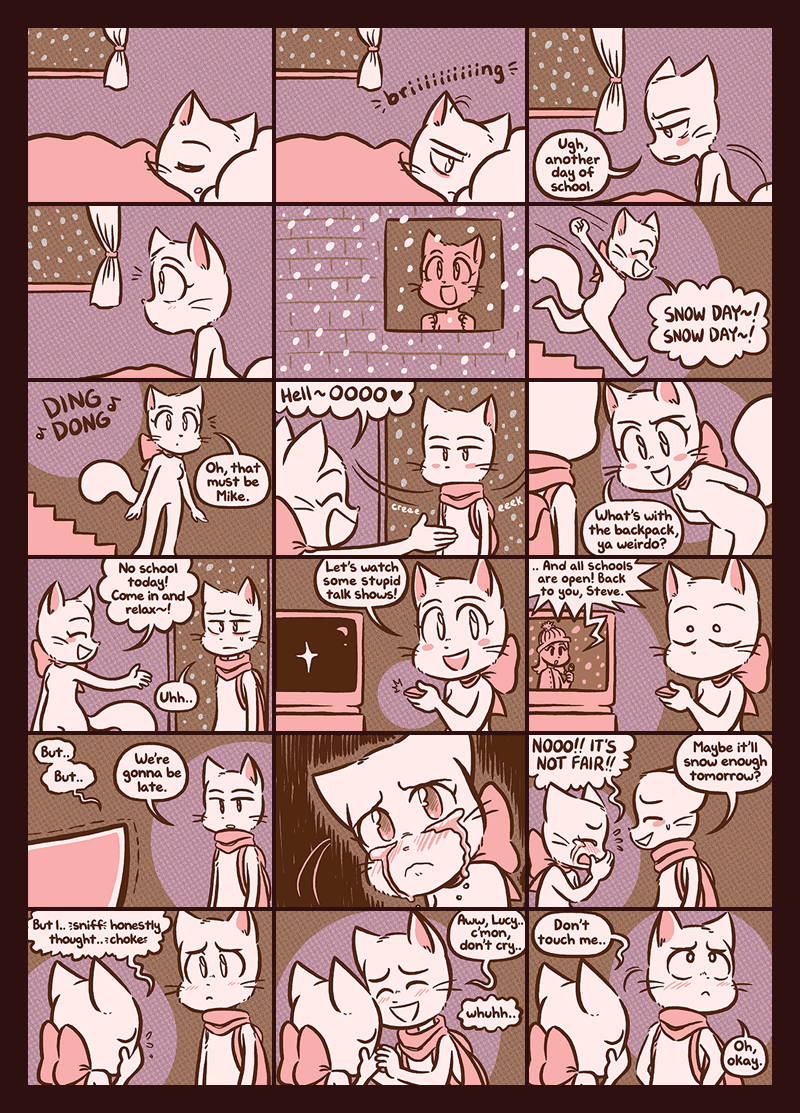 Transcript
Transcript

*Lucy lays in her bed, asleep.*

*Her alarm sounds with a "briiiing", and she opens one eye.*

*Lucy sits up.*
Lucy: Ugh, another day of school.

*Noticing the snowfall outside, Lucy gleefully jumps out of bed and runs downstairs.*

Lucy: SNOW DAY~! SNOW DAY~!

*The doorbell rings.*
Lucy: Oh, that must be Mike.

*Lucy opens the front door to find Mike standing on the other side.*
Lucy: Hell~OOOO ♥

Lucy: What's with the backpack, ya weirdo?

Lucy: No school today! Come in and relax~!
Mike: Uhh..

*Lucy turns on the TV.*
Lucy: Let's watch some stupid talk shows!

Reporter: .. And all schools are open! Back to you, Steve.

*Lucy shivers.*
Lucy: But.. But..
Mike: We're gonna be late.

*Tears stream down Lucy's devastated face.*

Lucy: NOOO!! IT'S NOT FAIR!!
*Mike smiles sweetly.*
Mike: Maybe it'll snow enough tomorrow?

Lucy: But I.. (sniff) honestly thought.. (choke)

*Mike reaches out to comfort Lucy.*
Mike: Aww, Lucy.. c'mon, don't cry..
Lucy: whuhh..

Lucy: Don't touch me..
*Mike recoils and shyly looks to the side.*
Mike: Oh, okay.


Talk about this page!
Chat
Make new friends, discuss the comic and share your art in the BCB Discord: