40. Moving On, original chapter posted 7/7/07
Page 1 of 6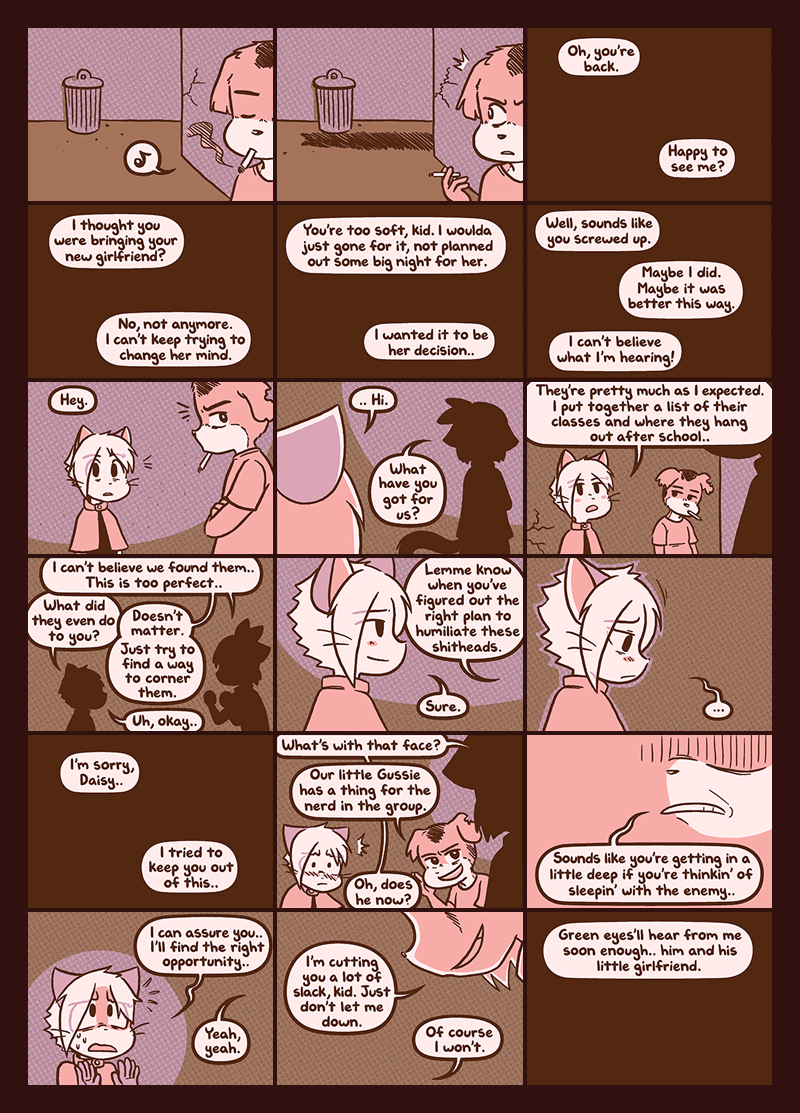 Transcript
Transcript

*Toby leans against a cracked wall in a dim back alley. He hums, smoking a cigarette.*

*Toby glances up, startled, as a shadow approaches the trash can at the alley entrance. He frowns and removes the cigarette from his mouth.*

[The following panels are completely black except for dialogue.]
Toby: Oh, you're back.
Augustus: Happy to see me?

Toby: I thought you were bringing your new girlfriend?
Augustus: No, not anymore. I can't keep trying to change her mind.

Toby: You're too soft, kid. I woulda just gone for it, not planned out some big night for her.
Augustus: I wanted it to be her decision..

Toby: Well, sounds like you screwed up.
Augustus: Maybe I did. Maybe it was better this way.
Toby: I can't believe what I'm hearing!

[The section of black panels ends.]
*Toby and Augustus look up. Augustus looks surprised but Toby frowns and leans against the wall, arms crossed.*
Alejandro: Hey.

*Augustus stares at the shadowed figure of Alejandro a few feet away.*
Augustus: .. Hi.
Alejandro: What have you got for us?

*Toby puts his hands down and watches Augustus.*
Augustus: They're pretty much as I expected. I put together a list of their classes and where they hang out after school..

*Augustus and Alejandro are silhouetted in the dark alley.*
Alejandro: I can't believe we found them.. This is too perfect..
Augustus: What did they even do to you?
*Alejandro brings his fists up.*
Alejandro: Doesn't matter. Just try to find a way to corner them.
Augustus: Uh, okay..

Alejandro: Lemme know when you've figured out the right plan to humiliate these shitheads.
*Augustus smirks.*
Augustus: Sure.

*Augustus glances down, blushing slightly with a frown.*
Augustus: …

[Another black panel.]
Augustus (thinking): I'm sorry, Daisy.. I tried to keep you out of this..

*Alejandro's shadowed silhouette leans in.*
Alejandro: What's with that face?
*Toby smiles mockingly, cupping a hand to his cheek.*
Toby: Our little Gussie has a thing for the nerd in the group.
Alejandro: Oh, does he now?
*Augustus goes wide-eyed with panic.*

*Alejandro sneers.*
Alejandro: Sounds like you're getting in a little deep if you're thinkin' of sleepin' with the enemy..

*Augustus puts up his hands defensively, fearfully shrinking back from Alejandro.*
Augustus: I can assure you.. I'll find the right opportunity..
Alejandro: Yeah, yeah.

*Alejandro looks down, smiling cruelly.*
Alejandro: I'm cutting you a lot of slack, kid. Just don't let me down.
Augustus: Of course I won't.

*The scene fades to black.*
Alejandro: Green eyes'll hear from me soon enough.. him and his little girlfriend.


Talk about this page!
Chat
Make new friends, discuss the comic and share your art in the BCB Discord: