18. Farewell, Middle School, original chapter posted 8/9/06
Page 4 of 6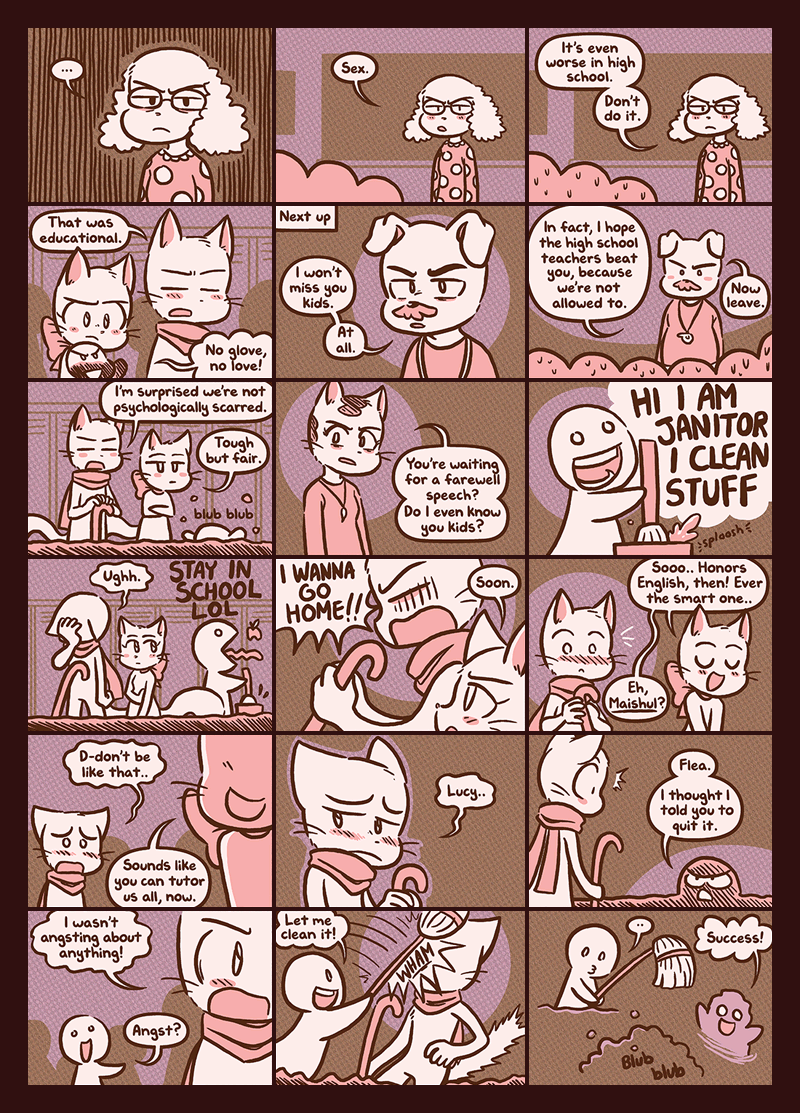 Transcript
Transcript

*The Sex-ed teacher glares at her students.*
Sex-ed teacher: …

Sex-ed teacher: Sex.

Sex-ed teacher: It's even worse in high school. Don't do it.
*She continues to glare as her students sweat.*

*Mike and Lucy move on to their next class.*
Mike: That was educational.
*Lucy looks down at an excited Yashy, still covered in chocolate.*
Yashy: No glove, no love!

[Caption: Next up]
*The pug teacher looks slightly annoyed.*
Pug teacher: I won't miss you kids. At all.

Pug teacher: In fact, I hope the high school teachers beat you, because we're not allowed to.
*His students sweat.*
Pug teacher: Now leave.

*Mike and Lucy make their way to their next class, looking irritated.*
Mike: I'm surprised we're not psychologically scarred.
Lucy: Tough but fair.
*They ignore Yashy as she becomes submerged in the chocolate river.*
Yashy: blub blub

*The cat teacher angrily addresses the students.*
Cat teacher: You're waiting for a farewell speech? Do I even know you kids?

*The janitor sloshes their mop in a bucket.*
Janitor: HI I AM JANITOR I CLEAN STUFF

*Mike puts his hand to his face, walking past the janitor with Lucy.*
Mike: Ughh.
*The janitor sticks his tongue out.*
Janitor: STAY IN SCHOOL LOL

*Mike lifts his cane up in annoyance.*
Mike: I WANNA GO HOME!!
Lucy: Soon.

Lucy: Sooo.. Honors English, then! Ever the smart one..
*Lucy closes her eyes and smiles.*
Lucy: Eh, Maishul?
*Michael freezes up, blushing.*

*Mike looks at Lucy, distressed.*
Mike: D-don't be like that..
*Lucy continues to smile as she walks away.*
Lucy: Sounds like you can tutor us all, now.

*Mike frowns and looks away with a wistful look.*
Mike: Lucy..

*Yashy, now completely covered in ice cream, glares up at Mike.*
Yashy: Flea. I thought I told you to quit it.
*Mike stops in shock.*

*Mike yells at Yashy.*
Mike: I wasn't angsting about anything!
*The janitor pops up in the background.*
Janitor: Angst?

Janitor: Let me clean it!
*The janitor whacks Mike with his mop.*

Janitor: ..
*The janitor watches with a pout as Mike falls into the ice cream river and starts to drown.*
*Yashy, rising from the pool of ice cream, lifts her arms up in celebration.*
Yashy: Success!


Talk about this page!
Chat
Make new friends, discuss the comic and share your art in the BCB Discord: