31. Carry On, original chapter posted 2/4/07
Page 4 of 6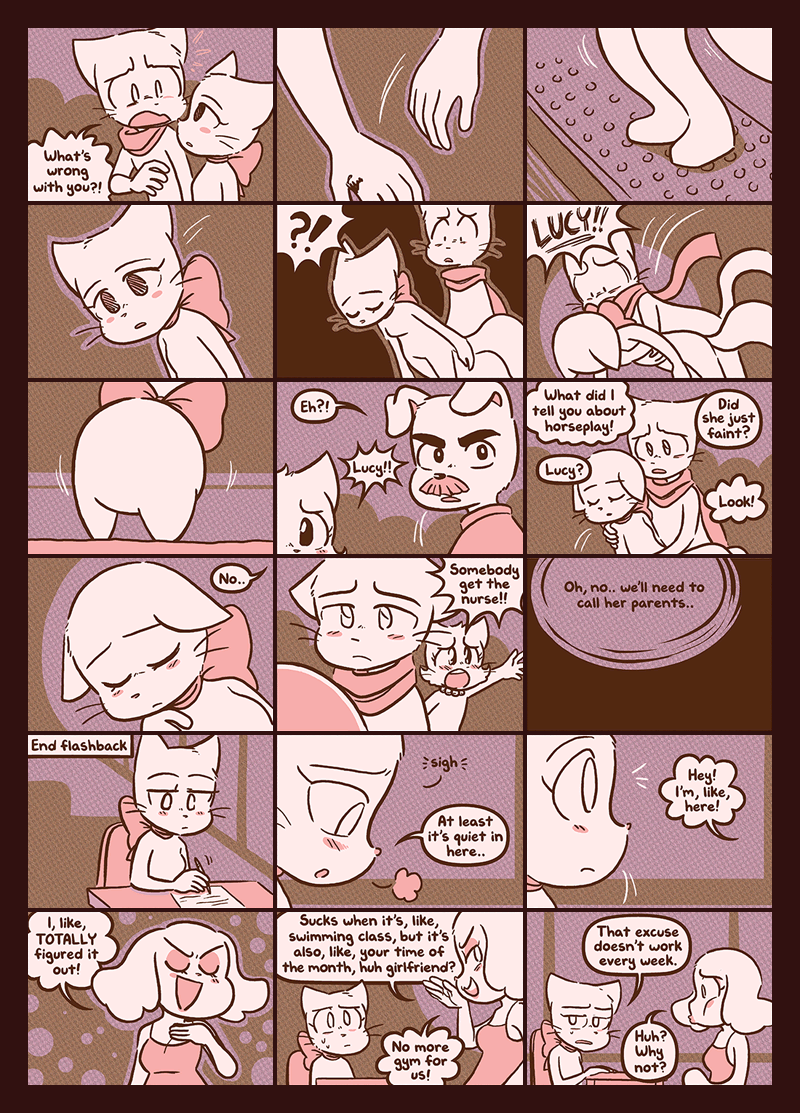 Transcript
Transcript

*Mike looks freaked out.*
Mike: What's wrong with you?!
*Lucy is unresponsive.*

*Lucy's hand slips from Mike's. She starts to tip forward.*

*Lucy's eyes close. Mike looks terrified.*
Mike: ?!

*Mike catches Lucy before she falls into the pool.*
Mike: LUCY!!

*Lucy hangs over the pool, the tips of her ears touching the water.*

*The gym teacher turns to look.*
Middle-school gym teacher: Eh?!
*Daisy looks worried.*
Daisy: Lucy!!

Middle-school gym teacher: What did I tell you about horseplay!
Students: Did she just faint? Look!
*Lucy is unconscious. Mike worriedly props her up.*
Mike: Lucy?

*Lucy's eyes are closed and her ears are turned down.*
Mike: No..

*Mike looks at her solemnly. Daisy raises an arm and shouts out.*
Daisy: Somebody get the nurse!!

School nurse: Oh, no.. we'll need to call her parents..

[Caption: End flashback]
*Lucy is writing at her desk with a bored expression.*

*She sighs.*
Lucy: At least it's quiet in here..

Katie: Hey! I'm, like, here!
*Lucy looks up.*

*Katie bounds into the classroom, proudly holding a hand to her chest.*
Katie: I, like, TOTALLY figured it out!

*Katie walks up to Lucy, smiling slyly.*
Katie: Sucks when it's, like, swimming class, but it's also, like, your time of the month, huh girlfriend?
*Lucy looks baffled.*
Katie: No more gym for us!

*Lucy looks to the side, unimpressed.*
Lucy: That excuse doesn't work every week.
*Katie puffs out her cheeks in disappointment.*
Katie: Huh? Why not?


Talk about this page!
Chat
Make new friends, discuss the comic and share your art in the BCB Discord: