Intermission: Out of the Frame, original chapter posted 5/14/07
Page 1 of 4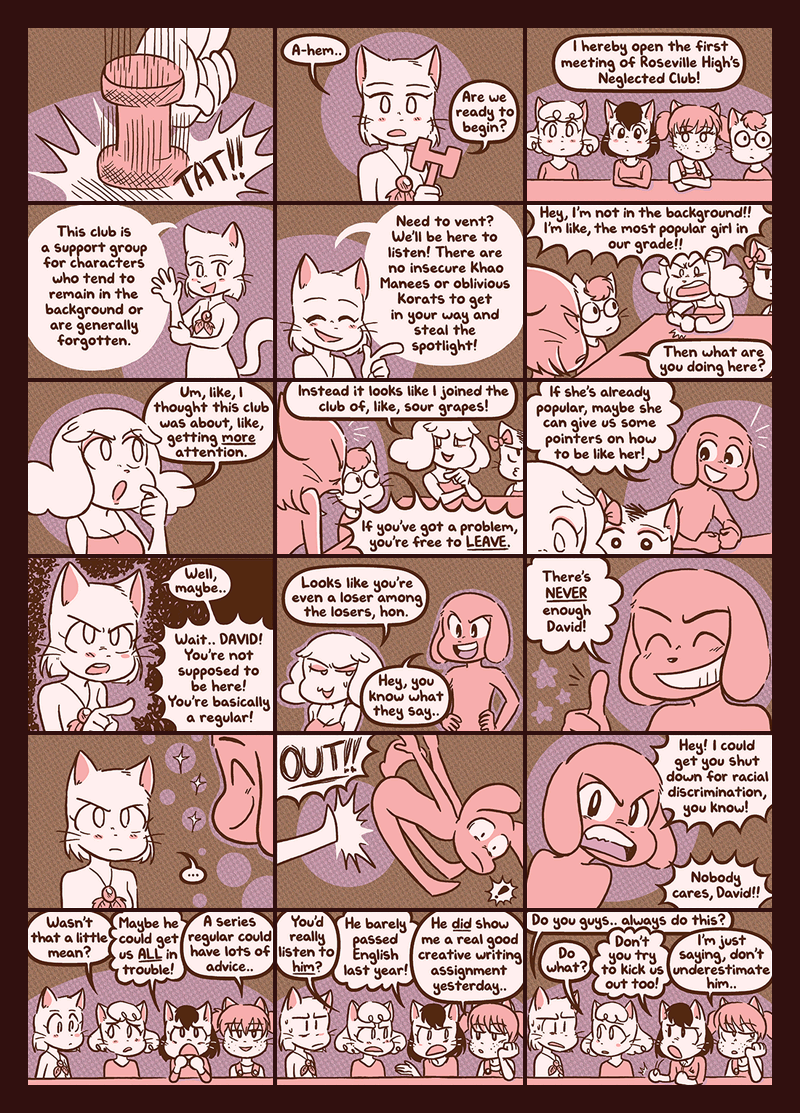 Transcript
Transcript

*A gavel comes down hard on the table.*

*Sue stands, holding the gavel in front of her.*
Sue: A-hem..
Sue: Are we ready to begin?

*Katie, the Three Weird Girls and John are sitting at the table as Sue speaks.*
Sue: I hereby open the first meeting of Roseville High's Neglected Club!

*Sue waves her hand and smiles.*
Sue: This club is a support group for characters who tend to remain in the background or are generally forgotten.

*Sue grins cheerfully and points.*
Sue: Need to vent? We'll be here to listen! There are no insecure Khao Manees or oblivious Korats to get in your way and steal the spotlight!

*Katie slams both fists on the table.*
Katie: Hey, I'm not in the background!! I'm like, the most popular girl in our grade!!
*Sue glares at her as John looks on warily. Stacy stares ahead blankly.*
Sue: Then what are you doing here?

*Katie taps her chin and looks thoughtful.*
Katie: Um, like, I thought this club was about, like, getting more attention.

*Katie looks smug.*
Katie: Instead it looks like I joined the club of, like, sour grapes!
*Sue snarls.*
Sue: If you've got a problem, you're free to LEAVE.
*Stacy pouts and rolls her eyes.*

*David leans over with a bright smile.*
David: If she's already popular, maybe she can give us some pointers on how to be like her!

Sue: Well, maybe..
*Sue narrows her eyes and jabs her finger in his direction.*
Sue: Wait.. DAVID! You're not supposed to be here! You're basically a regular!

*Katie sneers at David.*
Katie: Looks like you're even a loser among the losers, hon.
*David puts his hands on his hips with a defiant grin.*
David: Hey, you know what they say..

David: There's NEVER enough David!
*David gives himself a thumbs-up and a cheesy smile.*

*Sue stares silently at the smiling David.*
Sue: …

Sue: OUT!
*Sue kicks the surprised David in the rear end, knocking him out of the room.*
David: !

*David growls back over his shoulder at Sue.*
David: Hey! I could get you shut down for racial discrimination, you know!
Sue: Nobody cares, David!!

*Sue stands beside the Three Weird Girls.*
*Girl 1 looks worried.*
Girl 1: Wasn't that a little mean?
*Girl 2 is upset and balls up her hands.*
Girl 2: Maybe he could get us ALL in trouble!
*Girl 3 looks hopeful.*
Girl 3: A series regular could have lots of advice..

*Sue looks confused as she watches the girls debate.*
*Girl 1 looks at Girl 2 in confusion.*
Girl 1: You'd really listen to him?
*Girl 2 glares at Girl 3 in annoyance.*
Girl 2: He barely passed English last year!
*Girl 3 leans her head on her hand.*
Girl 3: He did show me a real good creative writing assignment yesterday..

*Sue starts sweating.*
Sue: Do you guys.. always do this?
*Girl 1 eyes Sue.*
Girl 1: Do what?
*Girl 2 smacks the tabletop with her fists.*
Girl 2: Don't you try to kick us out too!
*Girl 3 looks away from the rest of the group.*
Girl 3: I'm just saying, don't underestimate him..


Talk about this page!
Chat
Make new friends, discuss the comic and share your art in the BCB Discord: