6. Flying Lessons, original chapter posted 6/9/06
Page 1 of 4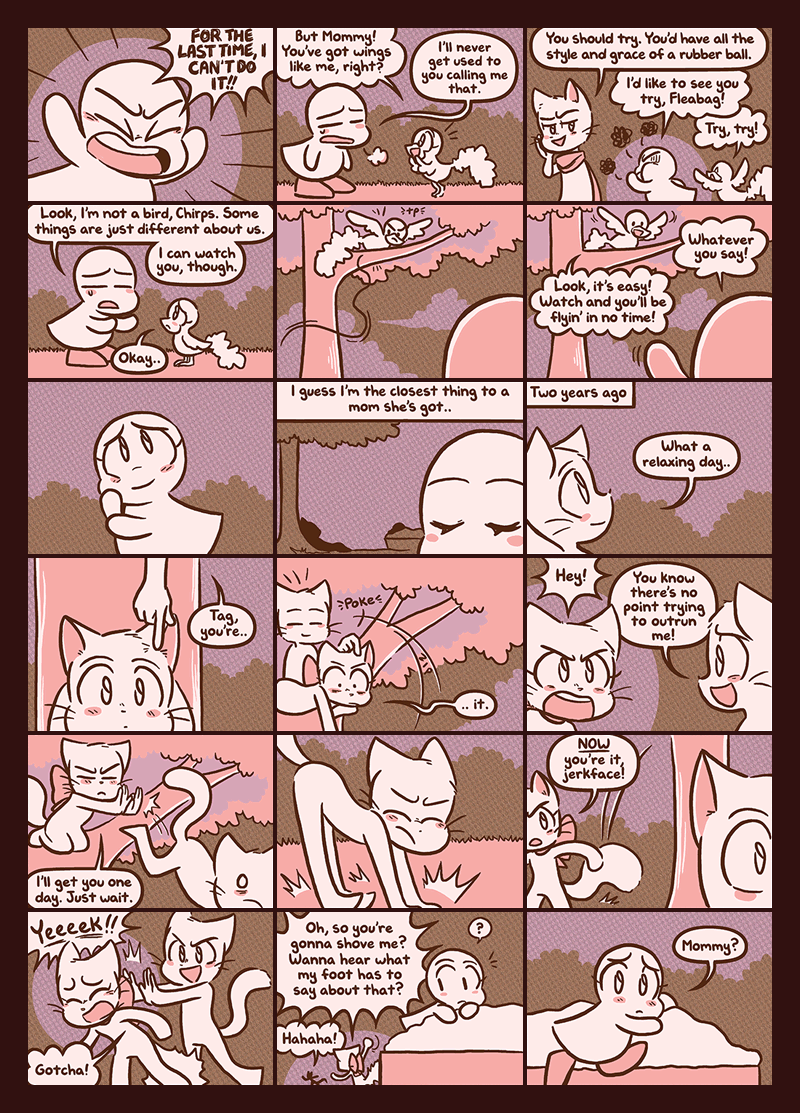 Transcript
Transcript

Yashy: FOR THE LAST TIME, I CAN'T DO IT!!

Chirpy: But Mommy! You've got wings like me, right?
*Yashy sighs.*
Yashy: I'll never get used to you calling me that.

*Mike smirks.*
Mike: You should try. You'd have all the style and grace of a rubber ball.
*Yashy shakes her fist in anger, while Chirpy mimics her.*
Yashy: I'd like to see you try, Fleabag!
Chirpy: Try, try!

Yashy: Look, I'm not a bird, Chirps. Some things are just different about us. I can watch you, though.
Chirpy: Okay..

*Chirpy flies into a nearby tree.*

Chirpy: Look, it's easy! Watch and you'll be flyin' in no time!
Yashy: Whatever you say!

*Yashy looks on with affection.*

*Yashy closes her eyes and recalls a scene from the past.*
Yashy (narrating): I guess I'm the closest thing to a mom she's got..

[Caption: Two years ago]
*Mike leans back against a tree.*
Mike: What a relaxing day..

*Lucy reaches down from a branch to tap Mike.*
Lucy: Tag, you're..

*Mike quickly leaps into the tree and pokes Lucy instead.*
Lucy: .. it.

*Lucy yells.*
Lucy: Hey!
Mike: You know there's no point trying to outrun me!

*Lucy shoves Mike off the branch.*
Lucy: I'll get you one day. Just wait.

*Mike lands on all fours.*

*Lucy hops out of the tree.*
Lucy: NOW you're it, jerkface!

*Mike shoves Lucy back.*
Lucy: Yeeeek!
Mike: Gotcha!

*Lucy chases Mike into the distance while Yashy climbs into a sandbox.*
Lucy: Oh, so you're gonna shove me? Wanna hear what my foot has to say about that?
Mike: Hahaha!
Yashy: ?

*Yashy turns around, worried.*
Yashy: Mommy?


Talk about this page!
Chat
Make new friends, discuss the comic and share your art in the BCB Discord: