1. Simple Pleasures, original chapter posted 11/2/09
Page 3 of 6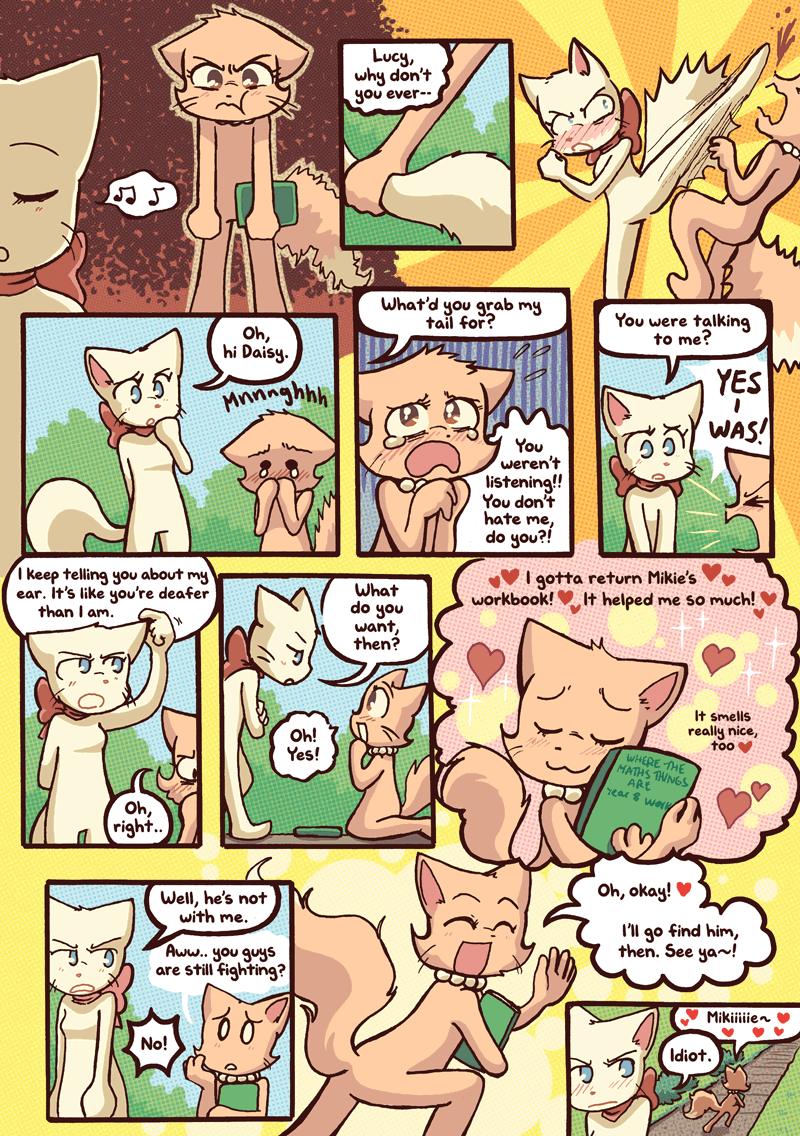 Transcript
Transcript

*Daisy fumes while Lucy sings, oblivious.*

*Daisy grabs Lucy's tail.*
Daisy: Lucy, why don't you ever--

*Lucy swiftly kicks Daisy in the face.*

*Lucy puts her hand to her face, concerned.*
Lucy: Oh, hi Daisy.
*Daisy grabs her nose.*
Daisy: Mnnnghhhh

Lucy: What'd you grab my tail for?
*Daisy wails.*
Daisy: You weren't listening!! You don't hate me, do you?!

Lucy: You were talking to me?
Daisy: YES I WAS!

*Lucy points at her left ear.*
Lucy: I keep telling you about my ear. It's like you're deafer than I am.
Daisy: Oh, right..

Lucy: What do you want, then?
*Daisy perks up.*
Daisy: Oh! Yes!

*Daisy, surrounded by hearts, hugs onto a math workbook.*
Daisy: ♥ I gotta return Mikie's workbook! It helped me so much! It smells really nice, too ♥

Lucy: Well, he's not with me.
Daisy: Aww.. you guys are still fighting?
Lucy: No!

Daisy: Oh, okay! ♥ I'll go find him, then. See ya~!

*Daisy skips away.*
Daisy: ♥ Mikiiiiie~ ♥
Lucy: Idiot.


Talk about this page!
Chat
Make new friends, discuss the comic and share your art in the BCB Discord: