20. Hot Pursuit, original chapter posted 9/6/06
Page 2 of 14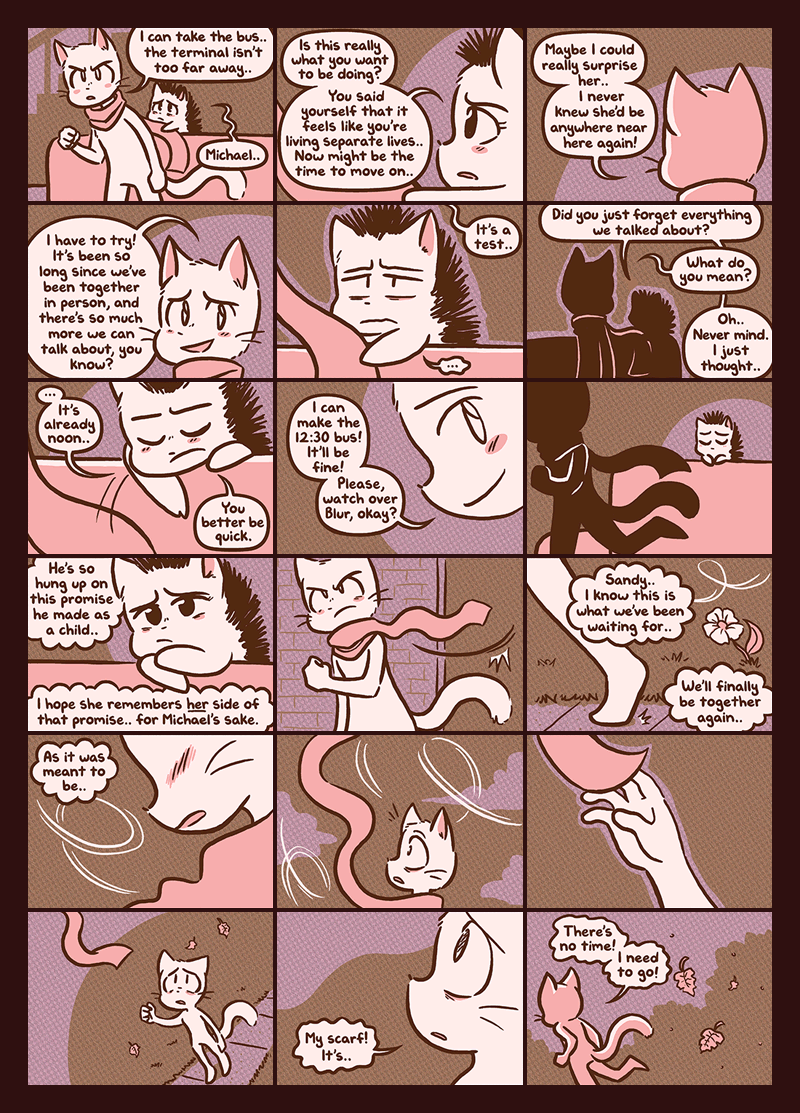 Transcript
Transcript

*Mike remains standing with a determined look.*
Mike: I can take the bus.. the terminal isn't too far away..
*Lily holds his scarf, looking concerned.*
Lily: Michael..

*Lily frowns.*
Lily: Is this really what you want to be doing? You said yourself that it feels like you're living separate lives.. Now might be the time to move on..

Mike: Maybe I could really surprise her.. I never knew she'd be anywhere near here again!

*Mike turns back to look at Lily, smiling softly.*
Mike: I have to try! It's been so long since we've been together in person, and there's so much more we can talk about, you know?

Mike: It's a test..
*Lily scrunches up her face.*
Lily: …

*The two stand in silhouette.*
Lily: Did you just forget everything we talked about?
Mike: What do you mean?
Lily: Oh.. Never mind. I just thought..

Lily: … It's already noon.. You better be quick.
*Lily lets go of Mike's scarf, looking disappointed.*

*Mike smiles earnestly.*
Mike: I can make the 12:30 bus! It'll be fine! Please, watch over Blur, okay?

*Mike runs off, leaving Lily behind.*

*Lily furrows her brow and pouts.*
Lily (thinking): He's so hung up on this promise he made as a child.. I hope she remembers her side of that promise.. for Michael's sake.

*Mike runs out of the house.*

*The wind picks up as Mike runs down the sidewalk.*
Mike (thinking): Sandy.. I know this is what we've been waiting for.. We'll finally be together again..

Mike (thinking): As it was meant to be..

*The wind unravels Mike's scarf and takes it out of his reach.*

*Mike looks longingly towards his scarf.*

Mike: My scarf! It's..

*Mike continues running down the sidewalk.*
Mike: There's no time! I need to go!


Talk about this page!
Chat
Make new friends, discuss the comic and share your art in the BCB Discord: