20. Hot Pursuit, original chapter posted 9/6/06
Page 13 of 14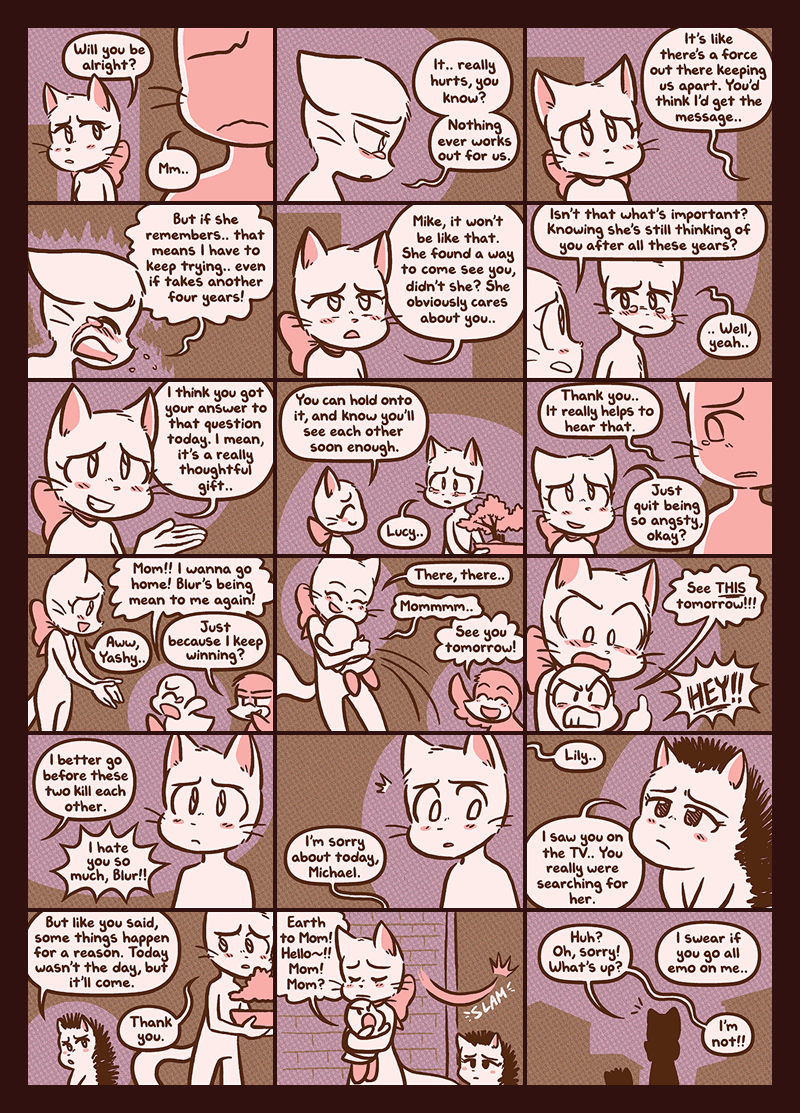 Transcript
Transcript

*Lucy looks at Mike with concern.*
Lucy: Will you be alright?
*Mike's lip quivers.*
Mike: Mm..

*Mike looks down, his back to Lucy.*
Mike: It.. really hurts, you know? Nothing ever works out for us.

Mike: It's like there's a force out there keeping us apart. You'd think I'd get the message..
*Lucy looks on, listening attentively.*

Mike: But if she remembers.. that means I have to keep trying.. even if takes another four years!
*Mike bursts into tears.*

*Lucy continues to look at Mike with concern.*
Lucy: Mike, it won't be like that. She found a way to come see you, didn't she? She obviously cares about you..

Lucy: Isn't that what's important? Knowing she's still thinking of you after all these years?
*Mike stops crying for a moment and looks at Lucy.*
Mike: .. Well, yeah..

*Lucy musters a smile.*
Lucy: I think you got your answer to that question today. I mean, it's a really thoughtful gift..

Lucy: You can hold onto it, and know you'll see each other soon enough.
*Mike, still holding the tree, looks at Lucy with a touched expression.*
Mike: Lucy..

*Mike, frowning slightly, turns away from Lucy and glances back at her.*
Mike: Thank you.. It really helps to hear that.
*Lucy smiles softly.*
Lucy: Just quit being so angsty, okay?

*Yashy runs toward Lucy, crying.*
Yashy: Mom!! I wanna go home! Blur's being mean to me again!
*Blur smirks.*
Blur: Just because I keep winning?
*Lucy holds out her arms to Yashy.*
Lucy: Aww, Yashy..

*Lucy hugs Yashy as Yashy jumps into her arms.*
Lucy: There, there..
Yashy: Mommmm..
*Blur smiles and waves.*
Blur: See you tomorrow!

Yashy: See THIS tomorrow!!!
*Yashy holds up her middle finger. Lucy looks shocked and upset.*
Lucy: HEY!!

Lucy: I better go before these two kill each other.
Yashy: I hate you so much, Blur!!
*Mike frowns, looking at Lucy.*

Lily: I'm sorry about today, Michael.
*Mike looks down at Lily.*

Mike: Lily..
*Lily looks up with a solemn face.*
Lily: I saw you on the TV.. You really were searching for her.

Lily: But like you said, some things happen for a reason. Today wasn't the day, but it'll come.
Mike: Thank you.
*Mike walks away with his tree as Lily heads toward the door.*

*Lucy, Lily and Yashy leave Mike's house. Lucy closes her eyes, looking sad. Still in her arms, Yashy whines.*
Yashy: Earth to Mom! Hello~!! Mom! Mom?

*The three walk down the street.*
Lucy: Huh? Oh, sorry! What's up?
Yashy: I swear if you go all emo on me..
Lucy: I'm not!!


Talk about this page!
Chat
Make new friends, discuss the comic and share your art in the BCB Discord: