20. Hot Pursuit, original chapter posted 9/6/06
Page 9 of 14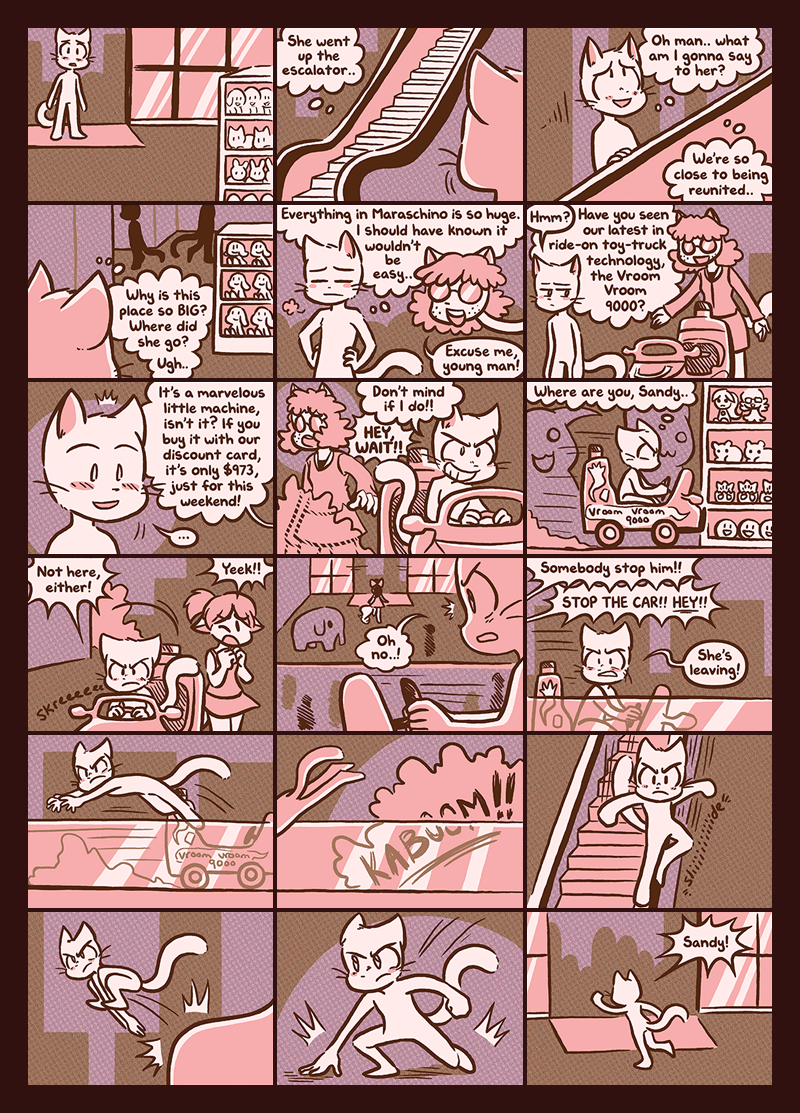 Transcript
Transcript

*Mike stands at the entrance of the mall, uncertain.*

Mike (thinking): She went up the escalator..

*Mike stands on the escalator, looking hopeful.*
Mike (thinking): Oh man.. what am I gonna say to her? We're so close to being reunited..

*Mike watches customers pass in and out.*
Mike (thinking): Why is this place so BIG? Where did she go? Ugh..

*Mike stands with his hands on his hips, sighing.*
Mike (thinking): Everything in Maraschino is so huge. I should have known it wouldn't be easy..
*A saleswoman appears behind Mike, craning her neck toward him cartoonishly.*
Saleswoman: Excuse me, young man!

*Mike looks over, annoyed.*
Mike: Hmm?
*The saleswoman gestures to a large toy car.*
Saleswoman: Have you seen our latest in ride-on toy-truck technology, the Vroom Vroom 9000?

Saleswoman: It's a marvelous little machine, isn't it? If you buy it with our discount card, it's only $973, just for this weekend!
*Mike looks inspired.*
Mike: …

*Mike hops in the car and takes off.*
Mike: Don't mind if I do!!
*The saleswoman turns, startled.*
Saleswoman: HEY, WAIT!!

*Mike drives down aisles of the store, looking determined.*
Mike (thinking): Where are you, Sandy..

Mike: Not here, either!
*Mike speeds around a corner, completely focused on his search. He nearly hits a girl walking past.*
Random girl: Yeek!!

*Mike spots the girl with black hair in the distance walking toward the exit.*
Mike: Oh no..!

Saleswoman: Somebody stop him!!
Random shopper: STOP THE CAR!! HEY!!
*Mike stares toward the door, looking serious.*
Mike: She's leaving!

*Mike determinedly leaps from the still-moving car. It crashes behind him, offscreen. He slides down the handrail of the escalator, jumps off, and lands on the ground floor effortlessly.*

*Mike runs out the door.*
Mike: Sandy!


Talk about this page!
Chat
Make new friends, discuss the comic and share your art in the BCB Discord: