17. Unfulfilled Fantasy, original chapter posted 8/6/06
Page 13 of 14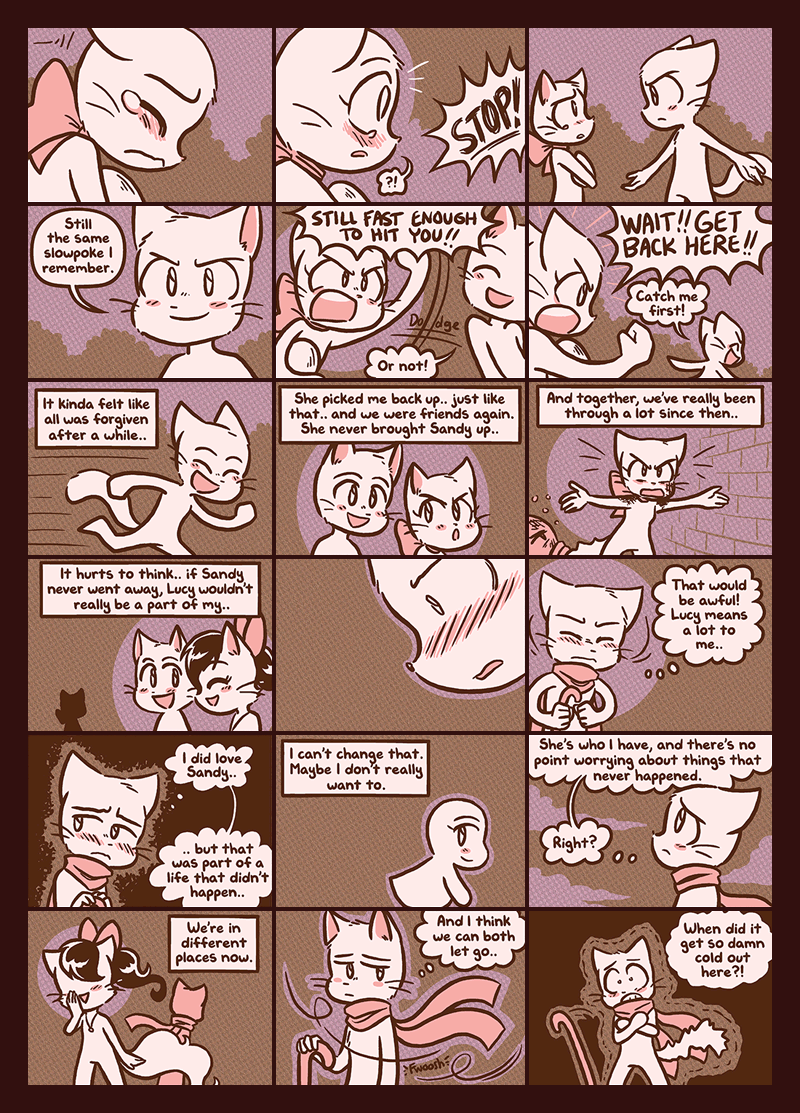 Transcript
Transcript

*Lucy cries as she runs.*

Mike: STOP!
*Lucy looks up.*
Lucy: ?!

*Mike stands in front of Lucy with his arms outstretched, blocking her path.*

*Mike grins.*
Mike: Still the same slowpoke I remember.

*Lucy takes an angry swing at Mike.*
Lucy: STILL FAST ENOUGH TO HIT YOU!!
*Mike easily dodges her.*
Mike: Or not!

*Mike runs off.*
Lucy: WAIT!! GET BACK HERE!
Mike: Catch me first!

*Mike is laughing as he runs.*
Mike (narrating): It kinda felt like all was forgiven after a while..

Mike (narrating): She picked me back up.. just like that.. and we were friends again. She never brought Sandy up..
*Lucy has an angry look on her face as she walks along with Mike, who is smiling.*

Mike (narrating): And together, we've really been through a lot since then..
*Mike recalls Lucy during their altercation with Alejandro. She stands with her arms defiantly outstretched, shielding Mike, who lays bruised on the floor.*

Mike (narrating): It hurts to think.. if Sandy never went away, Lucy wouldn't really be a part of my..
*Mike and Sandy happily chat as Lucy's silhouette looms in the distance.*

*Back in the present moment, Mike hesitates, blushing.*

*Mike shudders, shaking his head.*
Mike (thinking): That would be awful! Lucy means a lot to me..

Mike (thinking): I did love Sandy..
*Mike looks to the side, frowning.*
Mike (thinking): .. but that was part of a life that didn't happen..

*Mike pictures a smiling Yashy from before.*
Mike (narrating): I can't change that. Maybe I don't really want to.

Mike (thinking): She's who I have, and there's no point worrying about things that never happened.
*Mike looks up at the clouds, frowning.*
Mike (thinking): Right?

Mike (narrating): We're in different places now.
*Mike pictures Sandy, giggling to herself, her eyes obscured and her back toward him.*

*Mike makes a poignant expression as a gust of wind blows by, fluttering his scarf.*
Mike (thinking): And I think we can both let go..

*Mike starts shivering, dropping his cane.*
Mike: When did it get so damn cold out here?!


Talk about this page!
Chat
Make new friends, discuss the comic and share your art in the BCB Discord: