17. Unfulfilled Fantasy, original chapter posted 8/6/06
Page 12 of 14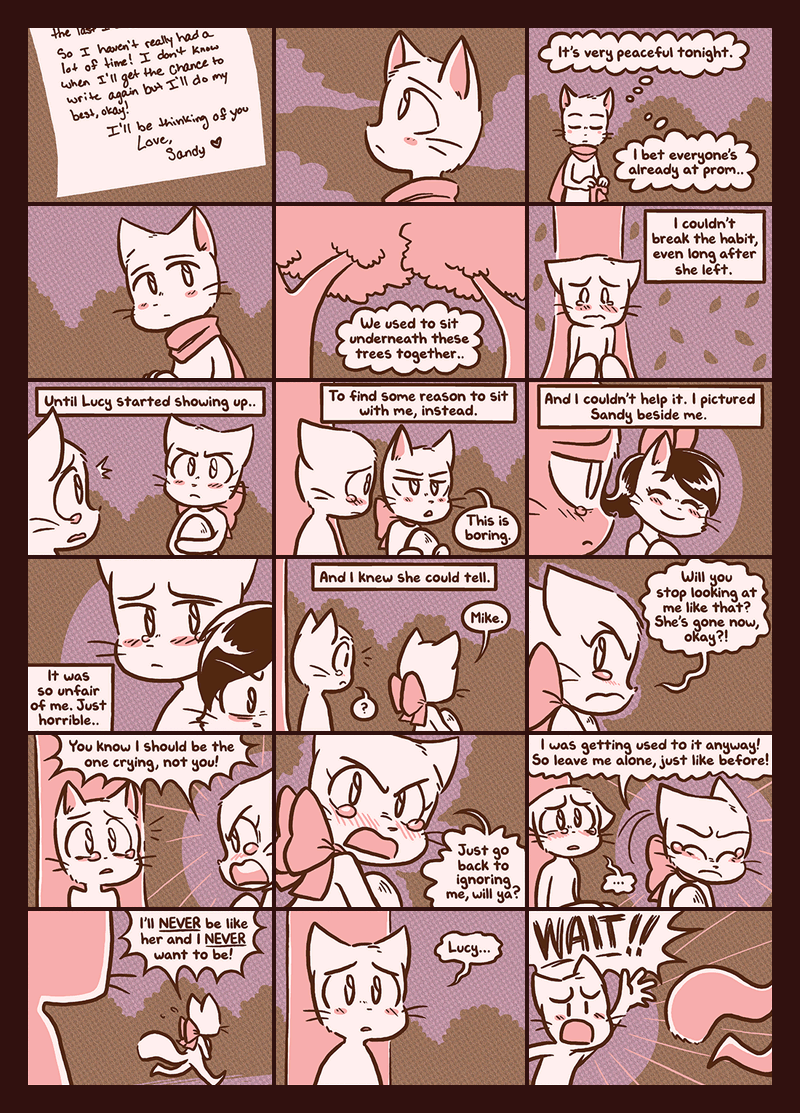 Transcript
Transcript

[The first panel shows the contents of a handwritten letter: … So I haven't really had a lot of time! I don't know when I'll get a chance to write again, but I'll do my best, okay? I'll be thinking of you. Love, Sandy ♥]

*Mike looks up at the sky.*

*Mike closes his eyes in thought.*
Mike (thinking): It's very peaceful tonight. I bet everyone's already at prom..

*Mike glances over to a pair of trees.*
Mike (thinking): We used to sit underneath these trees together..

*Mike recalls his young self sitting beneath a tree, crying.*
Mike (narrating): I couldn't break the habit, even long after she left.

Mike (narrating): Until Lucy started showing up..
*Mike looks up, tears still in his eyes, surprised to see Lucy approach him. She's clutching a large egg and looks angry.*

Mike (narrating): To find some reason to sit with me, instead.
*Lucy sits beside him.*
Lucy: This is boring.

Mike (narrating): And I couldn't help it. I pictured Sandy beside me.
*Mike stares toward Lucy, an image of Sandy's smiling face replaces her.*

Mike (narrating): It was so unfair of me. Just horrible..
*Mike continues to longingly stare at Lucy, who he is still picturing as Sandy. Lucy looks away from Mike, angry.*

Mike (narrating): And I knew she could tell.
*Lucy has her back toward Mike.*
Lucy: Mike.
*Mike snaps out of his imagination.*
Mike: ?

*Lucy looks back at Mike with tears in her eyes. Her lip is quivering.*
Lucy: Will you stop looking at me like that? She's gone now, okay?!

*Lucy begins to shout angrily.*
Lucy: You know I should be the one crying, not you!

*Lucy turns away in a huff.*
Lucy: Just go back to ignoring me, will ya?

Lucy: I was getting used to it anyway! So leave me alone, just like before!
*Lucy stands up and rushes away, leaving Mike upset.*
Mike: …

*Lucy shouts as she runs away.*
Lucy: I'll NEVER be like her and I NEVER want to be!

*Mike looks on, deeply sad.*
Mike: Lucy…

*Mike suddenly jumps up, waving for Lucy's attention.*
Mike: WAIT!!


Talk about this page!
Chat
Make new friends, discuss the comic and share your art in the BCB Discord: