17. Unfulfilled Fantasy, original chapter posted 8/6/06
Page 5 of 14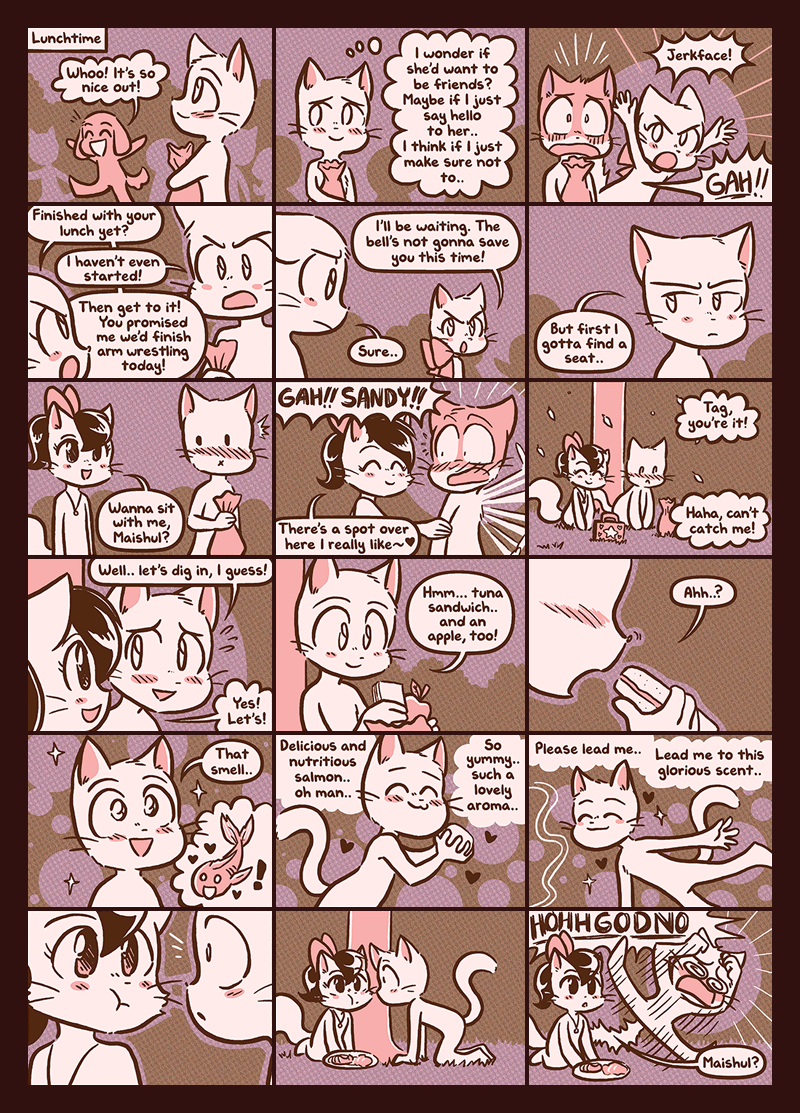 Transcript
Transcript

[Caption: Lunchtime]
David: Whoo! It's so nice out!
*David throws his arms out in excitement as Mike carries his lunch bag.*

*Mike thinks to himself as he walks to lunch.*
Mike (thinking): I wonder if she'd want to be friends? Maybe if I just say hello to her.. I think if I just make sure not to..

Lucy: Jerkface!
*Lucy jumps out from behind Mike, startling him.*
Mike: GAH!!

*Mike and Lucy angrily shout at each other.*
Lucy: Finished with your lunch yet?
Mike: I haven't even started!
Lucy: Then get to it! You promised me we'd finish arm wrestling today!

*Lucy yells at Mike over her shoulder as she walks away.*
Lucy: I'll be waiting. The bell's not gonna save you this time!
*Mike frowns.*
Mike: Sure..

*Mike glances around, his eyebrows furrowed.*
Mike: But first I gotta find a seat..

*Sandy appears, surprising Mike, who blushes.*
Sandy: Wanna sit with me, Maishul?

*Mike is immediately flustered as Sandy reaches out to take him by the arm. He waves his other arm in panic.*
Mike: GAH!! SANDY!!
Sandy: There's a spot over here I really like~ ♥

*Mike and Sandy sit together under a tree listening to other students play.*
Student 1: Tag, you're it!
Student 2: Haha, can't catch me!

*Mike gives Sandy a nervous smile.*
Mike: Well.. let's dig in, I guess!
Sandy: Yes! Let's!

*Mike takes his lunch out of the bag.*
Mike: Hmm… tuna sandwich.. and an apple, too!

*Mike pauses just before taking a bite of his sandwich.*
Mike: Ahh..?

*Mike smiles with bright eyes, sparkles surrounding him, as he pictures a smiling fish.*
Mike: That smell..

Mike: Delicious and nutritious salmon.. oh man..
*Mike clasps his hands, looking blissful.*
Mike: So yummy.. such a lovely aroma..

Mike: Please lead me..
*Mike follows the smell, his eyes blissfully closed.*
Mike: Lead me to this glorious scent..

*Mike opens his eyes, finding himself face to face with Sandy.*

*He pauses, Sandy looking back at him with a slight blush, a plate of food beneath her.*

*Mike jumps into the air with shock, his hands clutching his head in embarrassment.*
Mike: HOHHGODNO
*Sandy innocently looks at him.*
Sandy: Maishul?


Talk about this page!
Chat
Make new friends, discuss the comic and share your art in the BCB Discord: