30. Troubled Waters, original chapter posted 1/16/07
Page 1 of 12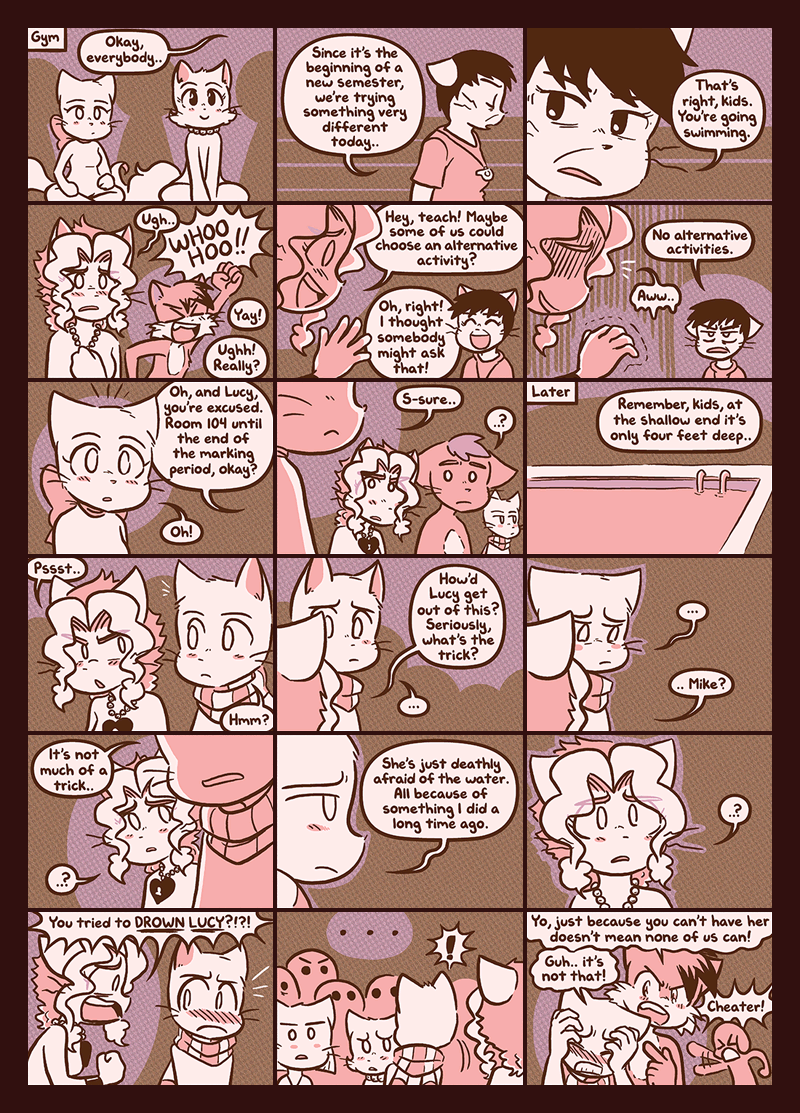 Transcript
Transcript

[Caption: Gym]
*Lucy and Daisy sit on the ground. Students gather behind them.*
Gym teacher: Okay, everybody..

*The gym teacher paces in the front of the class.*
Gym teacher: Since it's the beginning of a new semester, we're trying something very different today..

*The gym teacher turns to face the students.*
Gym teacher: That's right, kids. You're going swimming.

*Tess clutches her necklace.*
Tess: Ugh..
*Paulo cheers and pumps his fist.*
Paulo: WHOO HOO!!
Students: Yay! Ughh! Really?

*Tess raises her hand, smiling nervously.*
Tess: Hey, teach! Maybe some of us could choose an alternative activity?
*The gym teacher smiles back at her.*
Gym teacher: Oh, right! I thought somebody might ask that!

*The gym teacher scowls.*
Gym teacher: No alternative activities.
*Tess shudders.*
Tess: Aww..

Gym teacher: Oh, and Lucy, you're excused. Room 104 until the end of the marking period, okay?
*Lucy's eyes widen.*
Lucy: Oh!

Lucy: S-sure..
*Lucy frowns awkwardly. Tess and Abbey look at her curiously.*
Abbey: ..?

[Caption: Later]
Gym teacher: Remember, kids, at the shallow end it's only four feet deep..

*Tess whispers to Mike.*
Tess: Pssst..
Mike: Hmm?

Tess: How'd Lucy get out of this? Seriously, what's the trick?
Mike: …

*Mike looks away, weary.*
Mike: …
Tess: .. Mike?

Mike: It's not much of a trick..
*Tess looks concerned.*
Tess: ..?

*Mike frowns.*
Mike: She's just deathly afraid of the water. All because of something I did a long time ago.

*Tess looks startled.*
Tess: ..?

*Tess clenches her fists and hysterically shouts at Mike.*
Tess: You tried to DROWN LUCY?!?!
*Mike blushes, looking surprised.*

*The entire class stares at Mike with judgmental expressions.*
Students: …
Mike: !

*Paulo angrily points at Mike.*
Paulo: Yo, just because you can't have her doesn't mean none of us can!
*Mike, humiliated, covers his face with his hands.*
Mike: Guh.. it's not that!
*David angrily waves his arm at Mike.*
David: Cheater!


Talk about this page!
Chat
Make new friends, discuss the comic and share your art in the BCB Discord: