39. Love My Way, original chapter posted 6/27/07
Page 8 of 22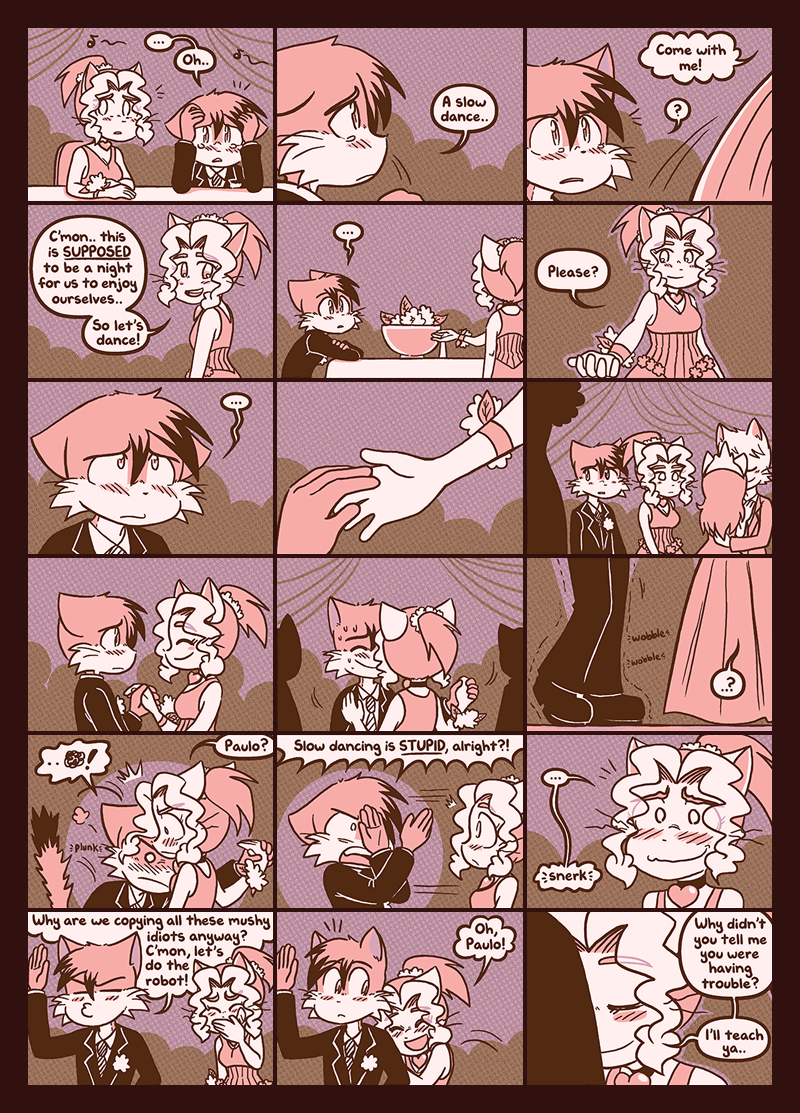 Transcript
Transcript

*Tess and Paulo sit at their table. Paulo holds his head in his hands, tears welling in his eyes. The sound of a song comes through the noise of the crowd behind them. Tess and Paulo look up, recognizing the song.*
Paulo: … Oh..

*Paulo lifts his head and stares mournfully into the distance.*
Paulo: A slow dance..

Tess: Come with me!
*Paulo looks up, startled, as Tess gets up on her feet.*
Paulo: ?

*Tess looks over her shoulder at Paulo. She smiles warmly.*
Tess: C'mon.. this is SUPPOSED to be a night for us to enjoy ourselves.. So let's dance!

*Tess stands by the table, holding her hand out to Paulo. He looks up at her with wide eyes.*
Paulo: …

*Tess smiles gently, her hand outstretched.*
Tess: Please?

*Paulo looks bashful.*
Paulo: …

*Paulo reaches out and takes Tess' hand.*

*Paulo and Tess make their way from their secluded table to the dance floor. Several other couples are dancing, arms around each other.*

*Paulo turns to Tess, taking her hand. He frowns nervously. Tess smiles encouragingly.*

*Paulo and Tess begin to dance. Paulo is sweating and smiling nervously.*

*Paulo shuffles his feet as he dances, wobbling. Tess notices.*
Tess: ..?

*Paulo staggers and falls face-first into Tess' chest. He turns red, frowning. Tess is startled.*
Tess: Paulo?

*Paulo springs back from Tess and defensively crosses his arms in front of his face. He scowls.*
Paulo: Slow dancing is STUPID, alright?!
*Tess looks at him with wide, startled eyes.*

*Tess tries to hide a smile, blushing.*
Tess: … (snerk)

*Paulo turns away from Tess and scrunches his eyes together with a petulant pout.*
Paulo: Why are we copying all these mushy idiots anyway? C'mon, let's do the robot!
*Paulo holds his arms out rigidly, starting to dance. Tess giggles, covering her mouth with her hand.*

*Tess leans on Paulo's back, laughing. He glances back at her, raising an eyebrow in surprise.*
Tess: Oh, Paulo!

*Tess holds her face against Paulo's shoulder, smiling.*
Tess: Why didn't you tell me you were having trouble? I'll teach ya..


Talk about this page!
Chat
Make new friends, discuss the comic and share your art in the BCB Discord: