14. Confrontation, original chapter posted 1/15/10
Page 12 of 30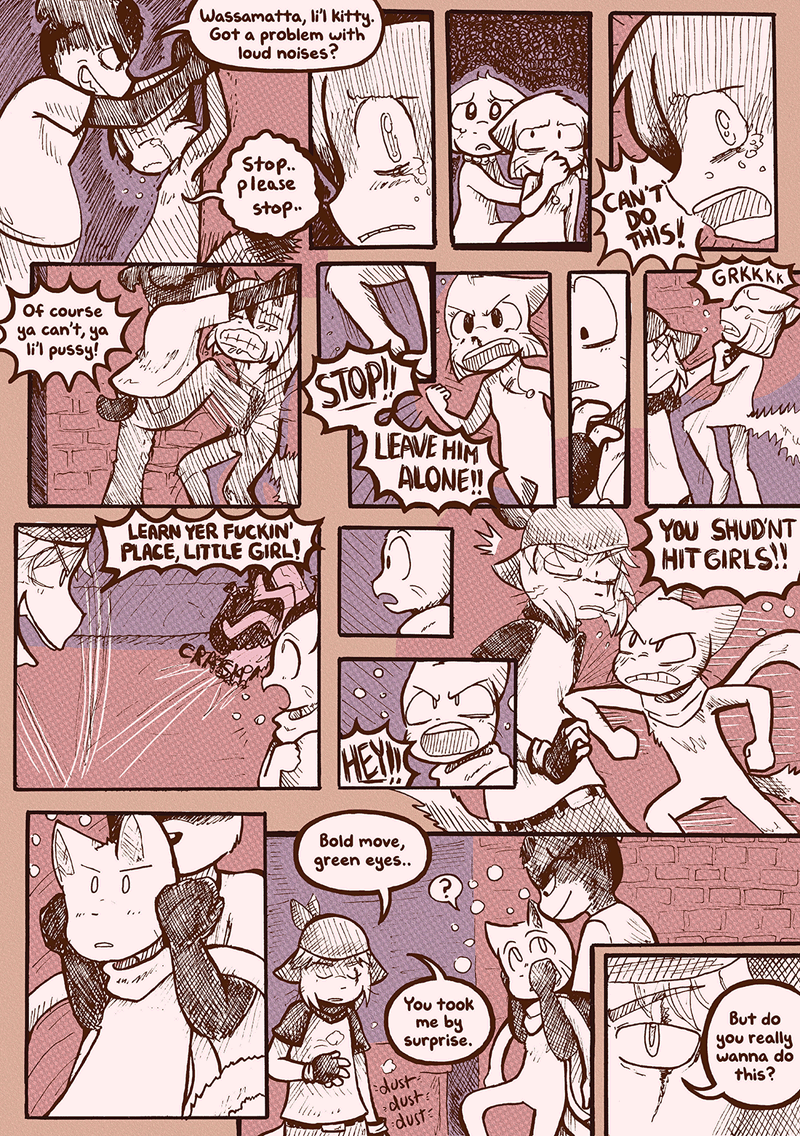 Transcript
Transcript

*Toby grins down evilly as he pins Paulo against the wall by his wrists.*
Toby: Wassamatta, li'l kitty. Got a problem with loud noises?
*Paulo shakes and lowers his head as tears stream from his eyes.*
Paulo: Stop.. please stop..

*Paulo looks to Daisy and Sue, fear in his eyes.*

*Daisy and Sue look back at him, worried.*

*Paulo sobs.*
Paulo: I CAN'T DO THIS!!

*Toby stomps on Paulo's stomach. Paulo grits his teeth, his face tensing in pain.*
Toby: Of course ya can't, ya li'l pussy!

*Sue springs up, and makes a running start towards Toby. She looks determined and angry, despite her bloody nose.*
Sue: STOP!! LEAVE HIM ALONE!!

*Sue glances at a hand reaching out towards her, her eyes wide in panic.*

*Alejandro holds Sue up in the air by her neck, choking her out. Sue's tail fluffs up as she desperately clutches at Alejandro's hand.*
Sue: GRKKKK

*Alejandro, grinning madly, throws Sue into a pile of garbage bags. Mike watches, shocked and dumbfounded.*
Alejandro: LEARN YER FUCKIN' PLACE, LITTLE GIRL!

*Mike stares in shock.*

*Mike turns to yell at Alejandro.*
Mike: HEY!

Mike: YOU SHUD'NT HIT GIRLS!
*Mike swiftly elbows Alejandro in the stomach. He's still flushed, and drunken bubbles dot the space around him. Alejandro looks shocked.*

*Toby restrains Mike by the shoulders. Mike looks up blankly, surprised by his sudden appearance.*

Alejandro: Bold move, green eyes..
*Alejandro coolly dusts off his shirt. Toby smirks, still holding Mike. Mike looks back up at him, confused.*
Mike: ?
Alejandro: You took me by surprise.

*Alejandro glares.*
Alejandro: But do you really wanna do this?


Talk about this page!
Chat
Make new friends, discuss the comic and share your art in the BCB Discord: