14. Confrontation, original chapter posted 1/15/10
Page 2 of 30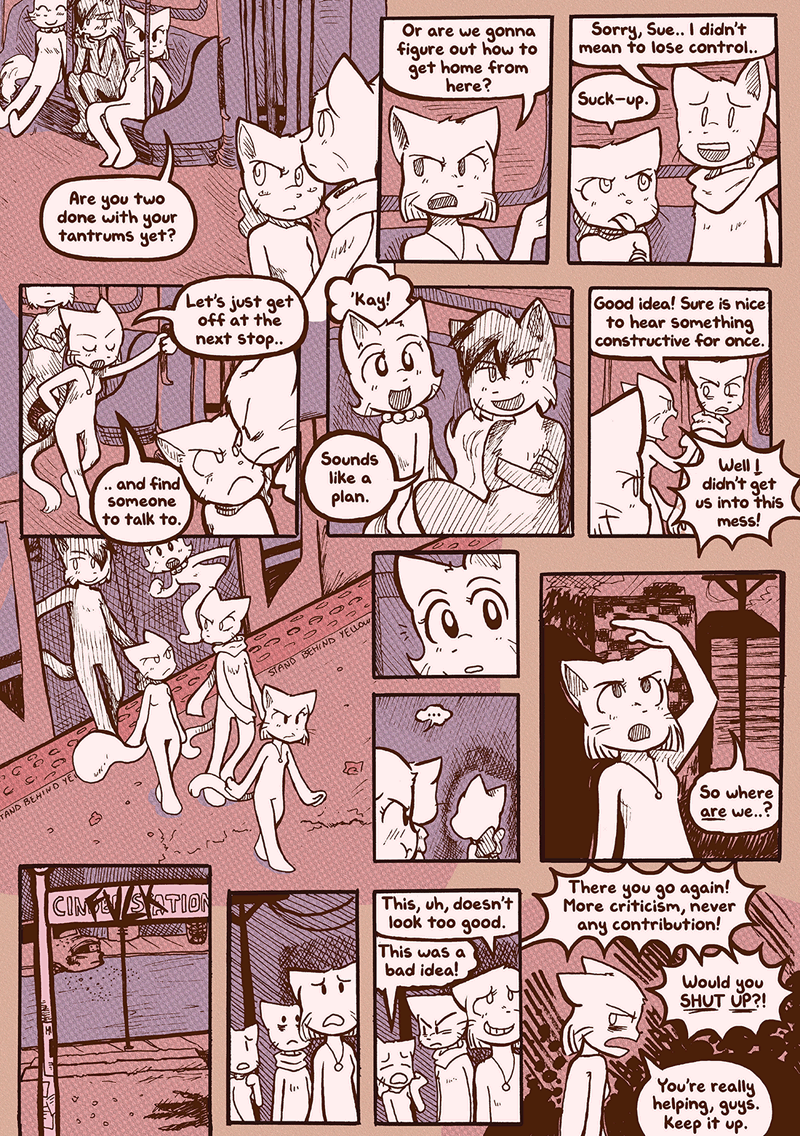 Transcript
Transcript

*Sue, who is still seated beside Paulo and Daisy, calls out to Mike and Lucy with a scowl.*
Sue: Are you two done with your tantrums yet?
*Mike and Lucy look back at Sue from across the train, disgruntled.*

Sue: Or are we gonna figure out how to get home from here?
*Sue throws one of her hands in the air, annoyed.*

*Mike bashfully rubs the back of his head.*
Mike: Sorry, Sue.. I didn't mean to lose control..
*Lucy glares at Mike and sticks out her tongue.*
Lucy: Suck-up.

*Sue hops off her seat and hangs onto a handle on the wall.*
Sue: Let's just get off at the next stop.. .. and find someone to talk to.
*Lucy and Mike get up in each other's faces and return to scowling at each other.*

*Daisy smiles brightly, her hands folded in her lap.*
Daisy: 'Kay!
*Paulo crosses his arms and grins.*
Paulo: Sounds like a plan.

*Sue looks on as Mike and Lucy continue to yell at each other.*
Mike: Good idea! Sure is nice to hear something constructive for once.
Lucy: Well I didn't get us into this mess!
*Mike looks annoyed.*

*The group gets off the train. Sue leads, looking disgruntled. Mike and Lucy follow, glaring at each other. Paulo has a carefree smile on his face, while Daisy rushes behind.*

*Daisy notices Mike and Lucy still walking close to each other, despite their apparent fight.*

Daisy: …
*She pouts.*

*Sue looks up at their surroundings.*
Sue: So where are we..?

*She sees a sign reading "Cinder Station". The middle of the sign has the word "FUCK" scrawled onto it in sharp, black letters. The concrete below is stained black, chipped, and littered with dirt. In the distance, a busted car sits next to the sidewalk.*

*Sue, Mike and Lucy grimace.*

*Sue forces a smile.*
Sue: This, uh, doesn't look too good.
*Lucy holds a hand to her face and cries out exaggeratedly.*
Lucy: This was a bad idea!
*Mike scowls at Lucy.*

Mike: There you go again! More criticism, never any contribution!
Lucy: Would you SHUT UP?!
*Sue scowls back at Mike and Lucy, bags forming under her eyes.*
Sue: You're really helping, guys. Keep it up.


Talk about this page!
Chat
Make new friends, discuss the comic and share your art in the BCB Discord: