14. Confrontation, original chapter posted 1/15/10
Page 23 of 30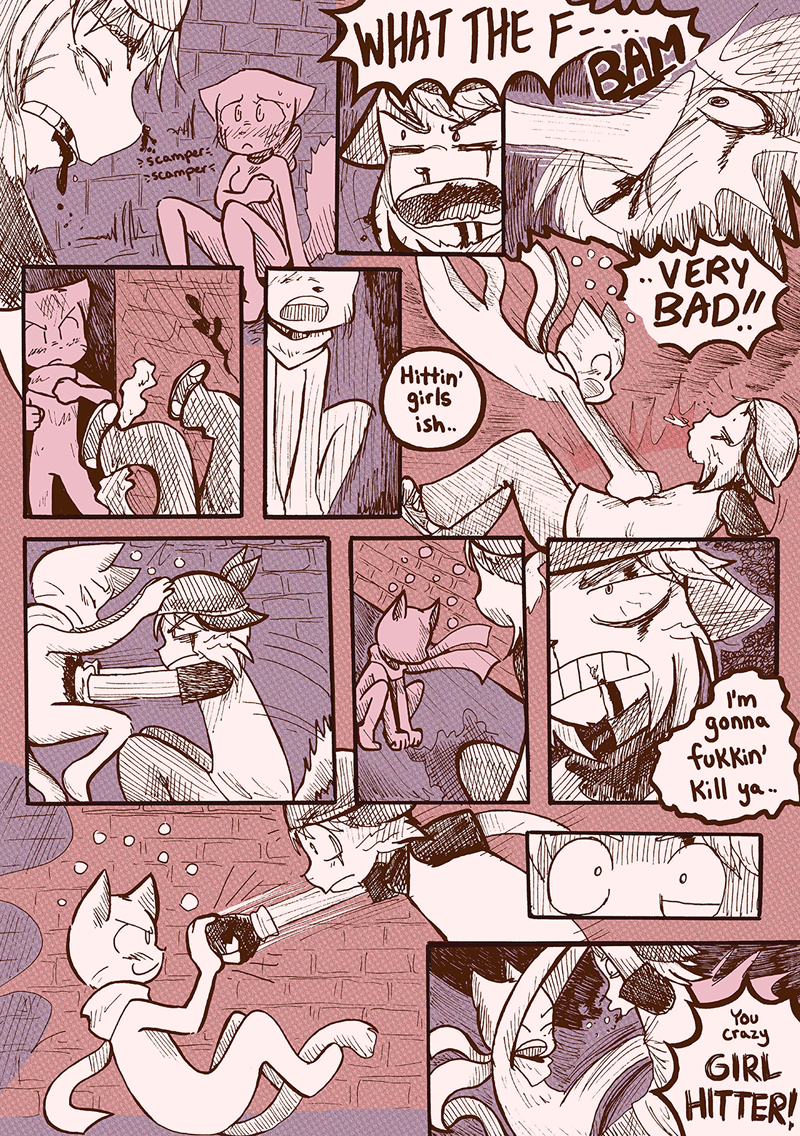 Transcript
Transcript

*Alejandro gets up, wincing from the pain. Blood and spit drip from his mouth. Lucy, blushing, scampers backwards, an arm held protectively over her chest.*

*Alejandro whips his head around, enraged.*
Alejandro: WHAT THE F--

*With a "BAM", Mike plants his foot square in Alejandro's face.*

*Alejandro lays knocked back with his legs and tail in the air. Mike holds a fighting stance.*

*Mike crouches.*
Mike: Hittin' girls ish…

*Mike pounces up and punches Alejandro in the stomach with both fists. Alejandro crumples.*
Mike: ..VERY BAD!!

*Alejandro bounces back up, shoving Mike away. Mike is sent flying.*

*Mike lands on his feet, kicking up dust as he skids across the concrete. His scarf flies behind him in the wind.*

*Alejandro glares at Mike, blood running down his chin under his chipped tooth.*
Alejandro: I'm gonna fukkin' kill ya..

*Alejandro throws another punch, but is shocked when Mike catches it in his hands with a confident grin.*

*Alejandro's eye twitches.*

*Using Alejandro's arm as leverage, Mike delivers a swift kick to Alejandro's gut.*
Mike: You crazy GIRL HITTER!


Talk about this page!
Chat
Make new friends, discuss the comic and share your art in the BCB Discord: