14. Confrontation, original chapter posted 1/15/10
Page 3 of 30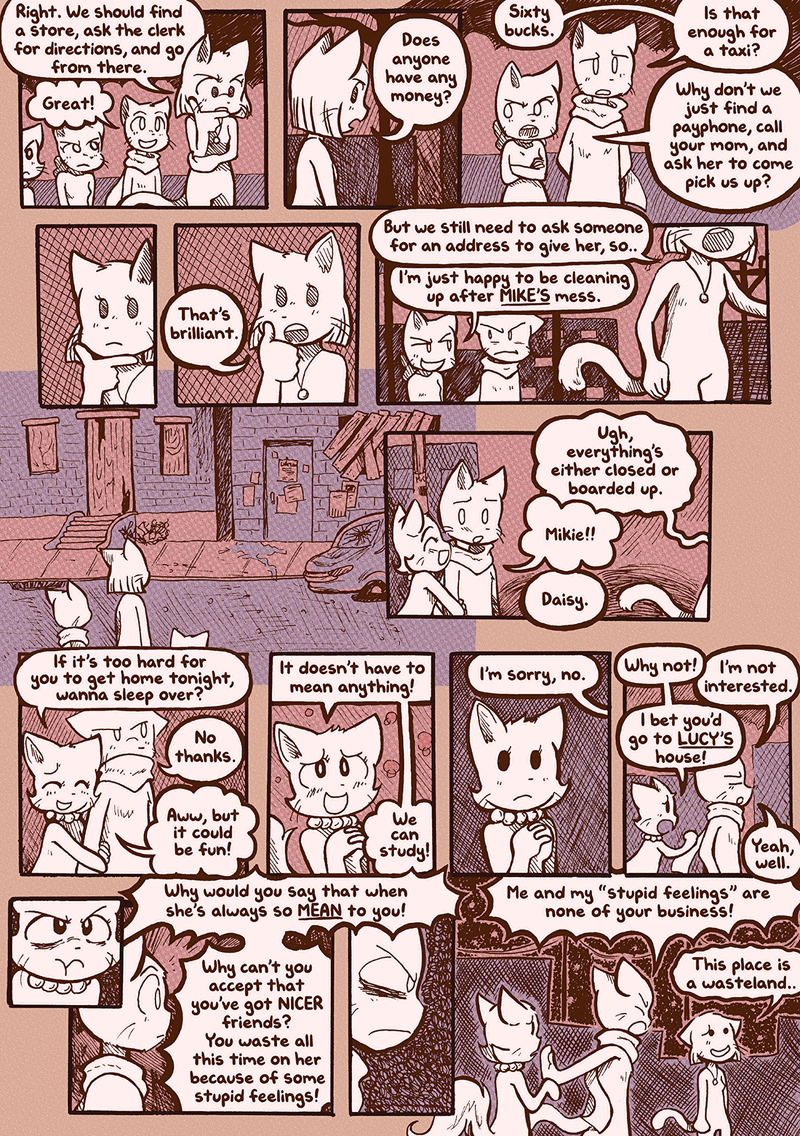 Transcript
Transcript

*Sue holds an index finger to her chin, plotting.*
Sue: Right. We should find a store, ask the clerk for directions, and go from there.
*Daisy is frowning. Mike smiles happily.*
Mike: Great!
*Lucy glares at him.*

*Sue looks back at the group.*
Sue: Does anyone have any money?

*Mike gingerly holds his hands behind his back.*
Mike: Sixty bucks. Is that enough for a taxi?
*Lucy folds her arms and looks to the side, annoyed.*
Lucy: Why don't we just find a payphone, call your mom, and ask her to come pick us up?

*Sue looks at the pair blankly.*

Sue: That's brilliant.

*Sue walks ahead.*
Sue: But we still need to ask someone for an address to give her, so..
*Lucy smirks at Mike.*
Lucy: I'm just happy to be cleaning up after MIKE'S mess.
*Mike glares black.*

*The group looks across the street. Brick buildings are dilapidated and in disrepair. A car is parked out front with its window shattered and tire deflated.*

Sue: Ugh, everything's either closed or boarded up.
*Sue trudges onward. Behind her, Daisy clings to Mike's arm, smiling cheerfully.*
Daisy: Mikie!!
*Mike looks at her shyly.*
Mike: Daisy.

*Daisy furrows her brow, slightly embarrassed.*
Daisy: If it's too hard for you to get home tonight, wanna sleep over?
*Mike averts his eyes, disgruntled.*
Mike: No thanks.
Daisy: Aww, but it could be fun!

*Daisy clasps her hands together, pleading.*
Daisy: It doesn't have to mean anything! We can study!

*Daisy's smile falls.*
Mike: I'm sorry, no.

*Mike walks ahead. Daisy, looking sad, rushes to catch up.*
Daisy: Why not!
Mike: I'm not interested.
Daisy: I bet you'd go to LUCY'S house!
Mike: Yeah, well.

*Daisy pouts.*

Daisy: Why would you say that when she's always so MEAN to you! Why can't you accept that you've got NICER friends? You waste all this time on her because of some stupid feelings!
*Mike's eyes widen in surprise.*

*He scowls.*

*Daisy reaches for Mike, but Mike angrily pushes Daisy away, leaving her dismayed.*
Mike: Me and my "stupid feelings" are none of your business!
*Sue slumps her shoulders and looks up, an incredulous smile on her face. Night has fallen, and stars are visible above the buildings and telephone poles.*
Sue: This place is a wasteland..


Talk about this page!
Chat
Make new friends, discuss the comic and share your art in the BCB Discord: