14. Confrontation, original chapter posted 1/15/10
Page 5 of 30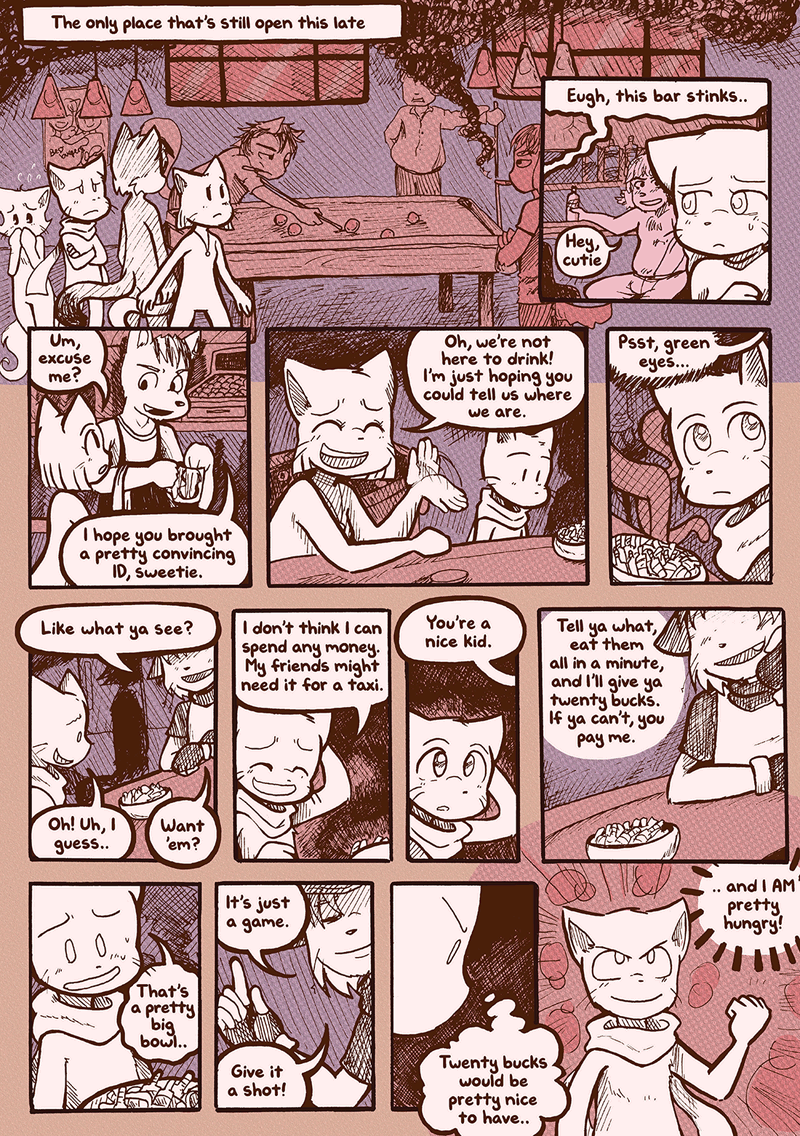 Transcript
Transcript

[Caption: The only place that's still open this late]
*The group walks into a dimly-lit bar. Two adult cats are playing a game of pool while an older dog watches. The dog smokes a cigarette, and the smoke clouds around the ceiling. Daisy fearfully covers her mouth with her hands. Mike looks around, worried. Paulo watches the pool players. Sue walks ahead, a blank look on her face.*

Sue: Eugh, this bar stinks..
*A man looks at Lucy and grins. He has his hand down the front of his pants.*
Man: Hey, cutie
*Lucy glances back, looking uncomfortable. She clutches her hands to her chest.*

*Sue walks up to the bar and looks up at the bartender, who is a dog.*
Sue: Um, excuse me?
*The bartender gives Sue a toothy grin as he polishes a glass.*
Bartender: I hope you brought a pretty convincing ID, sweetie.

*Sue waves a hand dismissively at the bartender, laughing.*
Sue: Oh, we're not here to drink! I'm just hoping you could tell us where we are.
*Mike stares at a bowl of chocolates on the counter. A shadowy figure looms over him.*

Alejandro: Psst, green eyes…
*Mike turns away from the bowl and looks up.*

*The figure is a cat wearing a bandanna, raglan shirt and fingerless gloves. He grins at Mike.*
Alejandro: Like what ya see?
*Mike looks down at the chocolates, smiling awkwardly.*
Mike: Oh! Uh, I guess..
Alejandro: Want 'em?

*Mike scratches at the back of his head, smiling.*
Mike: I don't think I can spend any money. My friends might need it for a taxi.

Alejandro: You're a nice kid.
*Mike looks up at the stranger, surprised.*

*Alejandro smirks and leans on the table, resting his head on his hand.*
Alejandro: Tell ya what, eat them all in a minute, and I'll give ya twenty bucks. If ya can't, you pay me.

*Mike looks down at the bowl hesitantly.*
Mike: That's a pretty big bowl..

*Alejandro raises a finger and smiles nonchalantly.*
Alejandro: It's just a game. Give it a shot!

*Mike furrows his brow.*
Mike (thinking): Twenty bucks would be pretty nice to have..

*Mike smiles confidently, raising his fist.*
Mike (thinking): .. and I AM pretty hungry!


Talk about this page!
Chat
Make new friends, discuss the comic and share your art in the BCB Discord: