14. Confrontation, original chapter posted 1/15/10
Page 10 of 30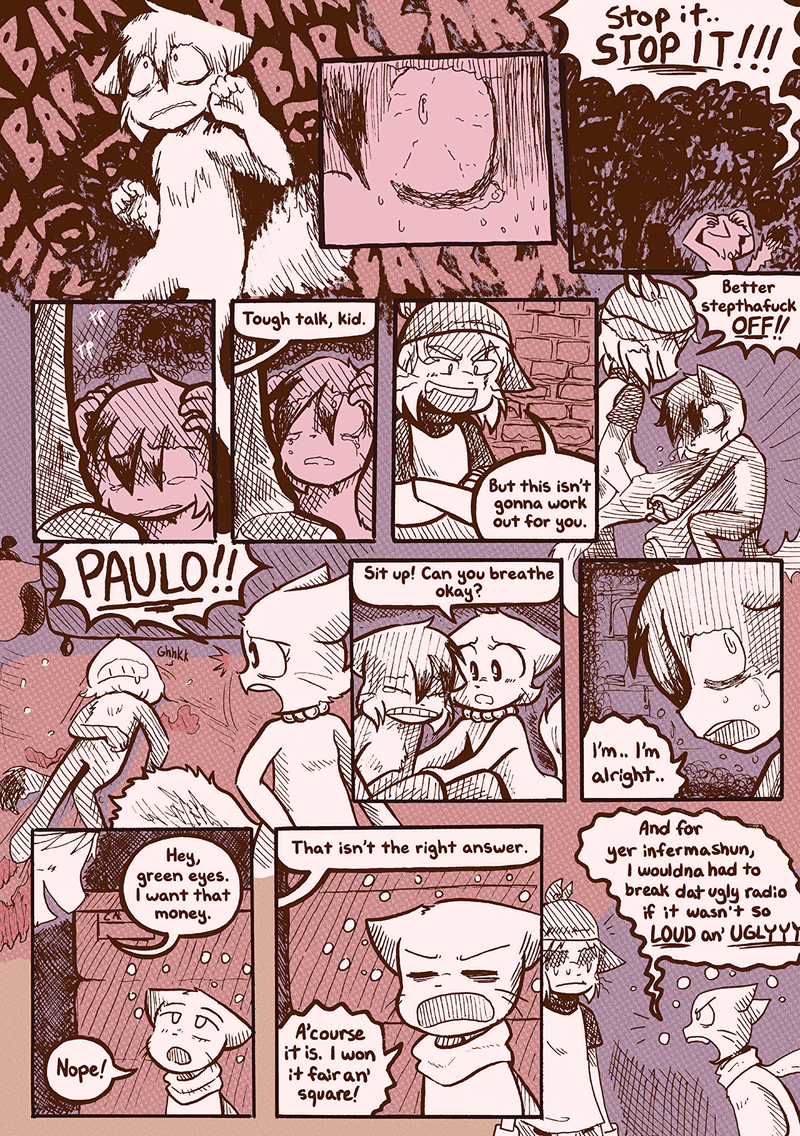 Transcript
Transcript

Toby: BARK BARK BARK BARK BARK BARK BARK BARK BARK BARK BARK
*Paulo's fur stands on end. His eyes go wide as he shrinks back in fear.*

*Tears begin to form in Paulo's eyes.*

*Paulo desperately covers his ears.*
Paulo: Stop it.. STOP IT!!!

*Alejandro walks up to Paulo, who is cowering and crying.*

Alejandro: Tough talk, kid.
*Paulo looks up.*

Alejandro: But this isn't gonna work out for you.
*Alejandro looks down at Paulo and gives him a smug, toothy grin.*

Alejandro: Better stepthafuck OFF!!
*Alejandro gives Paulo a sharp knee to his chest. Paulo crumples inwards as he's slammed back.*

*Daisy watches, horrified, as Paulo skids backwards across the pavement, gritting his teeth and clutching his chest.*
Daisy: PAULO!!

*Daisy helps Paulo get up, placing a hand at his back. Paulo, wincing, clutches his torso.*
Daisy: Sit up! Can you breathe okay?

*Paulo looks back at Daisy, terrified and crying.*
Paulo: I'm.. I'm alright..

*Alejandro approaches Mike.*
Alejandro: Hey, green eyes. I want that money.
*Mike looks up at him, with a dopey expression.*
Mike: Nope!

Alejandro: That isn't the right answer.
*Mike shuts his eyes and yells, annoyed.*
Mike: A'course it is. I won it fair an' square!

*Mike glares furiously at Alejandro, who looks back at him with a frown.*
Mike: And for yer infermashun, I wouldna had to break dat ugly radio if it wasn't so LOUD an' UGLYYY!!!


Talk about this page!
Chat
Make new friends, discuss the comic and share your art in the BCB Discord: