14. Confrontation, original chapter posted 1/15/10
Page 24 of 30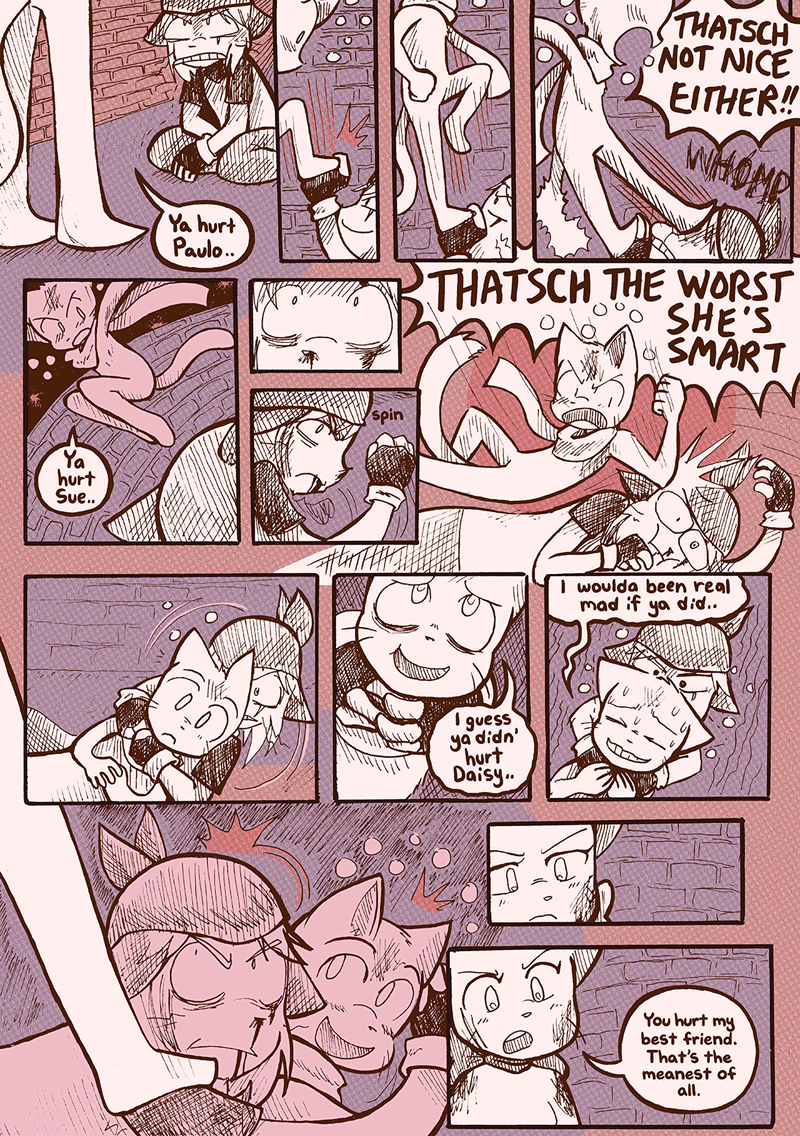 Transcript
Transcript

*Mike stands over Alejandro, who sits crouched on the ground. He glares nastily up at Mike.*
Mike: Ya hurt Paulo..

*Mike moves to stomp on Alejandro, still bruised and flushed from the alcohol. Alejandro catches his foot with a grin.*

*Mike uses Alejandro's hand as a stepping stool to raise his other foot.*

*Mike brings his other foot down hard on Alejandro's face with a "WHOMP".*
Mike: THASCH NOT NICE EITHER!!

*Mike jumps high up into the air, looking determined.*
Mike: Ya hurt Sue..

*Alejandro's eyes widen.*

*He tries to flip himself over, scowling at Mike.*

*Mike brings his elbow down on Alejandro's temple. Alejandro looks shocked.*
Mike: THASCH THE WORST SHE'S SMART

*Alejandro gets behind Mike and grabs him around the neck. Mike lays with his hands clasped together and a blank look on his face.*

*He looks up at Alejandro, gingerly smiling as Alejandro grips Mike's neck.*
Mike: I guess ya didn' hurt Daisy…

*Mike sweats and lays his hands on Alejandro's.*
Mike: I woulda been real mad if ya did…

*Alejandro and Mike turn to notice a foot on Alejandro's shoulder. Alejandro looks furious. Mike looks up with a happy grin.*

*Lucy frowns. Her face is bloodied and bruised.*

*She looks down at Alejandro, disgusted.*
Lucy: You hurt my best friend. That's the meanest of all.


Talk about this page!
Chat
Make new friends, discuss the comic and share your art in the BCB Discord: